---
Gifts in Action: If There's a Will, There's A Way
Gifts in Action: If There's a Will, There's A Way
Scholarship helps fill financial gap
by Kaydee R. Gilson ('18)
Just half of low-income high school grads are pursuing a higher education, according to the National Center for Education Statistics, and nearly one-third of Westminster undergraduate students come from families with annual household incomes of $33,000 or less.
CIT Bank is dedicated to providing a learning place for students from all backgrounds, especially students coming from low-income families. Since 2008 the company has given more than $58,000 to students at Westminster College to cover the financial gap of $1,000 to $2,000 between what a student can afford and the cost of full tuition.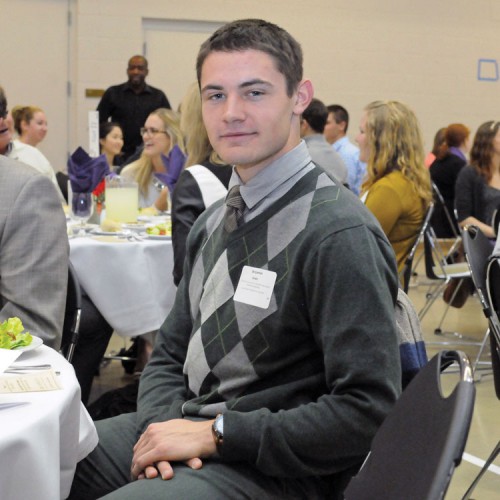 "We are pleased to support Westminster College in its efforts to provide quality education to thousands of students," says Randall Chesler, president of CIT Bank. "Studies have shown that having a college education can increase an individual's economic prosperity later in life. These scholarships offer talented students the ability to focus on their studies while at Westminster, not their next tuition payment."
Ben Jones, a sophomore studying elementary education, is one of the students who relies on the support he receives from scholarship donors. "Without them and their contributions, I literally would not be able to attend college here at Westminster," he says.
Westminster believes that attending college is an investment, and providing scholarships helps students pursue their dreams. Academically talented students with financial need are able to attend Westminster because of the support of community partners like CIT Bank.
"It is difficult to express the depth of my gratitude, and I only hope that my donors, along with other donors who have supported and funded Westminster in educating students like me, can feel the gravity of my gratitude in the simplest of all words—thank you," says Jones.
---
About the Westminster Review
The Westminster Review is Westminster University's bi-annual alumni magazine that is distributed to alumni and community members. Each issue aims to keep alumni updated on campus current events and highlights the accomplishments of current students, professors, and Westminster alum.
GET THE REVIEW IN PRINT STAY IN TOUCH SUBMIT YOUR STORY IDEA READ MORE WESTMINSTER STORIES