---
Class Notes: Sarah Scutts ('07)
Class Notes: Sarah Scutts ('07)
The Organ Trail
Nursing degree leads to fulfilling work
by Kayla Bernard ('07)
Sarah Scutts ('07) has found her dream job. As the living donor coordinator for the Living Donor Kidney Program at the University of Utah, Sarah spends her days helping others share the gift of life through organ donation. "I am finally doing what I went to nursing school for: to help heal people," she says.
As a floor nurse Sarah felt she was only pushing meds to help people manage their diseases or relieve discomfort. Now, as a kidney coordinator, Sarah is changing lives.
There is an incredible need for kidney donation. Sarah and her team have 233 patients waiting for a kidney, and statewide there is a waiting list of 510 people. Currently, the Living Donor Kidney Program works with between 35 and 40 living donors each year.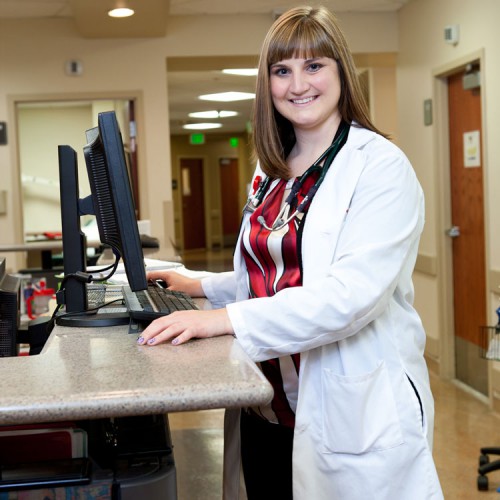 Sarah manages patients who generously and courageously volunteer to donate a kidney to save a life. "I work with some of the most amazing people. These are people who are willing to make a life-altering decision and put themselves at risk in order to help another person, sometimes a person they've never met," she says.
Sarah guides donors through the donation process, fully educating them on what happens before, during, and after surgery and coaching them through lifestyle changes to stay healthy with only one kidney. She uses her technical nursing skills to complete comprehensive health screenings before her patients can become donors. "We do everything we can to make sure that donors are healthy and rule out any foreseeable chance that they might need their kidney in the future," she says. After donation, Sarah keeps tabs on her patients for two years to make sure they heal completely and are maintaining their health.
Sarah credits her Westminster education as instrumental in being a kidney coordinator, saying, "Westminster was worth every dollar I spent. My education gave me the foundation to think for myself. In this role it is critical for me to be able to make decisions for my patients on my own."
---
If you are interested in becoming a living kidney donor, you can contact Sarah directly at 801.585.3202 or at sarah.scutts@hsc.utah.edu.
---
About the Westminster Review
The Westminster Review is Westminster University's bi-annual alumni magazine that is distributed to alumni and community members. Each issue aims to keep alumni updated on campus current events and highlights the accomplishments of current students, professors, and Westminster alum.
GET THE REVIEW IN PRINT STAY IN TOUCH SUBMIT YOUR STORY IDEA READ MORE WESTMINSTER STORIES