---
Class Notes: John Salevurakis, PhD ('93, MBA '96)
Class Notes: John Salevurakis, PhD ('93, MBA '96)
From Westminster to the Nile
by Michelle Barber-Lyhnakis (MPC '06)
John Salevurakis, PhD ('93, MBA '96), remembers his parents fighting about whether or not to spend the extra money required to send him to Westminster. Ultimately, his mother won the argument and John enrolled— a decision that greatly impacted his life. After taking classes from Dr. Dick Chapman and Dr. John Watkins, John was hooked on economics. He graduated from Westminster with both a BA and an MBA, and then went on to earn a PhD at the University of Utah.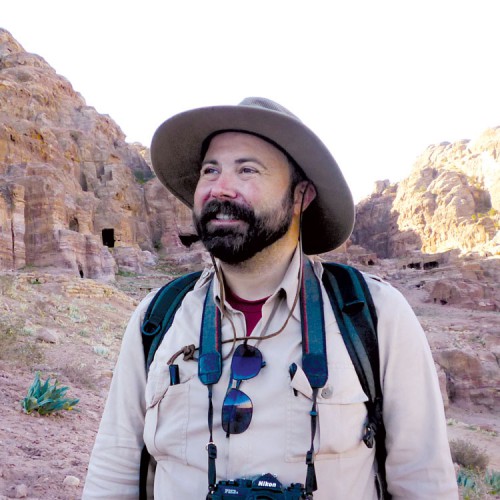 John held a post-doctoral position at the University of Utah before being hired at Northern Arizona University in Flagstaff. He taught there for one year before being offered his current position at The American University in Cairo. He has been living in Egypt ever since.
"Part of the reason I have worked abroad for the last decade is because Westminster made me a much more 'globally curious' student," John said. "Westminster endowed me with not just the ability to question the economic ideas put forward by textbooks, faculty, or other authorities, but also the courage to fashion my own opinions from what I learned while studying a wide variety of other disciplines."
John says the most rewarding aspect of his career is sending very qualified students off to top graduate schools, unique internships, or lucrative and fulfilling professional opportunities. He has former students currently working for the United Nations Development Programme (UNDP) in Palestine, volunteering with the environmental conservation sector in Namibia, working within various gov- ernmental institutions, and pursuing graduate-level degrees at top universities. He says as a faculty member he can't take credit for the achievements of his students, but it is extremely fulfilling to know that in some way he helped.
John and his wife, Julie, recently welcomed their first child. John says his idea of fun is introducing his son to all the things he values: economics, philosophy, history, politics, hunting, fishing, and travel.
---
About the Westminster Review
The Westminster Review is Westminster University's bi-annual alumni magazine that is distributed to alumni and community members. Each issue aims to keep alumni updated on campus current events and highlights the accomplishments of current students, professors, and Westminster alum.
GET THE REVIEW IN PRINT STAY IN TOUCH SUBMIT YOUR STORY IDEA READ MORE WESTMINSTER STORIES