---
Westminster Takes the Stage
Westminster Takes the Stage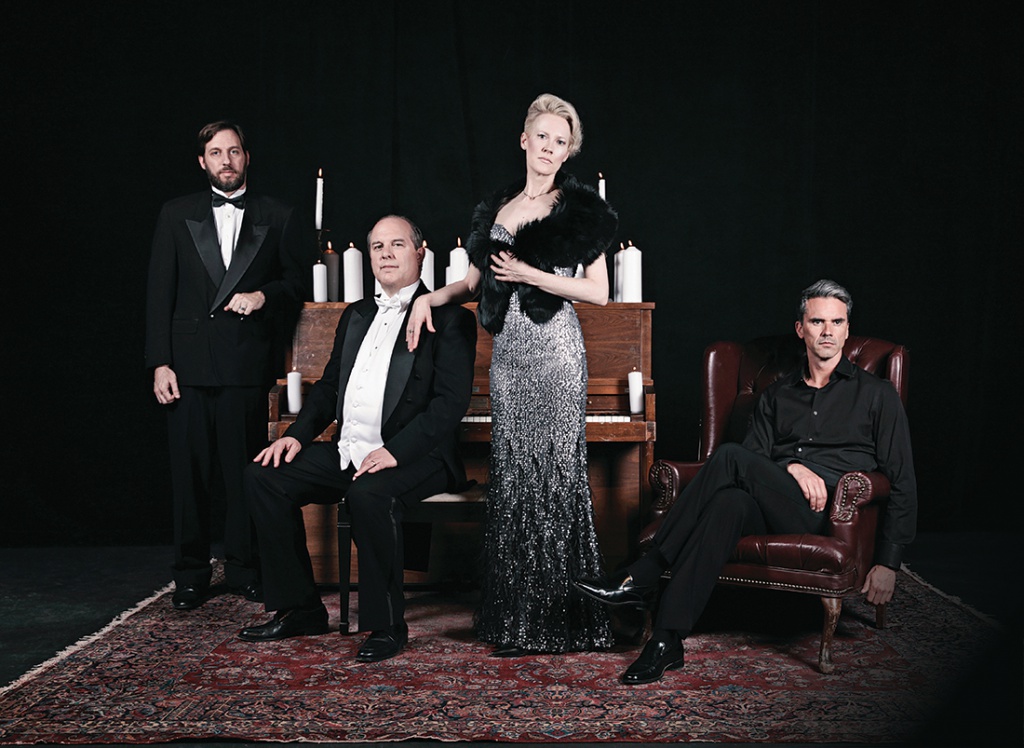 Music faculty (left to right): Brandon Derfler, Christopher Quinn, Karlyn Bond, and Michael Chipman. Hair: Tricia Snow, Makeup: Jillyn Leone Neslen, Photo assistant: Brandon Cruz, Wardrobe/styling: Laura Kiechle
By Autumn Thatcher (MSC '15)
Photography by MANICPROJECT
A walk through the Jewett Center for the Performing Arts on any given day during the academic year is accompanied by a myriad of sounds and sights. The spacious hallways echo the click of heels and the clearing of a throat from around the corner. Hand-painted violins are displayed behind a glass case; portraits of beloved faculty and donors adorn the walls, as well as pieces by artists in a variety of mediums. Posters draw attention to what the next performance will be. The Jewett hallways offer much for the eye, but when the academic year is in full swing, it is the ear that gets the richer experience.
Voices—unafraid, classically trained, beautiful—are often heard bouncing off of the walls in Jewett. These reverberations usually belong to students rehearsing together, though some are practicing alone, allowing themselves to get lost in the music. It is the sound of Westminster music, one that boasts camaraderie and community. At Westminster, support rises above selfishness, and the opportunity to become a star is within reach for anyone who is willing to work for it. Welcome to music at Westminster.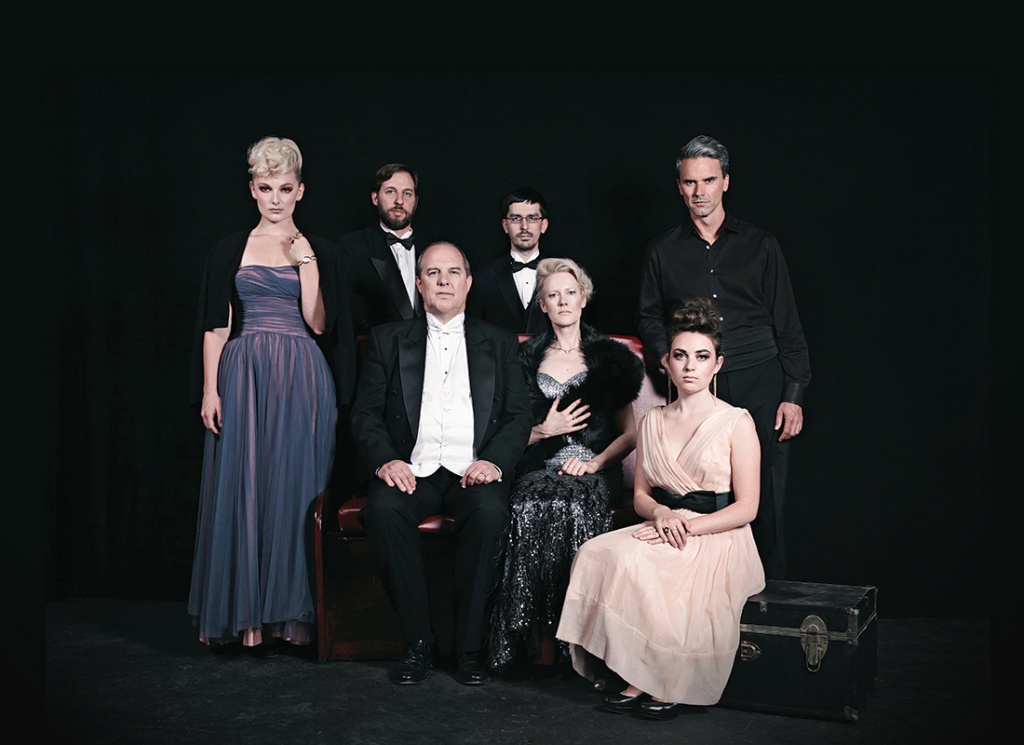 The music program at westminster is a community that boasts support and encouragement. (Clockwise from left): Alum Christy Peterson, Brandon Derfler, alum Jeff Pedersen, Michael Chipman, Junior Sally Drutman, Karlyn Bond, and Christopher Quinn.
Behind the Music
The music experience at Westminster has been created by music director Dr. Christopher Quinn, Dr. Karlyn Bond, Michael Chipman, and Dr. Brandon Derfler. Together, the fabulous four have created a unique program that has increased critical acclaim for the college within the realm of music and education. The music program has been a work in progress since Chris Quinn, a Boston native, was recruited to the college over 20 years ago. When he arrived on campus in 1994, he discovered a total of eight music students and a music minor program that didn't quite have its legs beneath it. "None of students were on the same plane. There was no rhyme or reason to the music minor program," Chris recalls.
One of his first undertakings was to rewrite the curriculum for the music minor, which he modeled after a music major. Chris's next step was to require music students to take private lessons.
From there, he created two music ensembles: the Westminster Singers and the Chamber Orchestra. Chris's choir, the Westminster Singers, grew incredibly fast within its first year, and his students begged him to create an auditioned vocal ensemble. In 1996, the Westminster Chamber Singers was formed, and within four years, the choir began performing all over the world.
The restructured music minor program grew exponentially at Westminster, resulting in it becoming the second-largest minor at the college. Chris taught over 20 different classes within his first five years at Westminster, with the intent to mentor faculty to teach the music courses as the program grew. Eventually, 20–25 adjunct faculty members taught everything from voice lessons to guitar to piano and orchestral instruments. With each class came the request to create a music major. While the desire to create a major was there, the music program lacked adequate rehearsal, teaching, and performance space.
As the talent of Westminster musicians grew, so did attendance at concerts. There was one audience member in particular who would end up being the music program's greatest champion: alumna Florence Gillmor.
"Florence was a huge fan of the choral program. She came to every choir concert and sat in the front row," Chris says.
Florence Gillmor passed away seven years ago, but her love for Westminster music lives on through a foundation that was created in her name. The Florence Gillmor Foundation is, to date, the largest contributor to the Westminster music program. Over the last two years, the foundation committed $2.2 million to the music program, allowing the program to provide scholarships to music students and add more full-time faculty members.
"The million-dollar gifts are over five years. In the first gift, I was honored to receive the named position of the Florence J. Gillmor professor of music," Chris explains. "When I first met Florence in 1994, she and Vieve Gore were the two main individuals who shared my vision for a music major."
Chris met Vieve Gore shortly after arriving at Westminster. Vieve had already established the Gore Endowment for Music, and she was adamant that the music program should grow. "It was stunning that these women saw the need and value of a music major when it was only a dream," Chris says.
In addition to the support of these two women, the Emma Eccles Jones Foundation built the addition to the Jewett Center—the Emma Eccles Jones Conservatory for Music and Theatre—after being approached by former president Peggy Stock.
With the growth of the program, Chris needed to hire an additional faculty member. His first full-time faculty recruit to the Westminster music program was Dr. Karlyn Bond, an incredible pianist whom Chris stumbled upon while walking around Salt Lake City shortly after he moved to Utah. He was entranced by the sound of piano music spilling out onto the streets from a small venue downtown. He stepped inside the venue and watched Karlyn perform what he would later learn was a repetition of her final doctoral recital. He left a note for her to call him if she was interested in teaching at Westminster. She was. She joined the faculty and immediately helped develop the curriculum and build the program.
"Karlyn was my number-one collaborator on campus. In time, Karlyn was responsible for writing curriculum changes and hiring members of the Utah Symphony onto our faculty," Chris says.
Since Chris and Karlyn created the music major in 2011, Westminster's music program has continued to evolve. The program is distinctive not only because Westminster is a small liberal arts college, but because of the opportunities that students are afforded.
"We want to stay small and attract the top students," Chris explains. Graduates of the program are seeing success in a variety of capacities: winning national competitions and finding opportunities in graduate school and professional performing.
"Students at Westminster College receive many performing opportunities," Chris says. "At large institutional music programs, it is rare to receive solo-performance opportunities until you're a junior or senior—if you're lucky."
---
Meet the Maestros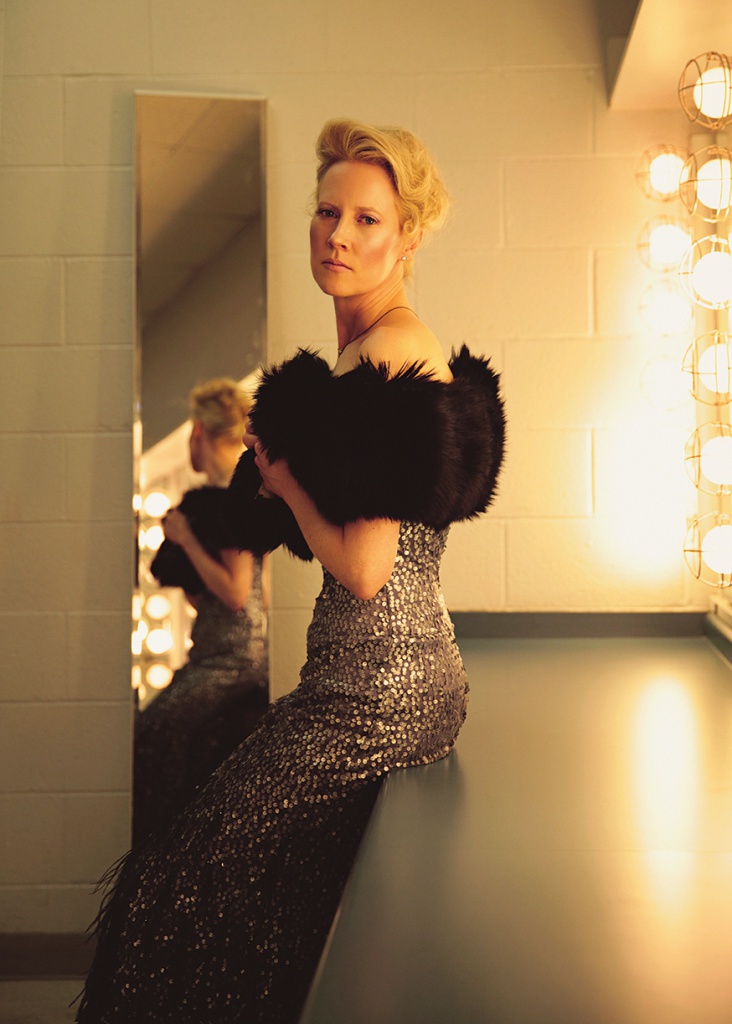 Karlyn Bond, DMA,
Professor of music
"I got a degree at a liberal arts college and then went as a graduate student to a huge music program at one of the nation's biggest and best music schools, so I've experienced both kinds of schools. I am a fervent believer in the value of a degree in the arts at a small liberal arts college and in the context of a well-rounded education. Westminster offers that more than any other Utah school."—Karlyn Bond
Background
Earned a bachelor's degree in piano performance (Walla Walla University) and a Doctor of Music Arts degree in piano performance (University of Southern California)
Received a prestigious Jacob Javits Fellowship
Released a CD in 1996 titled Piano Classics from the World of Jane Austen, which has sold over 5,000 copies and given rise to many presentations on the subject around the West
Karlyn at Westminster
Created and taught more than 15 different courses in nearly 20 years
Has served as an Honors faculty member since 1997
Has directed the Westminster Concert Series for over 15 years (and counting)
Westminster music and Salt Lake
"One real advantage this school has is its location in the middle of an artistically rich metropolitan area. The small- college atmosphere is therefore combined with great off-campus opportunities. Several of our instrumental faculty are members of the Utah Symphony. At Westminster, they are artist-faculty; their performance careers inform their teaching in many valuable ways."
Faculty cheerleaders
"One of the wonderful things about being on the music faculty here is our strong sense of community. We genuinely support each other, and we collaborate with enthusiasm. Obviously, we also strive to help students become the best they can be—in part by fostering an environment where competition is viewed as an opportunity to attain degrees of personal and collective excellence otherwise difficult or impossible."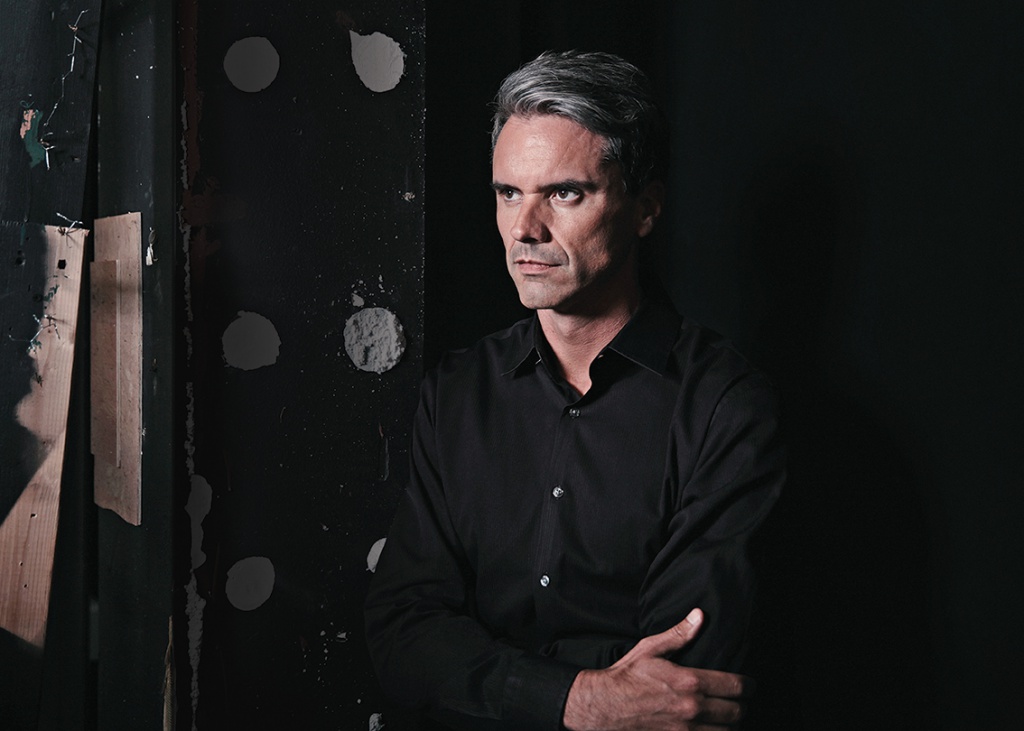 Michael Chipman, MM, AD
Assistant professor of music
"We try to create as nurturing, encouraging, and positive an environment as possible. Hopefully, students will graduate with the artistic skills and self-knowledge to compete at the highest level in graduate school. That's what we are starting to see now: all the work our students do at Westminster is paying off when they move on to the 'next thing,' whatever that may be."—Michael Chipman
Background
Earned a Bachelor of Arts with Honors (Utah State University), an Artist Diploma (Oberlin College), and a Master of Music (University of Utah)
Soloed twice at Carnegie Hall
Has sung with opera companies, orchestras, and choruses in the US and Europe
Wins prizes as a triathlete
Co-authored The Naked Voice, a book about the technique and philosophy of classical singing (published by Oxford University Press, 2007)
Michael at Westminster
Created the voice-performance program from scratch
Founded the Westminster Opera Studio and SugarTown Acappella
Developed courses in English, Italian, French, and German diction; vocal pedagogy; art-song literature; and opera literature
Most ambitious opera production to date
"Last year we staged the Handel opera, Semele. We set it as a vampire/human story instead of a Greek god/human story, which was a big hit with students and audiences. Even though Opera Studio is a ton of work, the students who did it improved dramatically in terms of performance, vocal technique, and diction. It took them all to a higher level of ability and skill, which just confirmed the need for a vibrant, robust classical-voice program here."
Westminster music students
"I find that students don't come to Westminster by accident. Because of the cost, because of the intensity of what the program is, because it's a liberal arts college, students make a conscious choice to come here. That choice makes people committed to being part of a close-knit community."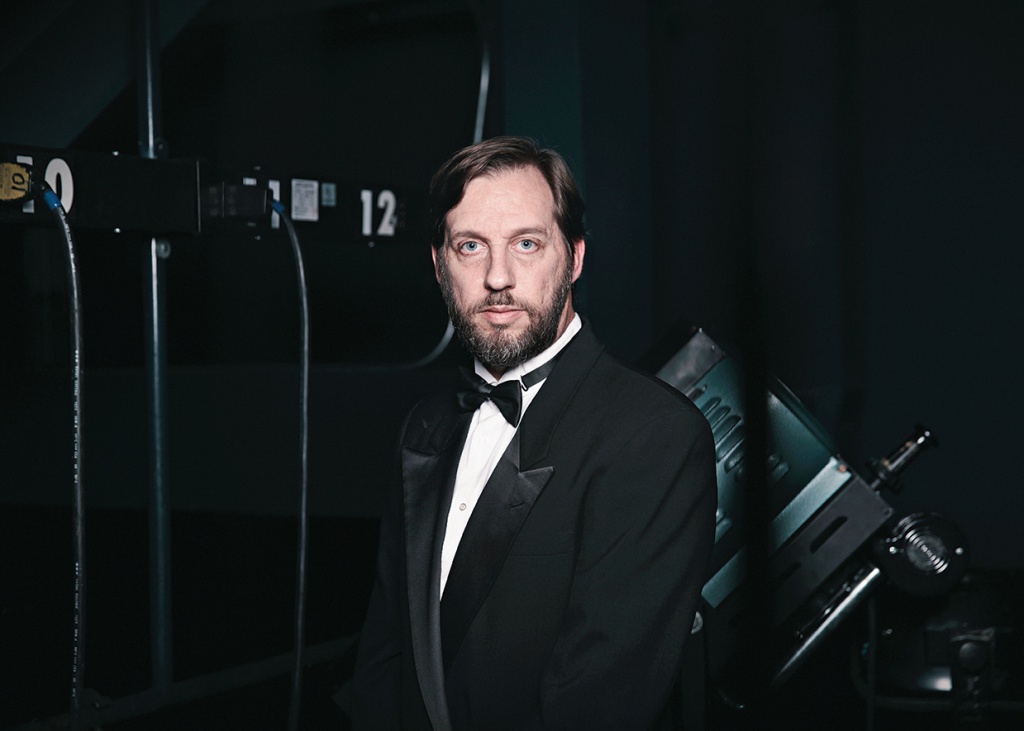 Brandon Derfler, PhD
Music program chair and assistant professor of music
"Learning more intimate repertoire where there is only one person on a part develops one's musical skills more than being in large ensembles. When we emphasize that, students have to become self-reliant a lot more quickly and develop their musicianship skills much faster. We think it prepares them even better than do some of the larger schools to make music in the real world after they have completed their studies at Westminster." —Brandon Derfler
Background
Earned a Bachelor of Arts degree in music (University of Utah), Master of Arts in musicology (University of North Carolina at Chapel Hill), and PhD in music theory (University of Washington)
Authored Single-Voice Transformations: A Model of Parsimonious Voice Leading (Cambridge Scholars Publishing, 2010)
Brandon at Westminster
Conducted the Westminster Chamber Orchestra for three years
Presented the Utah premiere of Philip Glass's multimedia piece The Photographer with Michael Chipman
Devised new and experimental courses such as the analysis of rock music and instrumental conducting, which uses software to create virtual orchestras
Making music theory matter
"Not all musicians are going to end up being composers, but they all should have a pretty decent idea about how the music holds together. You'll approach a piece quite differently if you are thinking about the structure of it and where the key moments are in it, the ebb and flow of tension and release, and the ways the harmonies and melodies combine to either intensify a moment or relax from a climax. Knowing how that's happening compositionally in the music will allow students to craft a much better performance."
Looking toward the future
"As a personal goal, I am trying to introduce some different types of courses to our curriculum. We've increased the music history and musicianship requirements and have been offering music electives that we weren't offering before. We want to make things fun and engaging and also informative for students at the same time."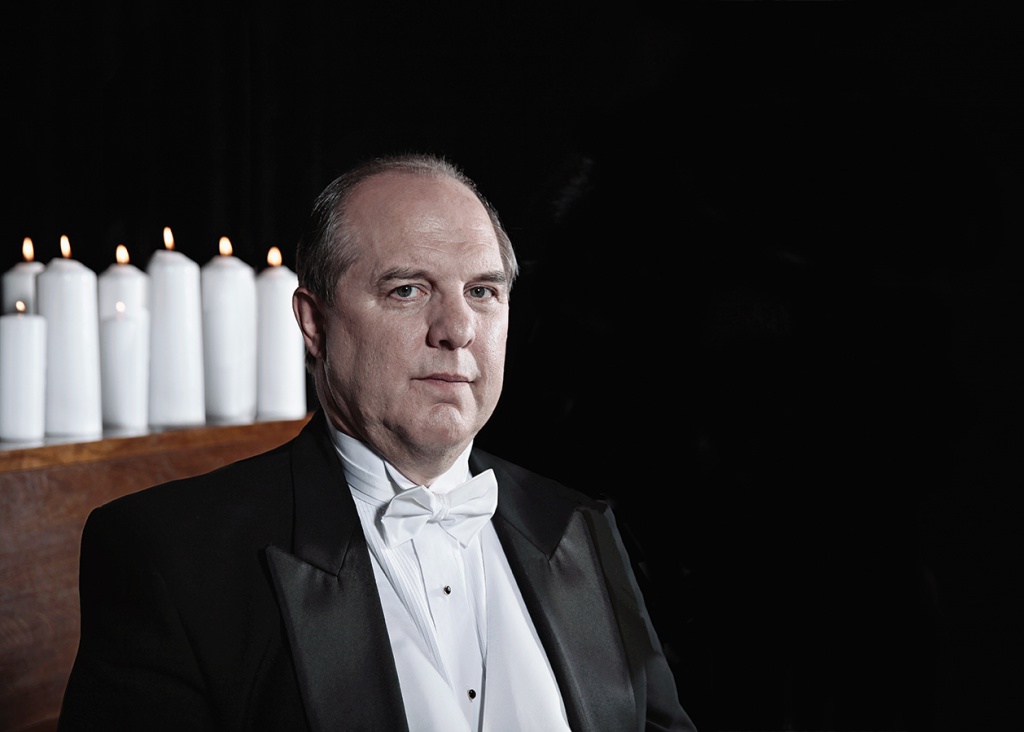 Christopher Quinn, DMA
Director of music and Florence J. Gillmor professor of music
"This is the time in your life that you must follow your passion. We encourage you to work really hard. Your talent is not a fixed commodity; rather it is a box that will continually grow as you invest in yourself." —Chris Quinn
Background
Earned a Bachelor of Arts (Westfield University), Master of Music (University of Connecticut), and Doctor of Music Arts (University of Colorado)
Has received four teaching awards, including the Gore Excellence in Teaching Award (twice a finalist)
Works professionally as a conductor, pianist, composer, and arranger
Chris at Westminster
Taught over 20 music classes in his first five years at Westminster
Collaborated with the theatre program on an award-winning production of A Chorus Line and on many music-theater productions
Has helped generate over $8 million in donations to the college
Westminster Chamber Singers
" Tours show the vitality of the music program, and students learn how to perform a repertoire night after night while traveling from city to city. Students who look at the Westminster music program see that we are actively performing outside of the state and taking our music all over the world."
Music and life
"In an ensemble, you learn accountability and teamwork. You have to be a team player and put the needs of the group above your own personal needs. We are honest with our students about the skills they need to make it in the music world after graduation. The bar has been raised. It's incredible."
Opportunity
"We tell students that they can be in a performing ensemble if they work hard and don't just rely on their talent. We give them opportunities to push themselves. Sometimes you have to give people an opportunity to stretch and grow, and the world opens up for them. For faculty, that's what we live for."
---
All that Jazz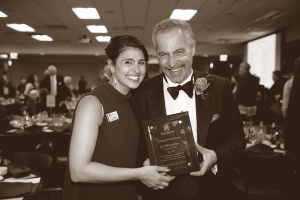 Before the days of Christopher Quinn and the music program he helped create, Westminster hosted a nationally renowned jazz program for three years. Led by film orchestrator Ladd McIntosh (Despicable Me 2, X-Men Origins: Wolverine, Pearl Harbor), the Westminster jazz program recruited aspiring jazz performers from around the country. The program offered workshops taught by legends in jazz such as Frank Zappa. It began at the University of Utah and, in 1972, was brought to Westminster College. The program was the brainchild of jazz educator and University of Utah tenured professor Bill Fowler, who fathered five sons—all of whom are extremely successful in the music scene. The goal of the jazz program was to provide students with unmatched hands-on experience and performing opportunities. The program also offered scholarships. Local musician Joe Muscolino ('75) recalls reading about the jazz program as a young college student in New Jersey. His decision to transfer to Westminster was made on the basis of an article he read in Downbeat Magazine.
"It was one of the best jazz programs in the country: it was critically acclaimed," Joe says. "One of the features of it was that it had a visiting faculty program where the biggest pros in the business would come and spend a couple of days to a week with us sitting in the classes, jamming with us, and lecturing."
Now a successful musician who has spent his life making and playing music, contracting shows with Broadway Across America, and performing alongside legendary greats such as Wayne Newton, Frank Sinatra Jr., and The Temptations, Joe remains connected to the college. He sings in Chris Quinn's community choir and was named a 2015 Distinguished Alumni Award recipient. He credits the success of his career to his experience at Westminster, where he performed across the western United States and studied under the tutelage of extraordinary musicians. Though the heyday of the jazz program ended in 1975, its alumni, like Joe, will never forget the three years when Westminster jazz was in its prime.
---
The Angel of Westminster Music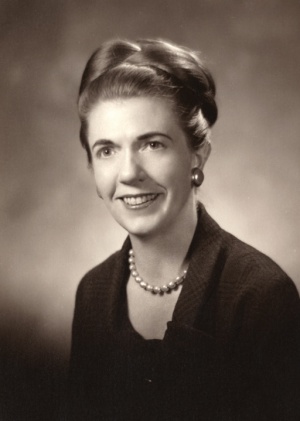 Westminster's music program owes a great deal of its recent growth to Florence J. Gillmor. Florence came to Westminster College as a student in the 1930s. Trained in both piano and voice, she performed in many campus music and theatre performances. She graduated from Westminster in 1938 and went on to sing in several local churches, volunteer as a hospital "pink lady," and travel extensively.
The only child of Edward L. and Bessie Boyce Gillmor, Florence inherited thousands of acres of Utah ranch lands, a place where her family raised sheep for generations.
She was always a wonderful supporter of music at her alma mater, with gifts to Westminster dating back as far as the 1960s. When the Emma Eccles Jones Conservatory was added to the Jewett Center in 2003–04, Florence contributed more than $200,000 to the effort, but did so anonymously. This gift was in addition to music scholarships and support for the music program in general.
Florence passed away in 2009, but she made sure that Westminster's music program would still flourish. She established a charitable foundation and gave the principals specific instructions that—in addition to supporting other causes she loved, including The Nature Conservancy and the National Audubon Society—the foundation provide a significant portion of its annual earnings to help Westminster music.
The Florence J. Gillmor Foundation has built upon her legacy, funding the music program with several generous gifts that enrich the educational experience for talented young musicians. These include the Steinway pianos in Westminster's teaching studios, a music program fund, the Gillmor Music Professorship, summer music festivals and camps for high school students, Westminster Opera Studio productions, and $150,000 per year in music scholarships.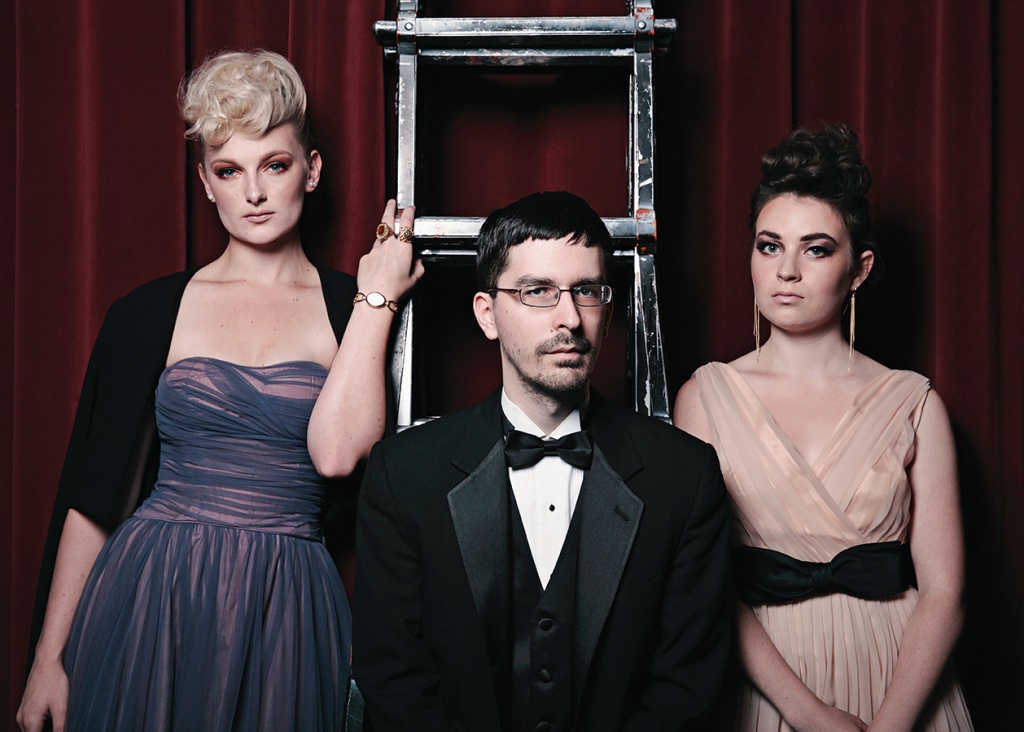 Christy Peterson ('15), Jeff Pedersen ('13), and Sally Drutman ('17)
Griffins in Music
Christy Peterson ('15)
German Au Pair
Opera Studio leading roles
Susanna, Le Nozze di Figaro scenes
Madga, La Rondine scenes
Mimi, La Boheme scenes
Witch, Dido and Aeneas
Clara, The Light in the Piazza
Semele, Semele
Why she loved the Westminster music program
"You are consistently given opportunities to perform and push yourself to the next level. The faculty is exceptional. They are all truly caring mentors willing you and pushing you to excellence."
Considering Westminster music
"I was welcomed into the department with open arms and given one-on-one attention from my professors in my classes to help me learn above and beyond larger universities. I quickly became a part of the Westminster family and will forever be connected to so many of my fellow musicians and classmates. I was given the freedom to become my own artist and interpret and perform music in whatever way felt best to me."
Jeff Pedersen ('13)
Medical student at Dartmouth
Music and medicine
"The biggest tool that the music program allowed me to hone was working in a team. As healthcare becomes more substantial as a field, team-based care is really where the future of medicine is."
From section leader to med school
"I had the opportunity to be section leader and also the president of the choir. That has helped me moving forward because it has allowed me to learn how to talk to people, communicate with others trying to achieve a common goal, and discover what the best way to achieve that goal is."
Music at Westminster
"The Westminster program is unique because of its size. There is a lot of individual attention. All of the faculty that I have worked with have been very invested in my education, not only as a singer and performer, but they were also very helpful when I was applying to medical school. It's for anyone who is interested in that sort of individual attention and the opportunity to have a lot of great experiences in a very safe space and come out as a better person."
Sally Drutman ('17)
Music student
Performing opportunities at Westminster
Debuted with the Utah Symphony for its 56th annual Salute to Youth concert (September 2015)
Won first place in the lower college division of Northern Utah in the 2015 National Association of Teachers of Singing (NATS) competition
Auditioned for the Utah Opera
The Student Experience
"The professors give you the one-on-one attention you need as a singer to perfect and hone your craft, and students are given so many opportunities to perform. Because of my professors, I have made connections with influential musicians."
Distinctly Unique
"Westminster College for music is a hidden gem. Students are given opportunities without the extreme competitiveness common in other undergraduate programs. The professors in the music program are some of the best that tuition can buy anywhere in the country. The small class sizes create such a great atmosphere to learn music well and gain the attention a singer needs to excel."
---
Musical Achievements
Kathleen Hunter ('14) received a major scholarship for the pursuit of a master's degree in bassoon performance at Carnegie Mellon University.
Hilary Koolhoven ('14) began graduate studies in vocal performance at the University of Utah and has been cast in lead roles in the U's Lyric Opera Ensemble for the past two years.
Brett Moore ('06) became the lead singer for the Joe Muscolino Band.
Corinne Rydman ('14) received a scholarship for graduate study in voice at the San Francisco Conservatory.
Christopher Stockslager ('15) received a large scholarship for vocal graduate study at the Manhattan School of Music, where he has joined the private studio of Metropolitan Opera legend James Morris.
Chamber Singers perform around the world
Carnegie Hall
Washington, DC
Intermountain West
France
Spain
Beijing, China
Ireland
United Kingdom
---
About the Westminster Review
The Westminster Review is Westminster University's bi-annual alumni magazine that is distributed to alumni and community members. Each issue aims to keep alumni updated on campus current events and highlights the accomplishments of current students, professors, and Westminster alum.
GET THE REVIEW IN PRINT STAY IN TOUCH SUBMIT YOUR STORY IDEA READ MORE WESTMINSTER STORIES