---
An Undergraduate-Research Powerhouse
An Undergraduate-Research Powerhouse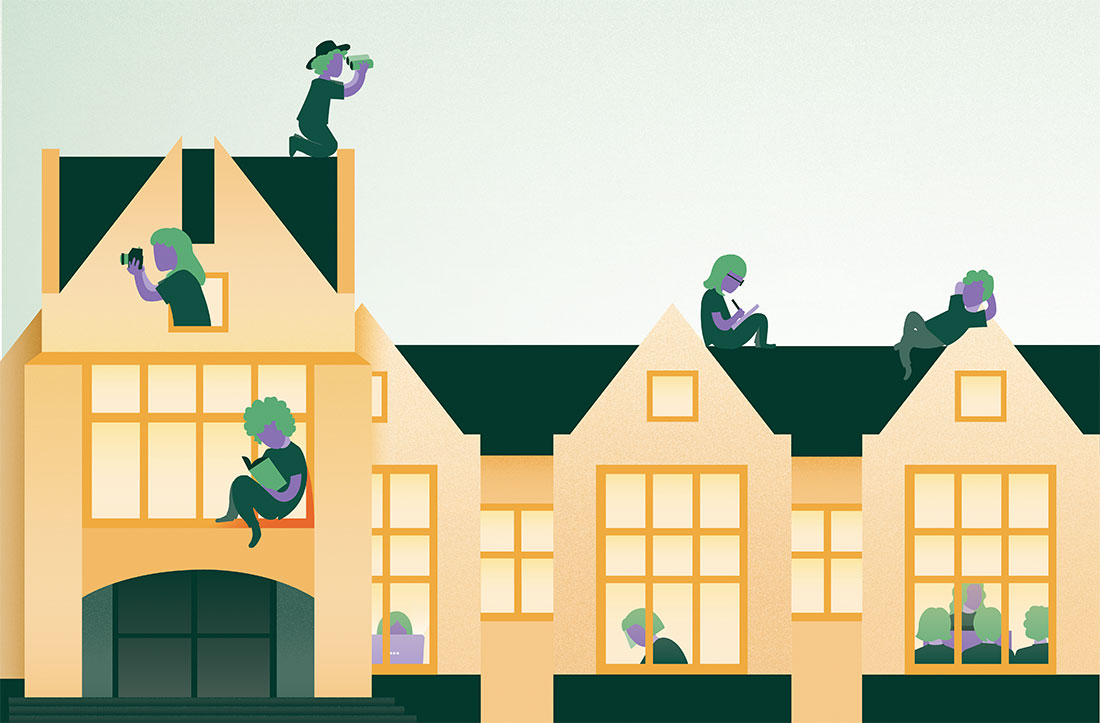 by Rachel Terran ('18)
illustrations by Amber Mott
An abandoned school bus in the middle of a farmer's field in the Snake Valley—that was Warren Cook's ('17) humble abode during a summer research project in 2016. After he wrote a personal narrative about the Snake Valley located between Utah and Nevada, Warren's environmental history professor, Jeff Nichols, proposed that Warren consider researching it. The Honors College gave him a $3,750 independent summer research grant, which he used to immerse himself into the culture of the valley during the month of July. This project was just one of a few that Warren worked on as an undergraduate student.
"I started dreaming up research projects," Warren says. "I chose to do an oral history of water in the Snake Valley because it blurred the lines between history, human geography, and environmental studies. I lived in a farmer's field in the desert with zero service and drove around to collect 20, one-hour interviews. This was an amazing experience to have as an undergraduate student, to spearhead my own ethnographic research and have professors support me. Somewhere else they would have thought, 'this was too ambitious and might have flopped.' It hasn't."
Warren's post-research experience has involved speaking to sheepherders in the West Desert, writing articles for the Great Basin Water Network, and presenting at three conferences. Warren has also had interest from journals, and his senior thesis became a manuscript that will soon be published. Warren credits his research experience with getting him admitted to several PhD programs. He selected the University of Colorado in Boulder, pursuing a fully funded master's in rhetoric and public culture, so he could continue the research he started at Westminster.
Warren's undergraduate experience is one that resonates with many students. Westminster's mission is to deliver an excellent undergraduate education, so instead of separating teaching and research, faculty design their research programs so that students can get involved, making the college an undergraduate-research powerhouse. Undergraduate-research experiences at Westminster support students' passions and intellectual interests. According to the American Association of Colleges and Universities, undergraduate research is a proven "high-impact educational practice" that gets students engaged in their education and generates a deeper learning. Students who learn through high-impact practices have higher success rates after graduation.
Dr. Lance Newman, dean of the Schools of Arts and Sciences, explains that "undergraduates at Westminster have powerful research experiences that most people don't get until graduate school."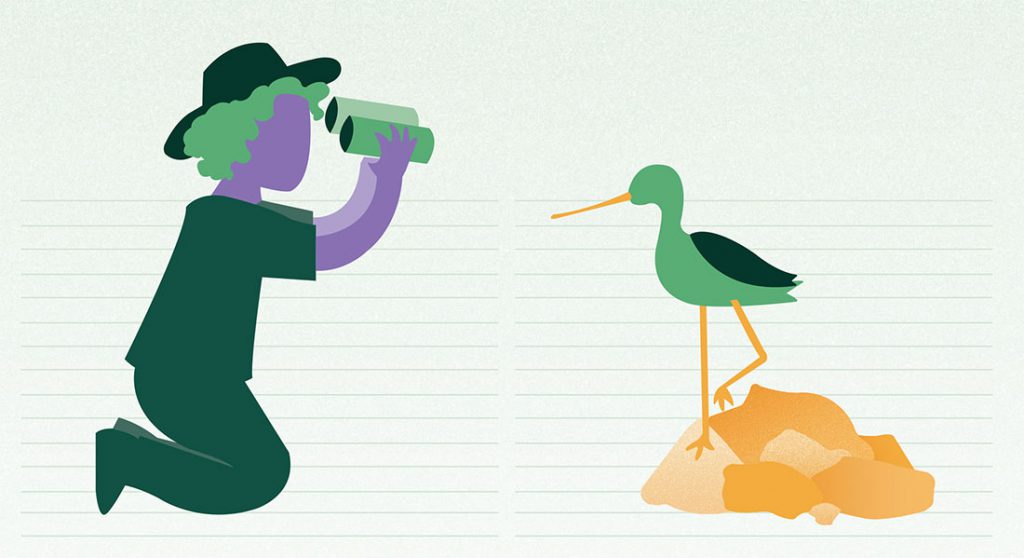 Dr. David Kimberly—who runs the Undergraduate Research (UGR) program at Westminster—says that the 2018 spring semester was a record year for the number of research proposals submitted by students and faculty. This year the Teaching/Learning Committee received roughly 40 proposals from 25 faculty/student research teams. What makes UGR at Westminster so robust is the funding that is available for students and faculty to pursue their research. Funds that go toward research come from the Provost's Office, the Gore Research Fund, and the Honors College. Additional support comes from the college's institutes: the Great Salt Lake Institute (GSLI), the Institute for Mountain Research, and the Ronald E. McNair Post-baccalaureate Achievement Program, to name just a few.
"It is super unique amongst schools our size to have the amount of funds we have to support students and faculty in their research. It is pretty special, and it is not something I have experienced at schools of this size and scope," David says.
Dr. Anneliese Cannon, assistant professor in the School of Education, explained that in her particular PhD program, she was primed for a more traditional research model of doing research independently or with advanced graduate students. Once she came to Westminster, she knew that different opportunities were available.
"I learned right away that there was an emphasis on doing research with undergraduate students at Westminster," Anneliese says. She currently works on a project headquartered at the University of Wisconsin called Global StoryBridges (read more about Anneliese's work with StoryBridges on page 14).
Anneliese works on this project with Sarah Turner (Honors '19), an undergraduate who received an Honors College Research Grant last summer to explore issues of identity and globalization among the students. Through this project, Anneliese and Sarah work with faculty at multiple universities to interpret the students' stories and conversations.
Although Westminster is a small institution where the emphasis is primarily on teaching, Anneliese acknowledged how significant the support she received was in launching the project. "In a short time, thanks to the Dumke Center for Civic Engagement, I was able to find an ideal site for the education department, hire a paid student research assistant, and buy equipment. This support has enabled us to become part of an exciting, diverse research team."
Many of our alumni credit their undergraduate research as a driving force in getting from Westminster to the graduate programs they attend today.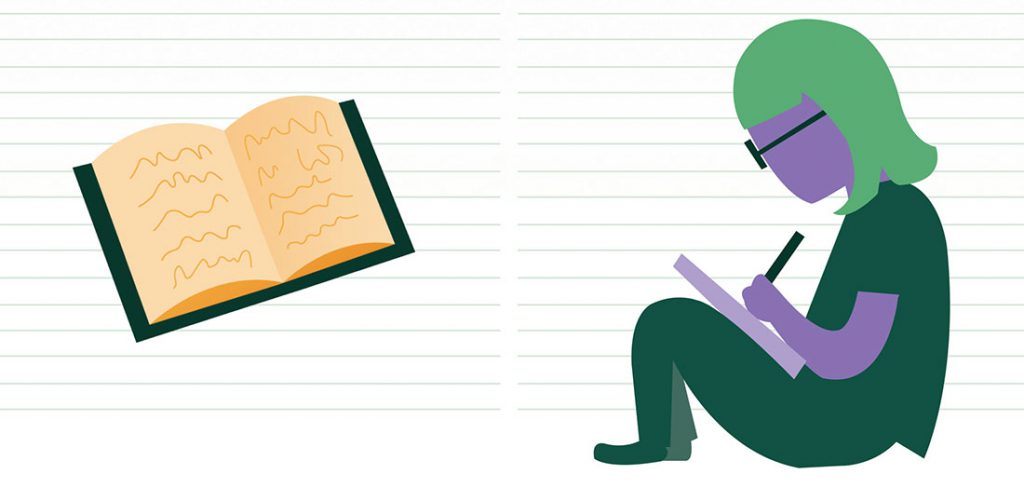 Nicole McKenna (Honors '18) graduated from the Honors College with a degree in justice studies and a minor in psychology. While at Westminster, McKenna attended six academic conferences with Dr. Christy Seifert and Dr. Giancarlo Panagia in just one semester. McKenna is currently studying at Arizona State University—a top graduate university for criminology and criminal justice. In speaking with McKenna about her research opportunities, she noted that these opportunities came with little-to-no expense thanks to research grants.
The Honors College encourages many students to make research a central part of their Westminster experience. According to Dr. Richard Badenhausen, dean of the Honors College, 41 percent of the presentations from the 2018 undergraduate research fair featured Honors students, which he says is fairly typical each year. "The over-weighted figure speaks to the key role research plays in the Honors College, as Honors students make up only 11 percent of the undergraduate population," Richard explains. This statistic speaks to the many opportunities available to Westminster students interested in high-level research.
It was initially an Honors grant that funded the research of Nicole Bedera (Honors '14), an alumna who studied sociology at Westminster. While at Westminster, Bedera attended seven academic conferences, presented two invited talks, and co-authored articles with Dr. Kristjane Nordmeyer in three academic publications. Bedera now studies and teaches at the University of Michigan, a top PhD program for her field of study. "I got into a PhD program right away because of the research with Kristjane," Bedera says. "And not only did I get to do my own independent and innovative research as an undergrad, but I had so many opportunities to use my work."
Nicole was also chosen for the National Science Foundation Graduate Research Fellowship, which is the most prestigious award you can receive during your first couple of years in graduate school. "Your reviewers can tell you why you do or do not deserve the award. The thing that kept coming up was the independent research I did, and how I found ways to share it with a broader audience. Doing any kind of research and being able to put it into action are really attractive to graduate and fellowship programs because you are developing skills to share research with the world," Bedera explains.
In talking with Westminster students, there is a similarity in their autonomy to choose what they research. Further, faculty members are enthusiastic about guiding research that personally interests their students. "My students select projects that interest them," says Dr. Christy Seifert, professor of communication and co-director of Westminster's Master of Strategic Communication program. "It's okay if the topics or methods aren't my research interests or specialty. The students drive the agenda, which allows them more independence and encourages me to learn about a broad range of topics (as opposed to being focused on some small subject). In other words, because of Westminster's view of research, I have the freedom and time to let students explore without fear that it's compromising my own research agenda."
Christy says that she is always trying to help her students learn how to take their projects in different directions without a concern that they aren't doing "real" traditional research. She is able to give her students that freedom largely because Westminster happily takes such a broad view of research. For example, Sabi Lowder (Honors '19) collaborated with Christy to research the representation of indigenous voices in Bears Ears National Monument.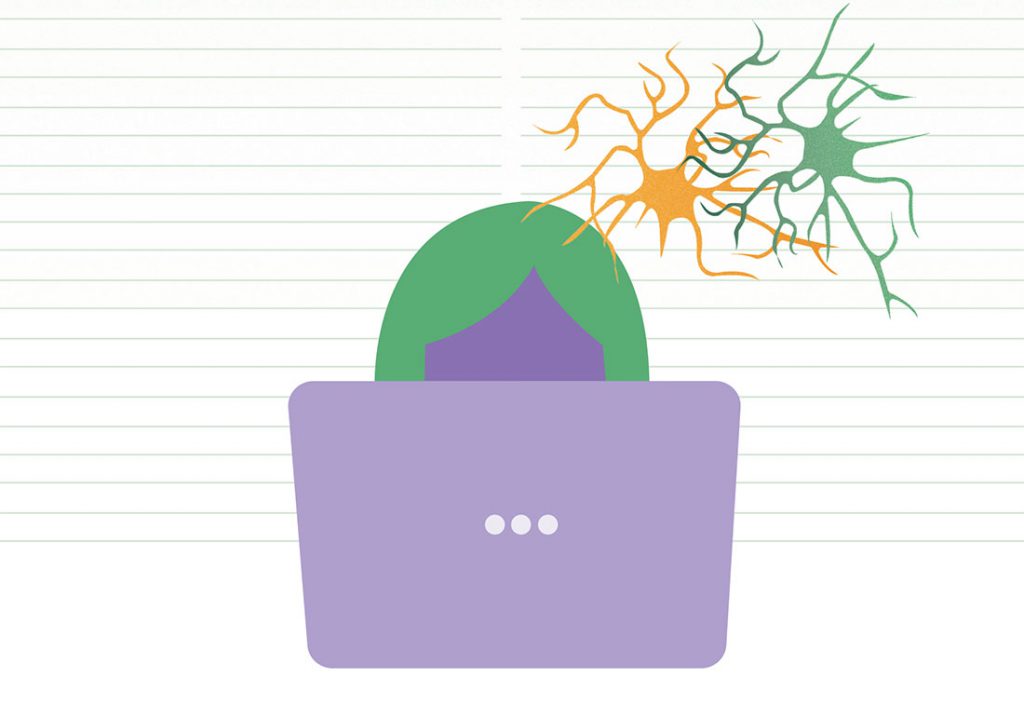 Sabi also worked with fellow student Josee Stetich (Honors '19). Josee is majoring in environmental science and is approaching the research topic from an environmental perspective, with Brent Olson, professor in environmental studies, as her faculty advisor. Their project took an interdisciplinary approach to a research topic that they are both passionate about.
Dr. Kristjane Nordmeyer's perspective is that students have the best ideas for research and often ask better questions. The way in which Westminster students have the option to come to professors with problems they want to address, and come up with ways to study those problems with professors, is an opportunity that Kristjane embraces. "Research is driven by their own lived experiences," Kristjane says. "They are looking at areas that haven't been examined before in this kind of depth. I'm always excited when students bring projects my way because they have a perspective that I don't, so I try to play a supportive role."
Together, these stories and thoughts from students and faculty represent the heart of Westminster undergraduate research and contribute to a community that leads and drives meaningful lives. Our community encourages students to be stakeholders in their academic experience and explore what interests them. Here at Westminster, faculty help students do original research to find out what they care about and how they want to make a difference in the world.
Undergrduate Research Is In Our DNA
Jessica Breda ('19)
Major: Neurobiology and neuroendocrinology
Description: "We performed a comparative study of reproductive behavior in two species of leech. Using hormones and various cellular techniques, we were able to assess reproductive behavior on a behavioral and cellular level. We found that the two species use the same subset of neurons in different ways to elicit identical behaviors. To our knowledge, this is the first time a complex behavior has been studied using this paradigm."
Chloe Fender ('20)
Major: Biology
Description: "Our research consists of macro-invertebrate sampling in the two Immigration Creeks. Macro-invertebrates reflect the quality of the water in the streams overall and at the site of sampling."
Hannah B. Frazier ('20)
Major: Chemistry
Description: "The research I did focused on the Mineral Mountains in central Utah, which contain volcanic deposits at high elevations that erupted less than 1 million years ago. These deposits were studied in the 1970s, but relatively little work has occurred on these eruptions since. In Summer 2017, I began working on understanding the chronology and geochemistry of these volcanic deposits to determine reasons for such young volcanism in this part of Utah and to identify any relationships to other volcanic fields in the region."
Maddy Dobkin ('18), Adanna Foley ('18),
and Kiera Stukey ('19)
Major: Public health
Description: "The research began with sending out a survey to all students attending Westminster during the 2018 spring semester. Individuals who received abstinence-only and no-sex education were found to have higher rates of Intimate Partner Violence (IPV) and lower knowledge of healthy relationships, consent, birth control, etc. The research also established a correlation between those who identify as non-heterosexual and their level of comfort in reaching out to resources on Westminster's campus. Overall, the research constructed an urgency for exploration among sex education curriculums."
Kara Kornhauser ('19)
Major: Environmental science
Description: "The goal of this research project is to identify the factors that draw birds and other animals to the Rozel tar seeps, which are around a mile away from the water line of the Great Salt Lake. Using motion-sensor cameras and temperature-monitoring devices, I will examine which animals are visiting the tar seeps and the temperature variation of the seeps."
Ban Naes ('19)
Major: English with an emphasis in creative writing
Description: "I am currently working on a large research project HijabiSpeaks alongside Westminster alumni Alaa Al-Barkawi ('17) and professor Eileen Chanza Torres. The multimedia project revolves around the narratives of Muslim women who wear the hijab and their experience on college campuses."
---
About the Westminster Review
The Westminster Review is Westminster University's bi-annual alumni magazine that is distributed to alumni and community members. Each issue aims to keep alumni updated on campus current events and highlights the accomplishments of current students, professors, and Westminster alum.
GET THE REVIEW IN PRINT STAY IN TOUCH SUBMIT YOUR STORY IDEA READ MORE WESTMINSTER STORIES