---
On Par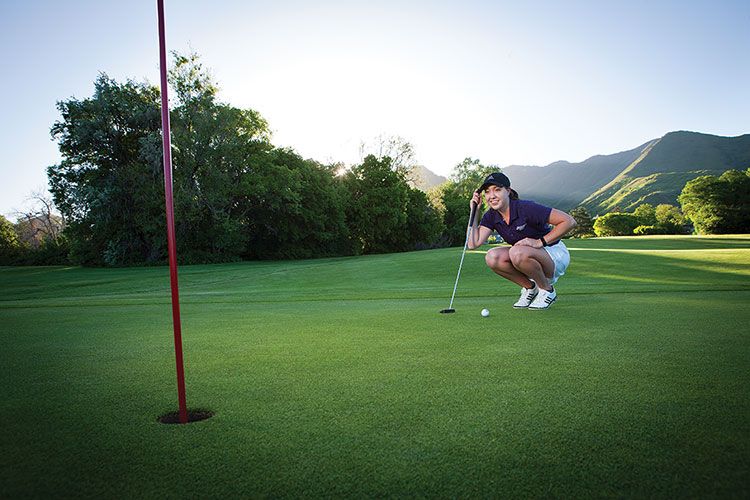 Westminster student-athlete finds the discipline to master the classroom and the green
by Autumn Thatcher (MSC '15)
Growing up in Bountiful, Utah, Karen Valcarce ('19) began taking golf lessons at age seven, around the same time she started figure skating. While she was drawn to both sports, she opted for figure skating until she reached high school. Upon discovering that she could play golf as part of her high school's team, Karen traded her skates for clubs and worked toward becoming one of the top female golfers in the state of Utah. "I won the individual region title every year I played," Karen explains. "Each school had a team of four to seven girls, with 40 girls competing in the tournaments. My junior year I placed in the top 10 in the 4A state tournament. My senior year, I took third at state."
It was during her junior year of high school that Karen realized she could play golf at college. She began pursuing different options for college and, wanting to stay in Utah, Karen decided to attend Westminster. "I love the Sugar House neighborhood and thought the campus was really nice," Karen says. "I especially liked the fact that classes are small enough that professors would get to know you." A chemistry major minoring in public health, Karen admits that finding her groove as a college-level athlete took a little bit of time. "My first year was a little rough," she says. "That was our first year transitioning to NCAA-II, which means more competitive tournaments and more challenging golf courses at longer distances."
Adjusting to the classroom experience in college while also traveling as part of a competing athletic team took some time for Karen. But after her sophomore year, the Westminster women's golf team welcomed Denise Larson as their new head coach. And Karen, who had adjusted to the demands of her coursework, found her swing again—all while maintaining a 3.9 GPA. "I set some really good goals for myself going into my junior year and was on the cusp of getting to where I knew I could be," Karen says.
Karen adds that the mentorship provided by Coach Larson has been a huge benefit for her, crediting the head coach with providing the support and encouragement she needed. "I was able to have a mindset that allowed me to let things go, and go with the flow," Karen explains. By the end of her junior year, Karen had her lowest tournament round of her college career, won the MJGA Invitational in Las Vegas, gained two other top-three finishes, and tied for third in the Rocky Mountain Athletic Conference championship event.
Karen has entered her senior year with her sights set on winning the Rocky Mountain Athletic Conference Championship—and hopes to move on to the super regional tournament. Looking beyond Westminster, Karen says that golf will always play a role in her life. "When I was younger, it wasn't so much a part of who I was, but it has become more of who I am," Karen says. "When I graduate from Westminster, I want to keep golfing and give back to the community of golf." Karen plans to continue working for Utah PGA during the summer months, mentoring young female golfers and encouraging them to stay in the sport.
Academically, Karen is considering grad school in environmental health and toxicology. She is also thinking about environmental law. Regardless of the path she chooses, Karen will take with her the experiences she has enjoyed as a student-athlete on the Westminster women's golf team. "It's a lot of hard work, and you won't always have time to do the fun things in between classes, but it will be worth it," Karen says.
---
About the Westminster Review
The Westminster Review is Westminster University's bi-annual alumni magazine that is distributed to alumni and community members. Each issue aims to keep alumni updated on campus current events and highlights the accomplishments of current students, professors, and Westminster alum.
GET THE REVIEW IN PRINT STAY IN TOUCH SUBMIT YOUR STORY IDEA READ MORE WESTMINSTER STORIES