---
From the Board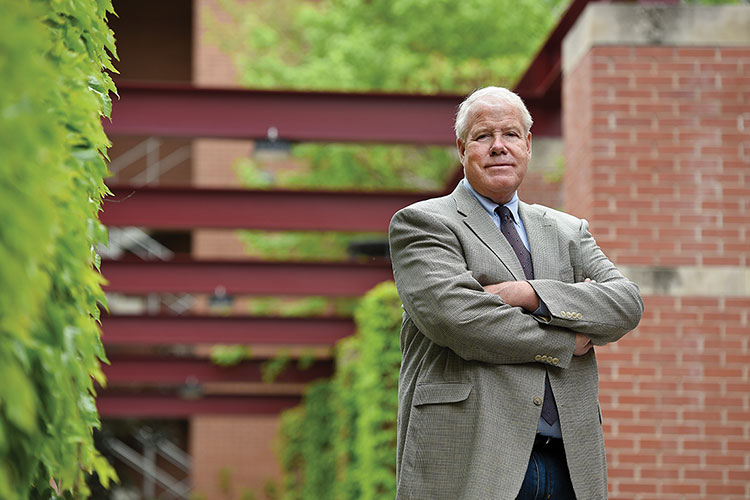 Board of Trustees member and alumnus Doug Morton reflects on his journey at Westminster
by Conor Bentley (MEd. '08)
"Westminster saved me," says Doug Morton ('73) of his four years at the college. In 1968, well before his time as CEO of Gart Sports, chairman of the board for Sports Authority, and member of Westminster's Board of Trustees, Doug was just a high school student trying to decide where to go to college.
It was a volatile time in the nation, with the Vietnam War at its peak, and Doug knew that he wanted to go somewhere small—where he knew he wouldn't fall through the cracks—and with a diverse student body. Westminster's small class sizes appealed to Doug. "I appreciated the close relationships with classmates and faculty who gave me the kick in the butt I needed," he says. Doug worked at a sporting goods store to pay his way through college, and he credits Westminster's tightknit community for keeping him on track toward completing his degree.
Doug's fond memories of his time at Westminster made it easy for him to accept then-President Peggy Stock's invitation to join Westminster's Board of Trustees in 1996. "I still get a warm, fuzzy feeling when I walk up to Converse," says Doug. His relationship with President Stock and President Steve Morgan further fostered his special connection to Westminster. Doug credits Steve as the main reason for his many years of involvement as a Westminster trustee. Doug completed his first term on the board in 2001 and returned to serve a second term under President Morgan in 2015. "Steve is a great leader, and I was very sad to see him go," Doug says of his longtime friend's recent retirement.
During his time as a trustee, Doug has made a point of trying to honor the college's rich history from an alumni perspective, while also helping the college with new projects to move it into the future. The building of the Giovale Library is one milestone in particular that he views as a tremendous accomplishment. Doug, also the father of alumna Keri Feil ('00), was proud to see his daughter have the same enriching experience at Westminster that he did.
Through his work on the board, Doug feels an enhanced affection and appreciation for his alma mater. "Westminster is a stable place in a changing Salt Lake, and it still has the same feel as it did when I was 18. That feeling needs to be preserved," he says.
---
About the Westminster Review
The Westminster Review is Westminster University's bi-annual alumni magazine that is distributed to alumni and community members. Each issue aims to keep alumni updated on campus current events and highlights the accomplishments of current students, professors, and Westminster alum.
GET THE REVIEW IN PRINT STAY IN TOUCH SUBMIT YOUR STORY IDEA READ MORE WESTMINSTER STORIES