---
Uplifting Voices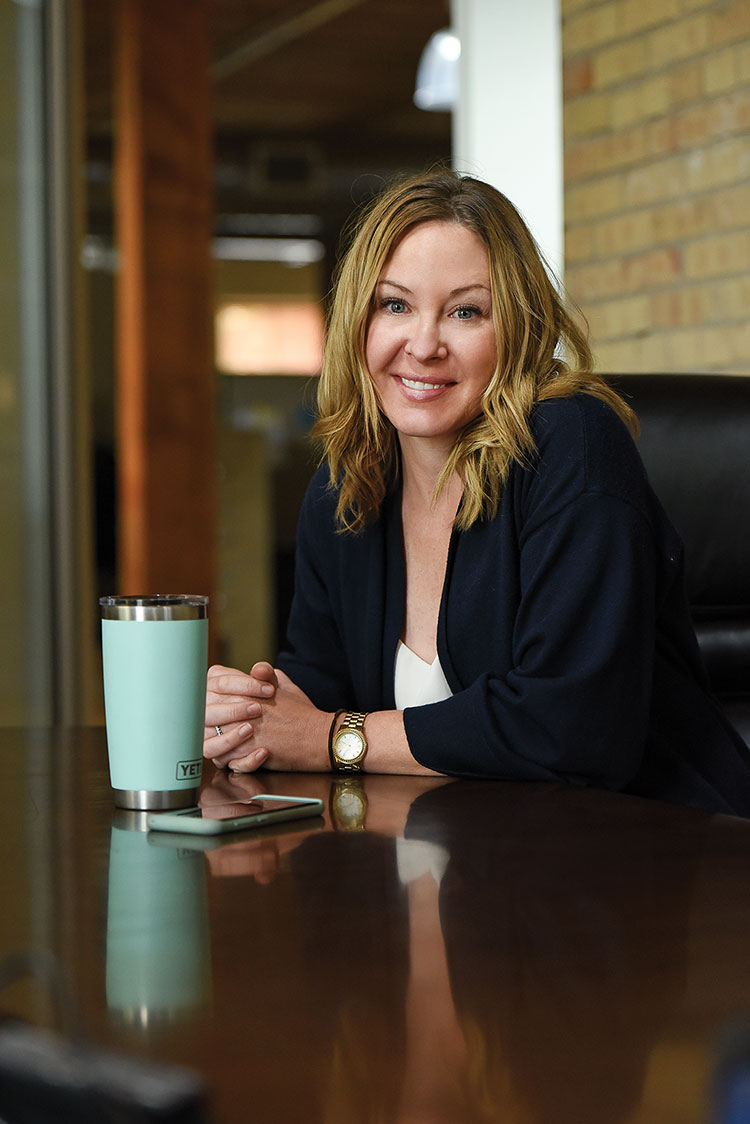 Empowering others through community action
by Sabi Lowder (Honors '19)
Kelly Striefel (MACL '14) grew up believing it's a person's duty to show up in life and to empower other people to show up in their lives. Kelly embodies this way of thinking in her advocacy for autism, her role as executive director of "and Justice for all," and her service as a mentor in Westminster's Gold-to-Grad program. Kelly has worked in nonprofits, politics, and the corporate world; but her passion for nonprofit development and the journey to better herself motivated her to enroll in Westminster's Master of Community Leadership (MACL) program.
"I've always been taught to pay it forward," Kelly says. "You do better than the generation before you, and you help when you can—and you should help."
"And Justice for all" works alongside three other legal organizations in Salt Lake City to help provide free civil legal aid services to underserved Utah communities. Kelly got her start in nonprofit work at Neighborhood House. "I always liked to help the underdog," she says. The excitement about nonprofit work didn't leave when she switched over to corporate giving with Rio Tinto Kennecott, where she worked on projects like the Meldrum Science Center, Rio Tinto Real Stadium, and the Utah Museum of Natural History.
Kelly left the corporate world in 2008. She decided to enroll at Westminster but delayed her start date six months after finding out she was pregnant with her son, Parker. During her time at Westminster, Kelly experienced some personal turmoil: Parker was diagnosed with autism, and she was a single mother working full time. These struggles didn't stop her from pushing onward with her degree and her aspirations. "It was probably the hardest time in my life, personally, but the most rewarding," she says. "If Westminster wasn't so supportive, I wouldn't have made it through."
She gravitated toward Dr. Vicki White's leadership courses and Dr. Scott Gust's rhetorical theory. She already had an understanding of the budgeting and funding side of nonprofits and wanted to focus on bettering herself and building relationships with faculty and staff, many of whom she is still in contact with four years after graduating.
Kelly deepened her Westminster relationships by becoming a mentor. She helped lead and support graduating senior Nicole McKenna ('18) as she prepared for her next steps after graduation. "Having someone to listen and see things from an outside perspective was amazing, and I can't thank her enough," Nicole says.
Kelly's dedication and passion go beyond "and Justice for all" and Westminster. As an advocate for autism awareness, she works alongside other parents and lawmakers to help improve the public education system for children on the spectrum. Last legislative session, Kelly worked on a bill that proposed further training for teachers in special education. Though the bill failed, she will be back next session to continue to fight for improved education for those with different needs. "Westminster taught me, 'you're leaving a legacy,' and I want to help make things better for other parents," she says.
---
About the Westminster Review
The Westminster Review is Westminster University's bi-annual alumni magazine that is distributed to alumni and community members. Each issue aims to keep alumni updated on campus current events and highlights the accomplishments of current students, professors, and Westminster alum.
GET THE REVIEW IN PRINT STAY IN TOUCH SUBMIT YOUR STORY IDEA READ MORE WESTMINSTER STORIES