---
Giving Back to the Future
Giving Back to the Future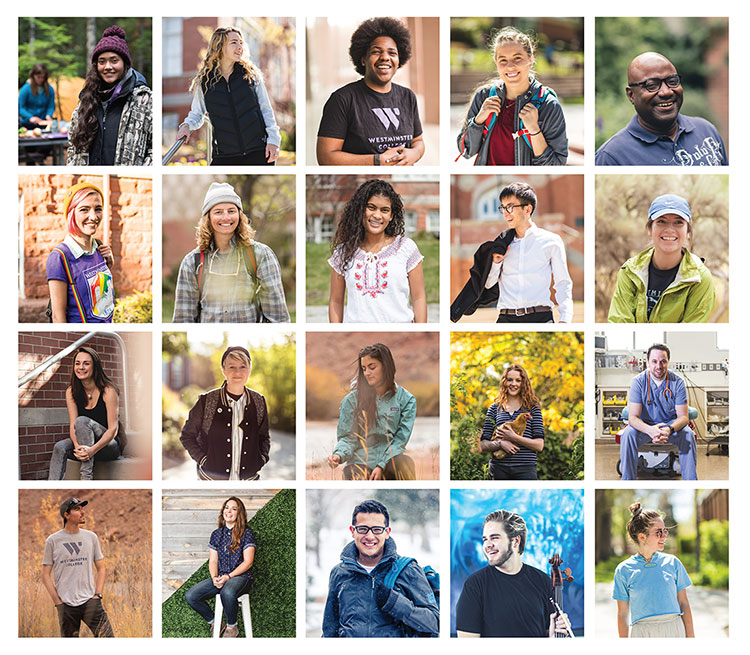 Alumni honor their Westminster experience by supporting students today
by Audrey Maynard ('03)
In the world of nonprofit fundraising, the annual fund leads a less-than-glamorous life: no splashy name on a building, no reserved parking space, no cover photo on the Westminster Review. But what the annual fund lacks in stature, it makes up for in spirit. It's the financial lifeblood of the college, bridging the gap between what students pay for tuition and the true cost to educate them.
Seth Longhurst ('07) is a marketing strategist in Salt Lake City who has given to the college's annual fund—known as the Westminster Fund—every year since graduation. "It's just something that I do," Seth says. "Every time I'm asked, I give if I'm able." Why? "Because I know it's important," he says. "Westminster is not Harvard with a huge endowment, so every little bit is needed. It all helps the college provide as much opportunity as it can to students."
The opportunities afforded to students through the Westminster Fund enhance every aspect of their collegiate experience. From merit and need-based scholarships to undergraduate research and athletic programs, library acquisitions and new lab supplies, annual-fund dollars immediately go to work to support successful academic and extracurricular outcomes.
During Seth's undergraduate experience, he seized leadership opportunities through student government, the Gore School of Business, and the Honors College that continue to yield personal and professional rewards. "Westminster really set me up for success. Nearly every opportunity I've had since graduating has come as a result of the skills, knowledge, or relationships I gained as a student," he says. "I don't know many people who graduated from other institutions who are still connected to their professors and friends the way I am."
Patrick Curtin ('91, MPC '94), an ardent supporter of the Westminster Fund at the leadership level, is also grateful for his time at Westminster and believes in giving back in a way that gives the college freedom over where his contribution is applied.
"I really enjoyed my experience, and when I graduated, I was proud that I was associated with Westminster," he says. "There are departments at the college that I'm not aware of that might need help. It doesn't really matter to me where my money goes, as long as it is helping the entire school."
Patrick is able to affordably support the Westminster Fund at a leadership level because he has opted to make a recurring monthly gift. "No matter the size, if you give monthly, you don't really notice the money going," he says. "It's automatically done—I don't really think about it."
Although Patrick directs his gift to where the college needs it most, donors to the Westminster Fund have the flexibility to give to the campus priority that is most meaningful to them, including to a specific school, scholarships, athletics, arts and sciences, and more.
A common refrain about the annual fund is that it's not important how much you give, just that you give. This message, in particular, has resonated with Honors College alumna Megan Peters (Honors '15), who led the Honors class-gift campaign when she was a senior. She credits Richard Badenhausen, founding dean of the Honors College, with driving home the importance of alumni support for the Westminster Fund starting the moment they graduate.
"It shows that students still believe in Westminster even after they graduate, and it helps make the case for financial support from outside donors," Megan says. "It is important to start giving early and get in the habit, even when you don't make a lot of money. I like to think of my giving as exponential through my career and that when I make more, I'll give more."
For Seth, Patrick, and Megan, their sustained support for the Westminster Fund is an investment in the value of the degrees they worked so hard to earn.
"It is a symbiotic relationship between the college and the alumni," Seth says. "Financial support from alumni is a measure of their satisfaction with their education and the value Westminster provides."
Visit westminsteru.edu/giving to learn more about the Westminster Fund and to make a one-time or recurring monthly gift.
---
About the Westminster Review
The Westminster Review is Westminster University's bi-annual alumni magazine that is distributed to alumni and community members. Each issue aims to keep alumni updated on campus current events and highlights the accomplishments of current students, professors, and Westminster alum.
GET THE REVIEW IN PRINT STAY IN TOUCH SUBMIT YOUR STORY IDEA READ MORE WESTMINSTER STORIES