---
Viewing the Olympics in a Different Light
Viewing the Olympics in a Different Light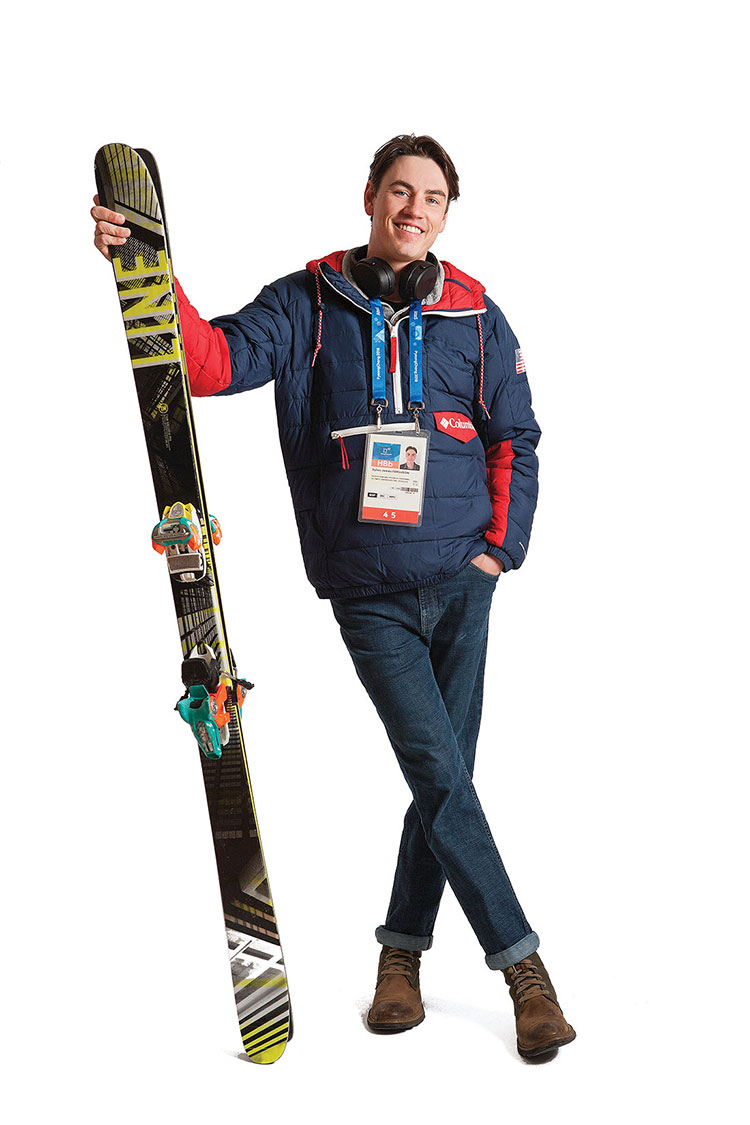 Dylan Ferguson ('15) talks about competitive skiing and moving from beyond the slopes to behind the screen
by Dariia Miroshnikova ('18)
A former top aerial skier, Dylan Ferguson ('15) parted ways with competitive skiing in 2014, after his dream of competing in the Olympic Games didn't come true for the second time. Still connected to the outdoors, he finished his degree in communication and joined Skullcandy—a music-product company headquartered in Park City, Utah. After spending a few years redirecting his focus, Dylan unexpectedly found himself headed for the 2018 Winter Olympics—as a commentator.
On the sidelines
"It's really difficult to be on the US ski team. You're on a team but competing individually against your teammates. I wanted to train and go to the Olympics—and hopefully win a medal—but unfortunately that didn't happen. I was disappointed with not being able to compete at the Olympics in 2010 because of an injury. Then in 2014, I didn't make the team.
It was getting to the point where I saw myself disliking people or holding grudges because they'd beat me at a contest. This wasn't the person I wanted to be and represent my country as. I was sad to leave, but I was also excited to join this new evolution of where my career was going to go."
New mindset
"I set goals for myself every year, and one of them was to view the Olympics in a different light and not be disappointed. I had a bad taste in my mouth about them and wanted to reset my mind. The Olympics are not only about winning and getting a gold medal for your country, but about unifying the world and bringing all these athletes together to compete, connect, engage, and share experiences and memories together."
Commentating during the 2018 Winter Olympics
"Going into it, I was really nervous: my voice was going to be heard all over the world. But once I was in the moment and actually understood what was happening, it was easy for me. I commentated half pipe, slopestyle, and aerials—both men and women for all of those events, as well as qualifying and finals for those events. It was about eight days of work that was pretty intense. You'd think that it's kind of easy to just get in there and talk, but there's actually a lot of athlete research that's going on to be able to have small talking points about a skier's career highlights. It was such an unreal experience to be in this little room sitting next to the TV and my other commentator and then broadcasting to the entire world. It's a huge honor and really exciting to be able to take the knowledge I've learned over the years and actually put it to use in some form."
---
About the Westminster Review
The Westminster Review is Westminster University's bi-annual alumni magazine that is distributed to alumni and community members. Each issue aims to keep alumni updated on campus current events and highlights the accomplishments of current students, professors, and Westminster alum.
GET THE REVIEW IN PRINT STAY IN TOUCH SUBMIT YOUR STORY IDEA READ MORE WESTMINSTER STORIES