---
Justice for All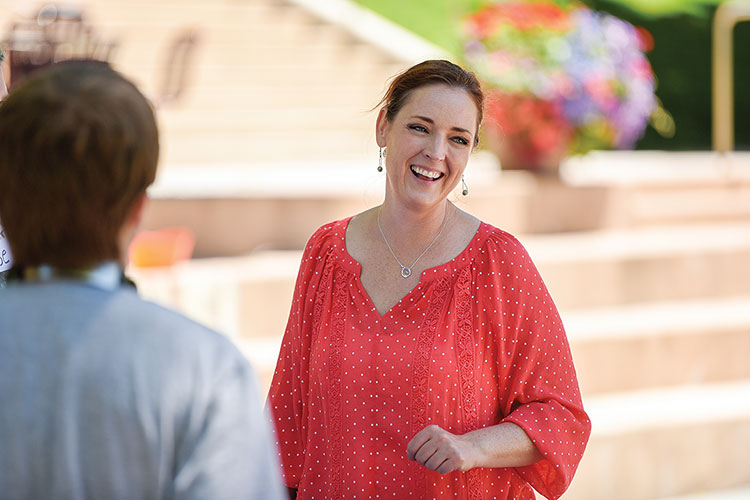 Professor Shamby Polychronis dedicates her career to advocating for equity in education
by Liz Dobbins ('21)
When Shamby Polychronis—an associate professor in special education—began working at Westminster 12 years ago, she had a specific goal in mind: to help create access to education for those who identify with having a disability. She wanted to teach future special education teachers how to advocate for equity and inclusion.
Shamby has made advocacy for disability rights her life. She knew from a young age that she wanted to be a teacher, but it was her cousin—who had significant physical and cognitive disabilities—who turned her toward the path of special education. After graduating from the University of Utah with a bachelor's degree in human development and family studies, Shamby got her first teaching job at South Valley School. However, soon after she began teaching, Shamby quickly realized she needed to do more. She saw injustices toward students in her school and wanted to find the root of the cause. So she went back to school and attained both a master's and a PhD degree in special education.
"I loved teaching. I couldn't believe I got paid for it (and I barely got paid for it), but I loved it. But there were these pieces that I just couldn't get away from," Shamby says. "I would see injustice and what it was doing. I thought, 'How can I fix this?' I didn't know the answer. I needed to go back to school. I thought if I could change teachers' minds before they become teachers, before they're pejorative, before they do physical restraint of people with disabilities, that's where I can make a difference."
Since she started at Westminster, Shamby has grown the special education program from a minor to a major, has brought speakers and advocates alike to campus, has created and organizes both the annual Family Fun Day for children with autism and the Disability and Neuro Divergence Event Series, and is the faculty mentor for Exceptional Griffins—a club sponsored by Associated Students of Westminster. Shamby views what she does as more than a job—it's what keeps her going—and she gives her all both in and out of the classroom.
"If I can improve the actual life outcomes—or even the day-to-day experiences—of students here who identify as marginalized for whatever reason on this campus, I'm on, sign me up," Shamby says. "I will show up. I will do it. I will speak about it. I will promote it. I will encourage students to go. I will give them extra credit. I will use all my resources to create better experiences for our students."
Kate George-Melson (MEd. '15), a former student and current adjunct professor for Shamby, as well as an advocate for disability awareness, currently works for Davis School District as a special education teacher. She is transferred to a different school every year based on need, which allows Kate the opportunity to advocate for a wide array of children. Being a teacher to these children as well as an advocate are important parts of the job, and it's Shamby who made this connection for Kate.
"We are not just there to teach them stuff and go home," Kate says. "Shamby made the explicit connection that teaching special education had to be more than a job if you are going to make an impact. You have to be an advocate."
For Shamby, it's those students and being able to make a difference in each of their lives that drive her. Shamby strives to help all students she encounters feel like they belong and to teach them how to advocate for those with disabilities.
"There was a lot of negativity when I told anyone I was going into special education," Kate explains. "I don't think anyone except Shamby encouraged me. My father asked me why I wanted to teach the unteachable. That was hurtful. Working with Shamby, I always knew I had made the right choice—and I never doubted it."
During her career Shamby has won numerous awards, including Westminster's Community Outreach award in 2014, for her work with disability-related events; University of Utah's Alumnus of the Year award in 2015, on account of her work with disability-advocacy organizations; Westminster's Favorite Professor Award in 2008, 2016, and 2018; and most recently, The Gore Excellence in Teaching Award this year. However, Shamby's goal isn't to win awards or even to be given credit. For her it is about reaching students and helping make a difference in the community any way that she can.
"If my work only makes one person feel okay to be who he or she is and not just okay but celebrated, then it's worth it," Shamby says.
---
About the Westminster Review
The Westminster Review is Westminster University's bi-annual alumni magazine that is distributed to alumni and community members. Each issue aims to keep alumni updated on campus current events and highlights the accomplishments of current students, professors, and Westminster alum.
GET THE REVIEW IN PRINT STAY IN TOUCH SUBMIT YOUR STORY IDEA READ MORE WESTMINSTER STORIES