---
The Sweet Life of Arly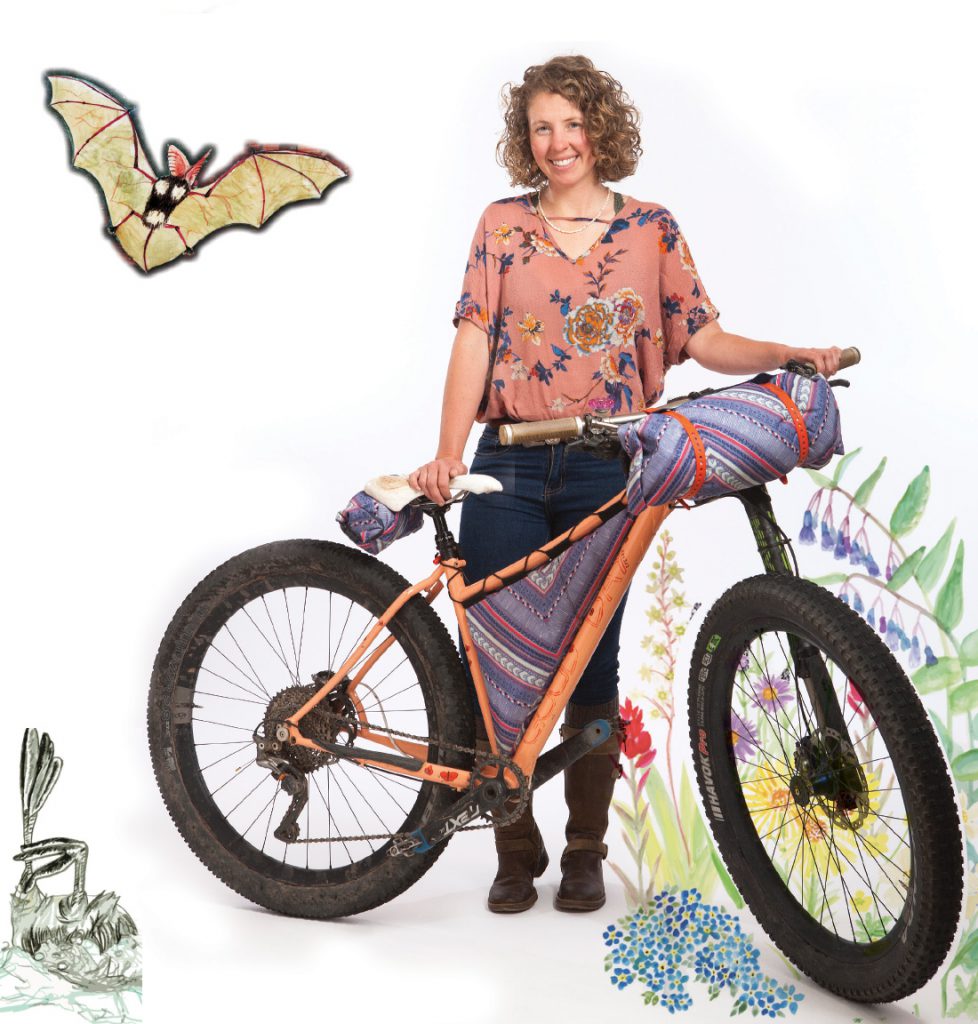 Arly Landry ('14) combines her passions for art and the environment
by Anita Boeira (MPC '10)
illustrations by Arly Landry ('14), photograph by Adam Finkle
Artist, scientist, and business owner Arly Landry ('14) graduated from Westminster with an environmental studies degree and a multidisciplinary approach to life. Her talents landed her a gig illustrating The Great Great Salt Lake Monster Mystery, a children's book written by Great Salt Lake Institute coordinator Jaimi Butler and Westminster biology professor Bonnie Baxter and released in April of this year. Arly continues to stay involved in illustration through freelance work, and her passion for the environment and art propel her forward.
Art Meets Science
"I was an art major, but I had also always been passionate about the environment. I decided to be an environmental studies major in my sophomore year. During my junior year, I was taking a class with Christy Clay, and we had to illustrate the organisms for a phylogenetic tree. Christy thought I was pretty good and asked if I had ever thought about scientific illustration.
"Christy sent me to art professor Matt Kruback. I did an independent-study apprenticeship with Matt, and he showed me the industry standards. Judy Rogers gave me free range of her comparative-anatomy collection to sketch. My independent study sparked a scientific illustration workshop with Brent Adrian and a learning community. Brent gave me a window into that world."
The Great Monster Mystery
"I started working on Jaimi and Bonnie's book during my last semester, illustrating for 15 hours a week. By the time I graduated, we had a rough draft. A year later, they told me the 150th anniversary of the Golden Spike was coming up, and we needed to get the book done before that! I spent last summer re-illustrating everything."
Now What?
"I have a business with my boyfriend where we make handmade bike frames and bags (he builds the frames, and I build the bags that fit his bikes). I still continue to do freelance science illustration, and I'm the education coordinator for TreeUtah."
Art and the Environment
"My business statement is to use art to persuade people to be cyclists: let the artistry of the bike be the seductive component that lures people to want to travel, commute, and have fun more sustainably. In my freelance illustration work, one of my clients is working towards Utah bat awareness and appreciation. They are incredible creatures, and we are trying to change their public perception through art. Scientists and artists are at their best when they are working together."
Favorite thing about the Great Salt Lake: "On rainy days, light is such that you can't tell where the horizon line is. It feels otherworldly. I love how you can be transported to the most serene place in the world. I also really like floating on the pink water."
Favorite female science artist: "Margaret Mee—a botanical illustrator and environmental activist who spent 40 years studying and defending the Amazon."
Favorite fact: "Bats are incredibly cute."
Bike bags: gooddaycuriosity.com
Instagram: @arlyland
Illustration portfolio: behance.net/arlydesign
---
About the Westminster Review
The Westminster Review is Westminster University's bi-annual alumni magazine that is distributed to alumni and community members. Each issue aims to keep alumni updated on campus current events and highlights the accomplishments of current students, professors, and Westminster alum.
GET THE REVIEW IN PRINT STAY IN TOUCH SUBMIT YOUR STORY IDEA READ MORE WESTMINSTER STORIES