---
A Culture of Caring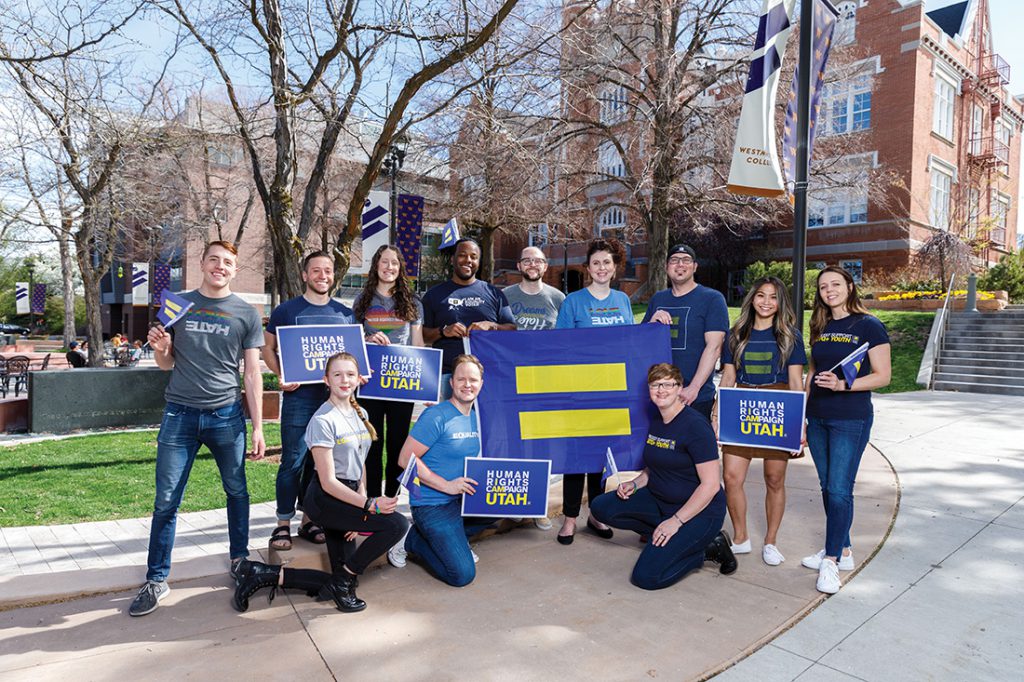 Students, faculty, staff, and alumni volunteer for the largest civil rights group in the nation
by Gwendelyn Salazar (Honors '21)
photograph by dav.d photography
Utah has a unique power. Because the state has a reputation for being conservative, when progress happens here, it forces other states to reflect. "When Utah does stuff, it makes other states move," says Oliver Anderson, director of student development and training at Westminster. "It has a bigger impact on the nation than we think: it empowers other states."
Oliver is also the co-chair for volunteer engagement at the Human Rights Campaign (HRC), the largest civil rights group in the nation. Utah has its own steering committee, which recently won 18 awards at the national Equity Convention in Washington, DC. Of the 15 volunteers in the Utah Human Rights Campaign, eight are associated with Westminster. Oliver is not surprised that so many of the volunteers who make the HRC possible are also Westminster alumni and employees. "I think it's because Westminster cultivates a culture of compassion, community, and advocacy," Oliver says. "If someone is hurting in our community, we all lean in. We stand together."
Oliver says he brings the values of Westminster with him to work at the HRC. "At Westminster, my job is to talk to students and make them feel a sense of belonging in our community and in our organization," Oliver says. "Here, I take a very personalized approach, and even though the HRC is so big, I bring that approach with me. We are a community, and we fight for each other because we all deserve to have happiness, love, support, and friendship. And right now, our current societal structures do not allow that for everyone."
Another member of the Westminster community, Dustin S. Williams ('09), serves on the board of governors for the HRC and has been volunteering with the organization for over a decade. "The logo for HRC, the yellow and blue equal sign, is the most recognizable symbol for the LGBTQ community," Dustin says. "People know what our logo is and what it stands for. It's a safe place to start for those who are not involved in the community or don't know how they identify yet."
On a national level, one of the current projects of the HRC is passing the Equality Act. "The Equality Act, in essence, brings sexual orientation and gender identity to the protected classes of the Civil Rights Act," Dustin says. "It provides federal protections to housing and employment and protects against discrimination in many different spheres. It would be an incredible piece of legislation."
On a state level, one of the new initiatives of the Utah HRC, Welcoming Schools, aims to give educators the necessary tools to teach in an inclusive way that supports diverse families and protects LGBTQ youth.
"We focus on education," Oliver says. "We have a lot of queer youth, and our school systems in Utah sometimes don't let teachers talk with them about it, which alienates the kids."
Every year, the HRC hosts an Equality Convention at the nation's capital. This event includes board members and volunteers from around the country. In 2019, in addition to the 18 awards the Utah steering committee took home, it was nominated for several others, including Steering Committee of the Year. "We're talking in comparison to LA, Houston, Atlanta, and New York, so for us to be nominated by national staff is a huge compliment and a huge achievement," says Dustin.
Visit hrc.org or contact Oliver at oanderson@westminsteru.edu if you are interested in contributing to Utah HRC.
---
About the Westminster Review
The Westminster Review is Westminster University's bi-annual alumni magazine that is distributed to alumni and community members. Each issue aims to keep alumni updated on campus current events and highlights the accomplishments of current students, professors, and Westminster alum.
GET THE REVIEW IN PRINT STAY IN TOUCH SUBMIT YOUR STORY IDEA READ MORE WESTMINSTER STORIES