---
A New Tradition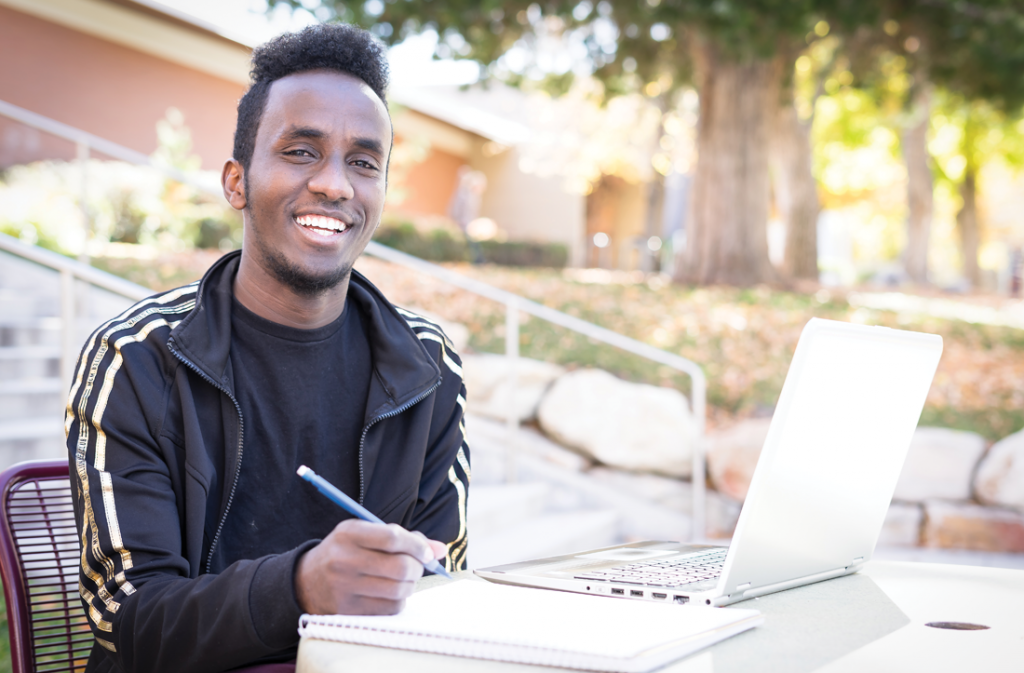 With the help of Walkways to Westminster, a Somali refugee becomes the first in his family to attend college
by Johanna Droubay
photograph by Hudson Schmucker ('20)
Until he was 17, Amin Abdinasir ('21) had spent his entire life in a Somali refugee camp in Dadaab, Kenya. Home to nearly 250,000 refugees, the camps in Dadaab constitute the second-largest refugee complex in the world.
Although removed from the war raging in Somalia, Amin's family faced other dangers in the camps: gangs, a corrupt police force, and occasional bomb attacks by the terrorist group Al-Shabaab. "We stayed in our houses and didn't go outside much," Amin says. "There was a wonderful part and an ugly part."
When the United Nations Refugee Agency arranged for his family's resettlement in South Salt Lake, Amin remembers, "We were happy. We said, 'We're going to go to America! It's going to be good. Life's going to be different.'"
And it was—very different. In Kenya, Amin's father had taught the Koran to children in the camp, and his mother had cared for Amin and his eight brothers and sisters. In Utah, his parents had difficulty finding work because of their lack of education. They eventually both took jobs at Deseret Industries, but supporting a large family on their combined wages wasn't easy.
When the family arrived in 2015, Amin transferred into the 11th grade at the Utah International Charter School, whose student body includes recently arrived immigrants and refugees, as well as native English speakers. Amin says, "A friend at school told me about Westminster and said he was planning to apply."
The Utah International Charter School is one of four diverse schools in South Salt Lake that partner with Walkways to Westminster, a college-access program for first-generation and underrepresented youth. Through this program, Westminster students mentor junior high and high school students, introducing them to college-going culture and preparing them for success after high school graduation. "Westminster students helped me with the application and told me more about the college," Amin says. "When I got accepted, I didn't know how I would afford to come." With the help of scholarships and other financial aid, Amin registered for classes in the fall of 2017.
Today, Amin studies computer science and plays club soccer. He hopes to go to graduate school and eventually to Somalia to help create better educational institutions. "I love everything about Westminster. The small classes, the community." In Kenya, he was one of 70 students in each class. When he applied for college, he knew he never wanted to sit in a class that size again.
"My brothers and sisters look up to me," says Amin, whose youngest sister is six. The oldest of his siblings, Amin is the first in his family to attend college. He knows he won't be the last.
Amin is a recipient of the Michael Manship and Andrea Dumke Manship Scholarship, which supports students who have participated in Walkways to Westminster and have been accepted to Westminster College.
---
About the Westminster Review
The Westminster Review is Westminster University's bi-annual alumni magazine that is distributed to alumni and community members. Each issue aims to keep alumni updated on campus current events and highlights the accomplishments of current students, professors, and Westminster alum.

GET THE REVIEW IN PRINT STAY IN TOUCH SUBMIT YOUR STORY IDEA READ MORE WESTMINSTER STORIES