---
In Honor Of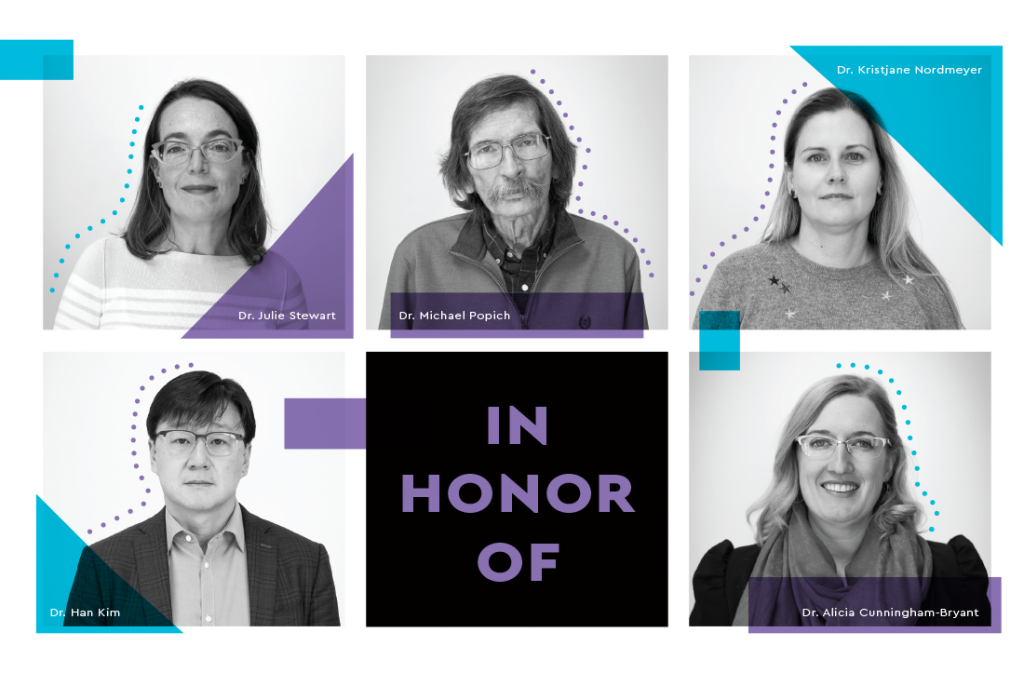 One hundred percent of Honors faculty give to Westminster
by Angela Mock (Honors '19)
photography by Hudson Schmucker ('20)
The generosity of Westminster's faculty and staff is a point of pride. They go out of their way to forge deep, personal connections with students. They follow up when students seem down, steer them toward personalized opportunities, and root for them even after graduation.
But did you know many of our faculty and staff also give to Westminster? More than half give back to the college in support of our students. In the Honors College, the rate of giving is even higher: 100 percent of Honors faculty gave to Westminster last year. We asked a few of these professors what inspires them to give back to their place of employment.
Personal Growth and Transformation
"Every student at Westminster College has the capacity to become their best self. It does not happen overnight, but I've seen it happen, time and time again. It requires us to think, act, speak, and listen every day. The personal growth and transformation I've witnessed here are remarkable things, and they are a big reason why I love working here and why I choose to give."
—Dr. Julie Stewart, associate professor for the Honors College
A More Diverse Student Body
"We as a community benefit from diversity in thought and experiences, and by giving to the Honors College, I aim to make its vision and purpose a reality for students from all backgrounds. I love Westminster, and I love the Honors College. I really feel like I found a home of academic inquiry and experimentation that's not afraid to dream big and think bigger. I want that experience for everyone."
—Dr. Alicia Cunningham-Bryant, Kim T. Adamson endowed professor in Honors
A Liberal Arts Perspective
"One of the most significant issues facing those with science or professional training is the lack of a broad-based liberal arts education steeped in the humanities, particularly philosophy. It is glaringly apparent when reading the headlines about the most recent ethical controversy in Silicon Valley or in the biotech and pharmaceutical industries. As a scientist myself, I feel that my classical liberal arts upbringing is as important, if not more important, than my technical and scientific education."
—Dr. Han Kim, associate professor and director of the undergraduate public health program
The Impact of Honors on the Larger Community
"I support the Honors College because I can see firsthand the impact our students have on the campus community and larger community. Honors students are committed to promoting social justice, creating equitable spaces, and improving the communities they live in—whether this is through campus policy, student governance, or working with marginalized groups in Salt Lake City and beyond."
—Dr. Kristjane Nordmeyer, associate professor of sociology and gender studies
---
About the Westminster Review
The Westminster Review is Westminster University's bi-annual alumni magazine that is distributed to alumni and community members. Each issue aims to keep alumni updated on campus current events and highlights the accomplishments of current students, professors, and Westminster alum.
GET THE REVIEW IN PRINT STAY IN TOUCH SUBMIT YOUR STORY IDEA READ MORE WESTMINSTER STORIES