---
Juggling Act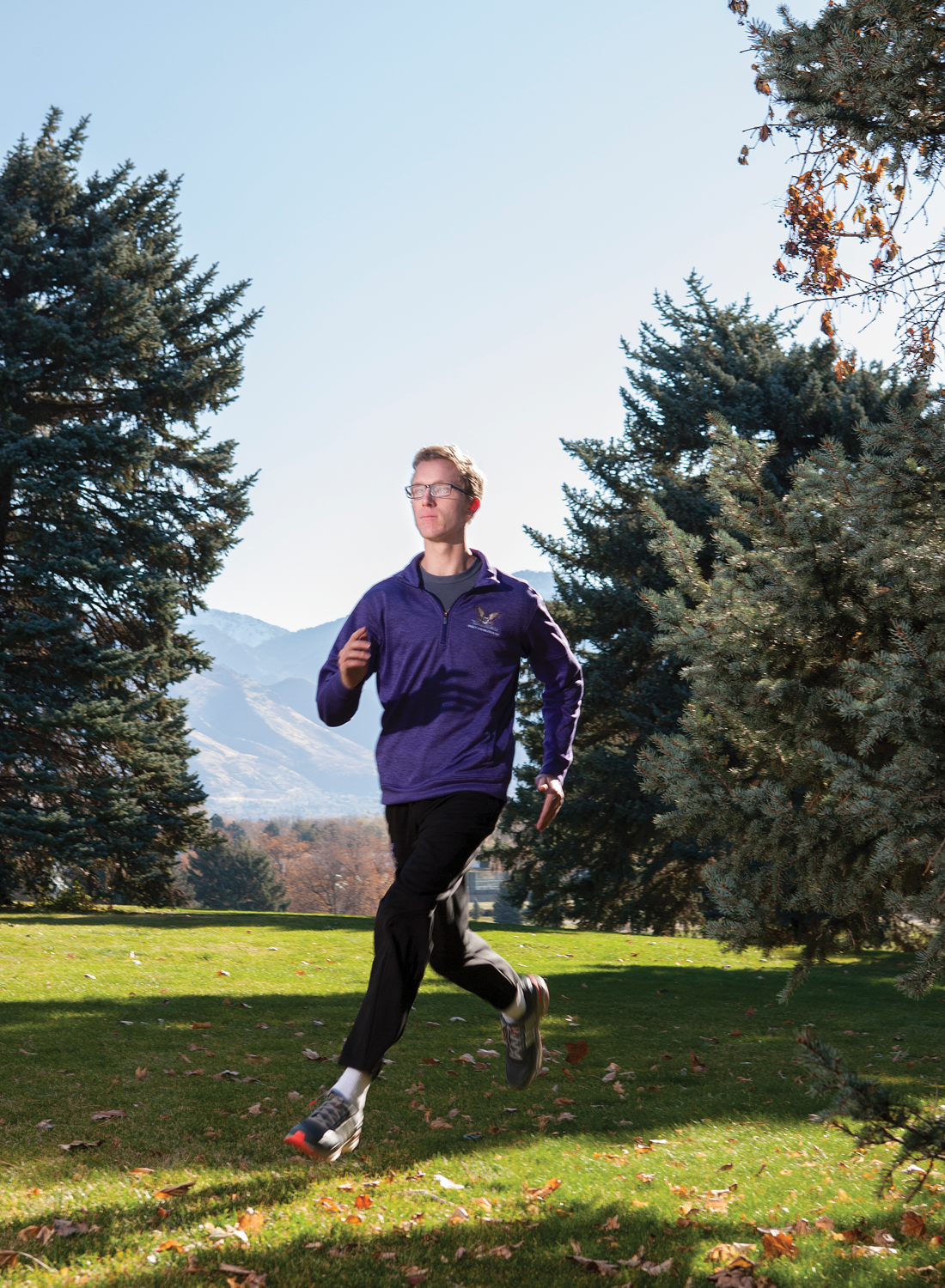 Westminster athlete finds balance in staying busy
by Liz Dobbins ('21)
photography by Adam Finkle
While some feel they need to focus on one activity or interest at a time, Eric Mellmer (Honors '19), Westminster English major and cross-country athlete, does the opposite. From cross country and basketball to music and writing, Eric makes sure his life doesn't just revolve around one thing. But it wasn't always like this.
In high school, Eric fell in love with basketball. However, during the off-season, he realized that stress began to take over his life. That's where cross country came in.
"I started cross country my sophomore year of high school, initially to stay in shape for basketball and help manage stress," Eric says. "But then I realized that this was something I could get a lot better at, and I was performing well. So, I stuck with it."
Cross country soon became more than a way to de-stress: it became a passion for Eric that translated into an athletic scholarship to Westminster. In addition to becoming a student-athlete in the Honors College, Eric expanded his interests across campus through joining the Jazz Ensemble and finding employment in the Writing Center. Eric says that his participation in these different areas on campus allows him to fully express who he is while keeping his stress down.
"Instead of focusing only on school, on music, or on running, I focus on all three to immerse myself in many diverse experiences," Eric says. "Music and running are both outlets for my academic stress as well as the work-related stress that I experience in the Writing Center."
Being a student-athlete means more than just a scholarship for Eric. To him, it's simply a part of his life he couldn't live without. His passion for running has helped him be the successful student he is, and his passion for music has allowed him to be the runner he is—it's all intertwined.
"Being balanced is what allowed me to pursue cross country," Eric says. "It allows me to maintain a positive attitude and pursue each of my passions to the best of my ability."
But how will he maintain this after graduation? Easy. Just like music and basketball, running will always be a part of Eric's life. Eric aims to pursue a career in journalism—specifically sports writing—and plans to continue channeling his passions to help alleviate whatever stress comes his way.
"Keeping these activities in my life will help maximize my productivity in my professional workplace environment as a journalist," Eric says. "Balance, it's all about balance."
---
About the Westminster Review
The Westminster Review is Westminster University's bi-annual alumni magazine that is distributed to alumni and community members. Each issue aims to keep alumni updated on campus current events and highlights the accomplishments of current students, professors, and Westminster alum.
GET THE REVIEW IN PRINT STAY IN TOUCH SUBMIT YOUR STORY IDEA READ MORE WESTMINSTER STORIES