---
Games at Work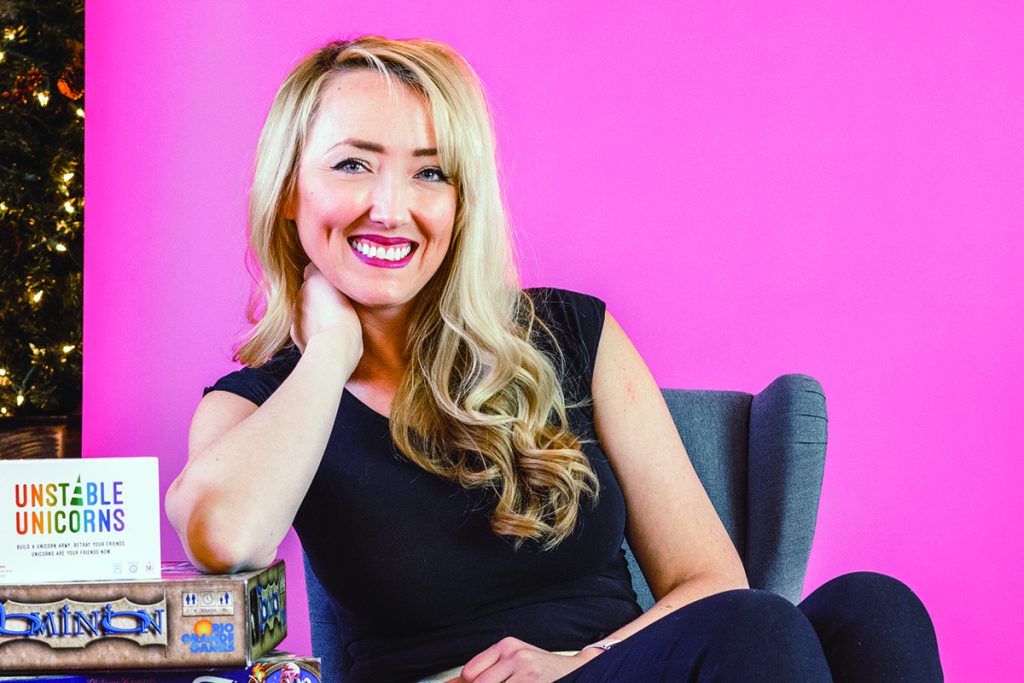 Alumna teaches Westminster students how to use gaming for the greater good
by Erin Fair (MEd. '14
"In every job that must be done there is an element of fun. you find that fun and snap! The job's a game."

— Mary Poppins
Ivividly remember this Mary Poppins line from my childhood, and it has continued to inspire me through adulthood. In fact, the idea of making work fun played an important part in my final year at Westminster, when I chose to create my master's thesis around the gamification of learning. This was not a typical part of the Master of Education program—not many programs have a gamification focus—but I worked with my advisor to create my own track focused on games and gamification.
Gamifi–what, you might ask? Gamification—or should I say the science of human engagement and motivation—is hard at work in your everyday life. That's right: every single day, apps, fast-food restaurants, social-media sites, retail and grocery stores, and so many other businesses are spending billions of dollars to engineer experiences that drive you to engage more with their products—and spend more of your hard-earned cash. The apps of some of these companies include Starbucks Mobile App, Nike+ Run Club, and Domino's Pizza's Hero Game. If you are unaware of this construct, you are a slave to it. Beyond marketing ploys, the true power of gamification is making experiences more enjoyable and effective for participants. It has the power to change mindsets and behavior.
Gamification takes game elements and applies them to a non-game scenario to harness the intrinsic motivation and feedback that games so elegantly provide. Take, for example, the app Zombies, Run! This app takes an activity that is not a game (i.e., running) and applies a goal, several challenges, and quantifiable outcomes, thus creating a game-like experience. As you are running away from the zombies, you collect items for your base, gain experience points, go up levels, engage in interval training, and improve your overall health without even realizing it because you become so engrossed in the narrative and the gameplay. Well-crafted gamification becomes a memorable experience that you are eager to engage with.
In 2014, my husband, Porter Williams (MBA '11), received an amazing job opportunity in London, and we were ecstatic. We moved one week after my graduation from the Master of Education program. I was thrilled to have the experience of living abroad but also worried about my future career path. I didn't know anyone in England, and I wasn't even sure how to go about finding a job, especially in such a niche field. After months of no luck with recruiters, I began to research companies myself. That is how I found Growth Engineering—one of only a few fully gamified learning management platforms and authoring tools in the world.
They hired me after my first interview, and the rest is history. Because it is a small company, I was able to work on lots of projects both with clients and the product team. Working with their diverse clients and projects opened my eyes to the many ways in which gamification could be used as a tool for engagement. One of my favorite projects was building out a graphic-novel style, choose-your-own-adventure game for IATA to teach new hires about company culture. Every project was different. We would go from a very corporate style with basic badges and leaderboards to campaigns that included high adventure and superheroes, puzzles, and comic books. This was a fantastic first experience with gamification in the business world.
When we moved back to the states, I had the opportunity to teach at Westminster. One of the courses I currently teach is Gamification and Serious Games. I challenge my students to find new ways to explore and create within the framework of gamification, and within the context of their own lives and careers. I am blown away on a weekly basis with their creativity and ingenuity. We've had all sorts of gamification come out of this course: a Westminster-themed, time-management app; elementary reading-comprehension dungeon adventures and escape-room-styled games; gamified data entry for flight schools; exploration of different chakras and how they tie to wellness; and finally, sustainable living in a classroom-based alternate-reality game. Westminster students are developing and refining fantastic ideas through gamification.
There are not many higher education programs out there focusing on gamification, and I will forever be grateful to my professors and advisors at Westminster for letting me forge my own path in this new and exciting field. This powerful tool is making a big impact across many industries—and is here to stay.
---
About the Westminster Review
The Westminster Review is Westminster University's bi-annual alumni magazine that is distributed to alumni and community members. Each issue aims to keep alumni updated on campus current events and highlights the accomplishments of current students, professors, and Westminster alum.
GET THE REVIEW IN PRINT STAY IN TOUCH SUBMIT YOUR STORY IDEA READ MORE WESTMINSTER STORIES