---
Still Gunnin'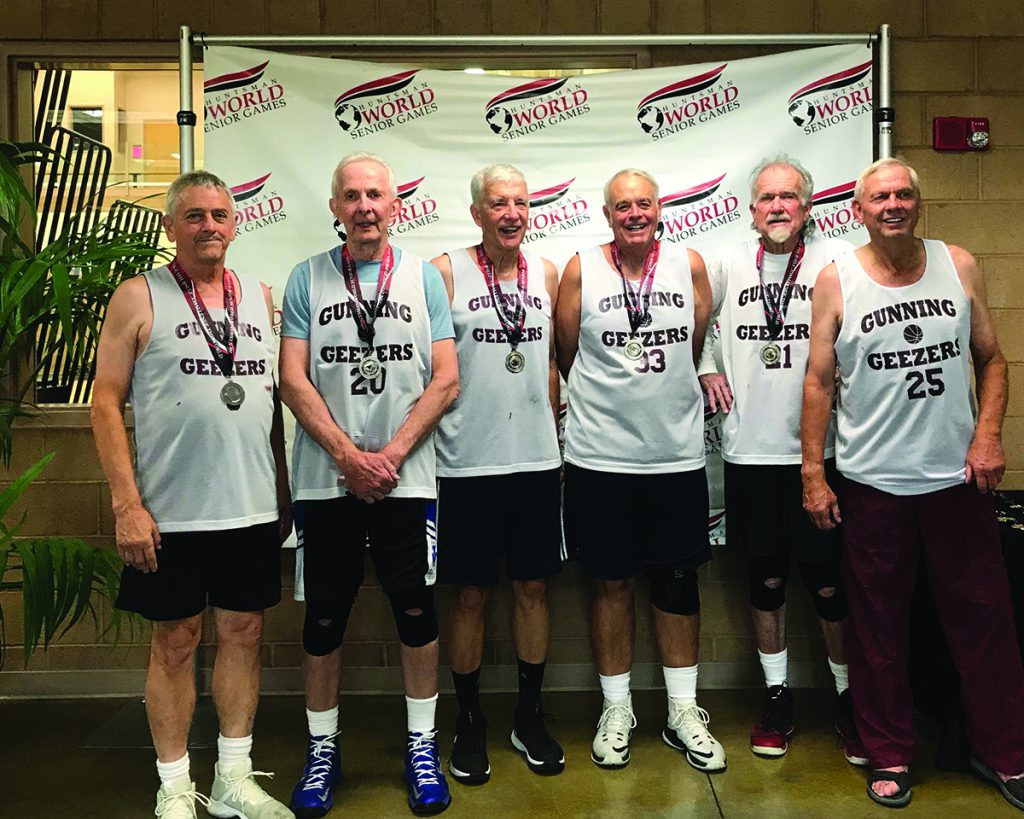 At 74, hotshot Dick Paff ('67) tours the country with his competitive senior basketball team
by Conor Bentley (MEd. '08)
When Dick Paff ('67) was a young man, he thought if he could play organized basketball until he was 40, that would be pretty good. Now that he's 74, it might be time to revise that goal. Dick and his friends on the Gunnin' Geezers three-on-three team are not only still playing: they're also winning medals at tournaments around the country. The Geezers play for fun mostly, but they are also competitive, having qualified for the National Senior Games for the last seven years.
Dick began playing basketball in a YMCA league at the age of nine, and he has played organized basketball every year since—with the exception of the year he served in Vietnam. "I played some pickup games in Vietnam though," Dick recalls.
At Westminster, he was a four-year letterman on the varsity team, and even though he was not one of the team's stars, Dick was a valuable contributor off the bench. At 6'2", Dick was an inside presence but also had a decent outside shot. "I wish they had had the three-point shot when I was in school," Dick says. In his senior year under renowned Westminster coach Tom Steinke, the Parsons triumphed 18–5. It was that success and his love of the game that kept Dick on the court after graduation. Dick also coached basketball in both middle and high school, and he served as an assistant coach in college.
In addition to playing with the Gunnin' Geezers, Dick also plays three-on-three twice a week in pickup games at the YMCA in San Diego near his home. It's good practice for when he goes on the road with his teammates. Last summer, Dick and his fellow Geezers finished seventh out of 25 teams from around the country in their division (ages 70–74) at the Senior Games in Albuquerque, New Mexico. At the tournament, Dick met legendary singer Pat Boone, who was competing with his own three-on-three team in the over-80 division. On top of finishing in the top 10, getting a picture with Pat was a bonus.
To gain a spot in the National Senior Games—also known unofficially as the Senior Olympics—teams must finish first, second, or third in their regional tournaments, which the Geezers do with ease. The games are played in the half court and consist of two 15-minute halves. Dick says that despite the age of the players, the level of play is high, and the teams with younger players do not always have the advantage. "Some of the older guys are better than the younger ones," he says.
Although the team name "Gunnin' Geezers" seems to suggest there's something silly about seniors playing sports, Dick's active lifestyle may be more the rule than the exception in the 21st century. A 2017 National Health Interview Survey administered by the Centers for Disease Control and Prevention reported that 82 percent of adults ages 65–74 describe their health as good, very good, or excellent. "A common myth about aging is that older adults are burdened by illness and feel lousy much of the time," Judith Graham wrote last spring in The Washington Post. "In fact, the opposite is usually true. Most seniors report feeling distinctly positive about their health."
Not only has basketball been a great way for Dick to stay fit and active throughout his life, it has also led to meaningful, lifelong connections. He enjoys the bonds that he's formed with his fellow players. "The comradery is a lot of fun," Dick says.
Dick and his wife, Nancy, often build their vacations around the tournaments, using games as an excuse to visit friends and explore new cities and landscapes. "Our wives have made a lot of friends at the tournaments over the years," Dick says.
His next birthday will require a move to the next age group (75–80), which could mean that Dick will end up doubling his original goal of playing until age 40. Whether or not the move up will mean winning more tournaments, Dick will still find fulfillment in his favorite sport with his friends by his side. When asked why he keeps playing, Dick says the Gunnin' Geezers have a saying: "You miss every shot you don't take," says Dick. "That's kind of our motto."
---
About the Westminster Review
The Westminster Review is Westminster University's bi-annual alumni magazine that is distributed to alumni and community members. Each issue aims to keep alumni updated on campus current events and highlights the accomplishments of current students, professors, and Westminster alum.
GET THE REVIEW IN PRINT STAY IN TOUCH SUBMIT YOUR STORY IDEA READ MORE WESTMINSTER STORIES