---
Global Community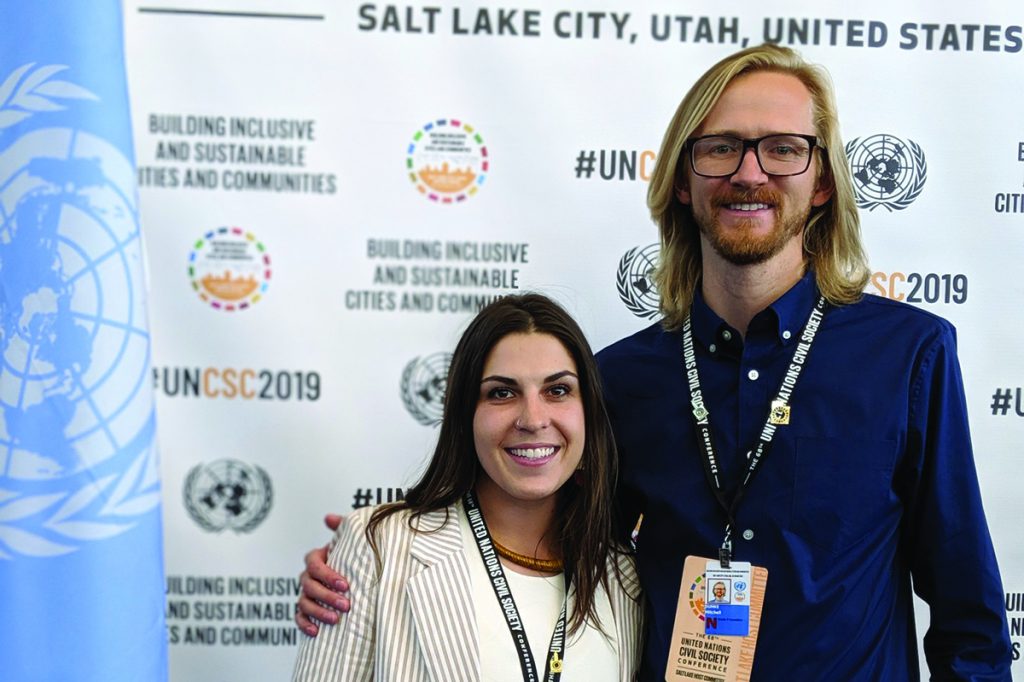 Two alums share their experience as committee co-chairs for the 2019 United Nations Civil Society Conference in Salt Lake City
by Autumn Thatcher (MSC '15)
Mitch Dumke ('11) begins his day by standing in the shower and turning on the water. He doesn't wait for it to warm to a comfortable temperature before stepping into its stream. For a moment, he lets the cold water pummel him. His choice is intentional: he wants to remember, every day, to make decisions that move the conversation and action regarding climate change forward.
Madison Denkers ('15) carries reusable containers and utensils with her to avoid using plastic and has begun frequenting bulk stores like Animalia and Hello Bulk to refill products. She is making a conscious effort to throw away less.
Mitch and Madison have had climate on their minds since agreeing to serve as committee co-chairs for the 68th annual United Nations Civil Society Conference. In September 2019, the conference was held in the United States for the first time ever, outside of being at its headquarters in New York. The location? Salt Lake City, Utah.
Neither Mitch nor Madison knew exactly what their responsibilities would entail when they agreed to volunteer. Mitch was approached by former Salt Lake City Mayor Jackie Biskupski at a ribbon cutting for the Inn Between, and Madison was encouraged to get involved by a friend through her family's foundation. Mitch and Madison are no strangers to civic engagement. But this would be a historic—and global—event.
"I said yes on the premise of the idea of supporting the mayor. She was very intentional of inclusion of youth," Mitch says. "I appreciated that she knew in order to engage youth effectively at the conference you need to have them at the committee table."
Mitch volunteered as part of the outreach committee, and Madison was part of the planning committee. Youth engagement was integral to the organizing of last year's Civil Societies Conference. After all, as climate protests and movements around the world have shown us, if there is any hope, it lies in the youth.
In the context of climate, youth is often defined as anyone under the age of 32. During the planning process, Madison and other young people on the committee devoted hours to outreach and community engagement leading up to the big event in September. "We did a day at the International Peace Gardens and planted trees with Trees Utah," she says. During the Civil Societies Conference, Madison watched her hard work come to life through workshops that focused on empowering youth experiencing homelessness and making sure the youth hub was running smoothly.
Among other responsibilities, Madison worked on the youth climate compact, a collective agreement written by youth and presented at the conference. Writing the compact took months of planning, prepping, and collecting input from youth nationally and abroad. The end result is a document that speaks to the climate crisis and holds infrastructures and companies accountable for what is happening on a global level.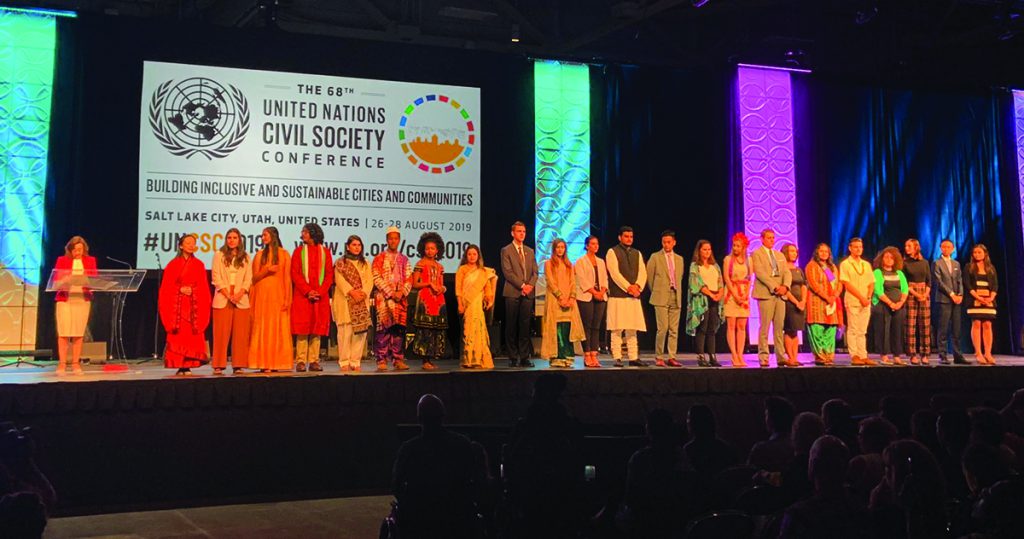 At the end of the conference, Madison took the stage with many peers from around the world to read the compact aloud. "Before we could even finish, everyone was giving a standing ovation. That stands out in my mind as a pivotal point for the youth," she says.
Mitch says that being part of the outreach committee gave him a lot of perspective and inspired an introspective look into his intentions. "I found myself asking, 'Why am I volunteering?' But it allowed me to recognize the things that I care about."
The arrival of his third son in May 2019 prompted Mitch to think about how our actions affect future generations. As a result, Mitch created the Climate Action Group at his place of employment, Pluralsight, where more than 30 employees meet monthly to discuss ways in which they can implement eco-friendly and sustainable practices in the workplace. As part of this effort, Mitch began bringing a bamboo plate to work last year. He now contributes zero waste in the workplace and has motivated others to bring reusable dishware to work.
Mitch also found inspiration in learning from the representatives of 138 different countries during the conference in Salt Lake City. "I had never seen that concentration of diversity in Salt Lake," Mitch says. "It made me realize that these people are blooming where they are planted. They are doing things in their communities. I found myself asking, 'What am I doing different?' I wanted to bloom where I was planted."
Madison agrees. "Through working with the UN, I learned that we are part of this global entity. Maybe I don't know how to help another person's community, but I can share ideas with them to create a bigger picture of how we do things."
---
About the Westminster Review
The Westminster Review is Westminster University's bi-annual alumni magazine that is distributed to alumni and community members. Each issue aims to keep alumni updated on campus current events and highlights the accomplishments of current students, professors, and Westminster alum.
GET THE REVIEW IN PRINT STAY IN TOUCH SUBMIT YOUR STORY IDEA READ MORE WESTMINSTER STORIES