---
From the Slopes to Vogue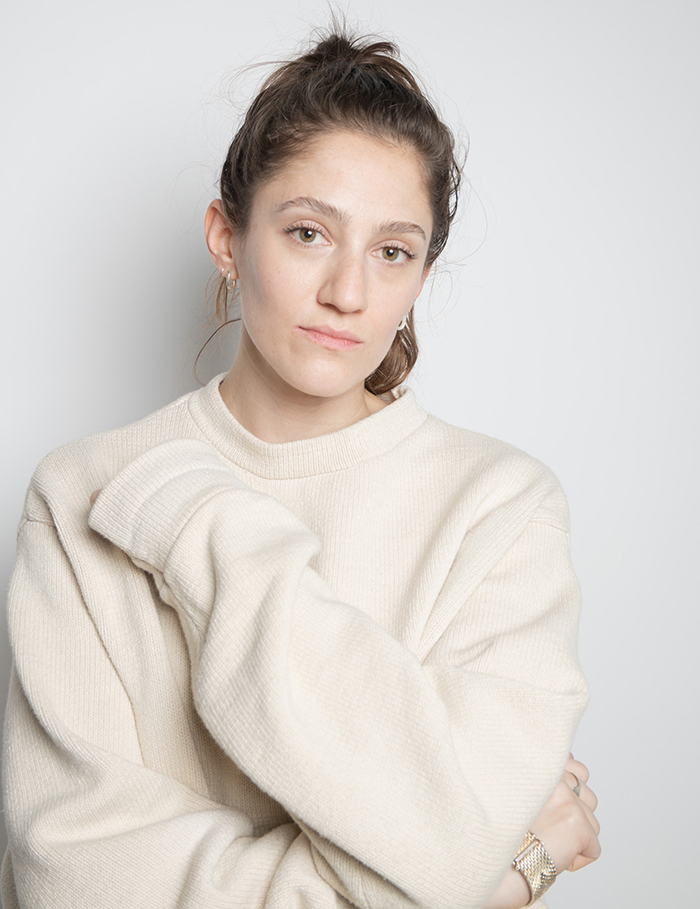 Alum explores how she grew her knitted denim brand
by Liz Dobbins ('21)
Have you ever felt the pain of wearing jeans while commuting on a bike? You want to look fashionable, but comfort is a high priority and constricting denim just doesn't cut it. That's where Knorts comes in. Created by Westminster alum Eleanore Guthrie ('14) during her senior year, Knorts is a line of knitted denim that, since its creation seven years ago, has been worn by celebrities and featured in the iconic fashion magazine Vogue. "It's always exciting when celebrities wear my designs," Eleanore says. "However, some in particular are more exciting than others—Lady Gaga and Kendall Jenner were definitely a whole other level of excitement."
Eleanore's love for design began with snowboarding, where she says she was introduced to style and fashion. "I used to modify my snowboard pants to fit a certain way that was considered cool at the time," Eleanore says. "That was my first time really experimenting with clothing design."
Though she found a love for stylish, functional clothing, Eleanore wasn't planning on creating a fashion brand. In fact, she began her entrepreneurial journey creating tents. "After attempting that business, I realized I needed to be passionate about what it is I'm building in order to stay mentally strong during the low points of entrepreneurship," she says. "I thought I might be passionate enough about designing clothes and decided to give it a shot."
Cue the creation of Knorts. Eleanore entered the fashion industry through Westminster's Opportunity Quest business competition. "I didn't win the competition, but winning wasn't the point. It was helpful to have structure around taking the first steps towards building a business," she says. Eleanore went on to join the Salt Lake business incubator The Foundry, where she received additional support and resources to get Knorts off the ground.
After graduating from Westminster with a degree in accounting, Eleanore moved to Los Angeles and began selling Knorts at flea and art markets. In addition to running her own brand, Eleanore was working full time as an accountant. "Knorts is a self-funded company, so the money had to come from somewhere in the beginning," she says of the need to maintain a full-time job. "I grew the company little by little by working all the time."
Today, Knorts has expanded the denim market by featuring comfortable, simplistic, and stylish pieces ranging from indigo to hot-pink flared pants, funky hats, deconstructed jackets, and Eleanore's newest creation: hand-colored bikini tops as worn by Kendall Jenner. Eleanore takes an atypical approach to design, having never been to fashion school and lacking drawing skills. "I either start with a silhouette of a garment I like or a design I already have in my collection as a basis for measurements," she says. "Then I make changes from there by describing the desired fit and measurements to my knitter. I tell my knitter which knitting stitches to use and where. After the first sample is made, we tweak those two aspects until the garment fits properly and looks great."
Eleanore's unusual approach is very in line with the brand itself—one that diverges from the usual path. This uniqueness of Knorts has also gained the attention of unconventional singers like Grimes, whose Miss Anthropocene tour featured commissioned merch pieces from Eleanore, according to Vogue. Despite the taxing process, Eleanore wouldn't have it any other way. Her passion is driving her to continue to grow the business, with the goal of becoming a renowned brand. "I see everyone wearing denim knitwear one day—just like Levi's," she says.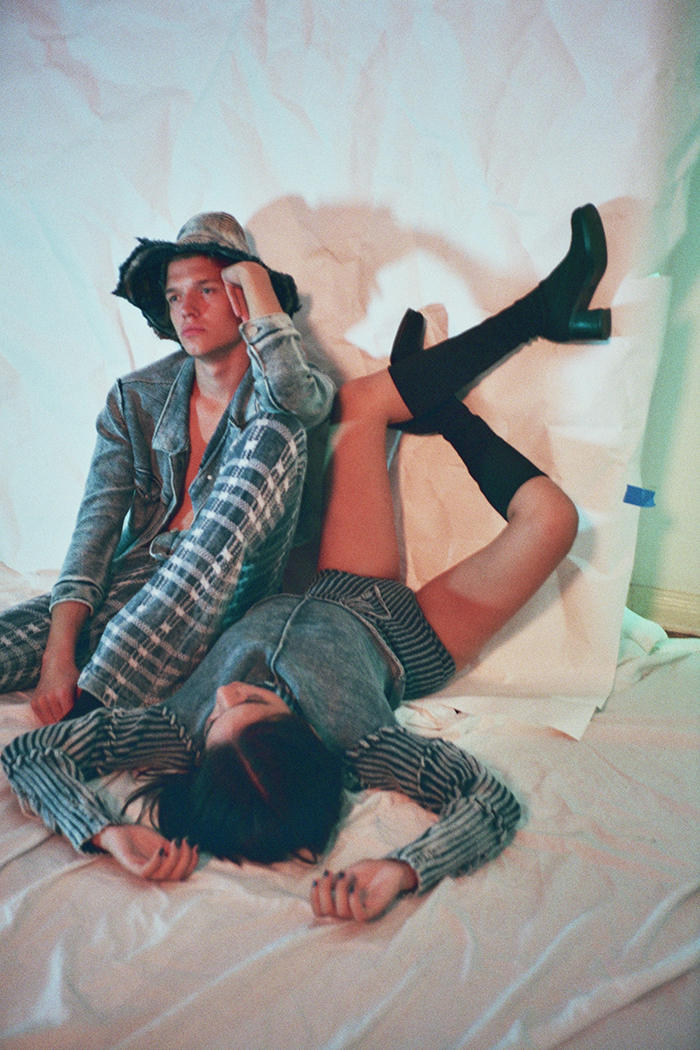 ---
About the Westminster Review
The Westminster Review is Westminster University's bi-annual alumni magazine that is distributed to alumni and community members. Each issue aims to keep alumni updated on campus current events and highlights the accomplishments of current students, professors, and Westminster alum.
GET THE REVIEW IN PRINT STAY IN TOUCH SUBMIT YOUR STORY IDEA READ MORE WESTMINSTER STORIES