---
Humans Vs the Virus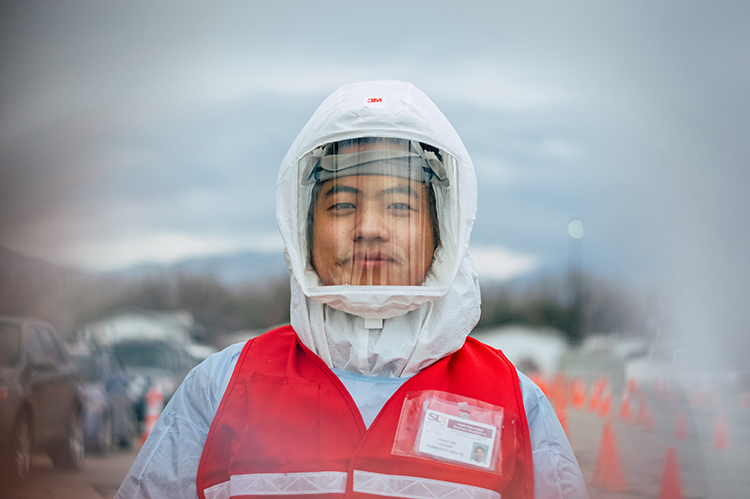 Yihao Qin works for months testing Utahns for COVID-19
by Gwendelyn Salazer ('21)
June 22, 2020. The impact of the coronavirus in Utah had just begun to be felt. Westminster student Yihao Qin ('21) and a team of 11 others tested 900 people in one day. It was hot and the team was exhausted, but they worked nonstop for hours. That same month, Yihao volunteered more than 250 hours, which resulted in him receiving a gold medal from the Salt Lake County Health Department.
Yihao began his work with the Salt Lake Health Department Medical Reserve Corps (MRC) as an intern in March 2020. A senior majoring in public health, Yihao was introduced to MRC through his professors at Westminster. At the start of his internship, COVID-19 case numbers in Utah were low, and the state was unsure of how to approach testing. "There was no system at all," Yihao recalls. "The first few months we were mostly testing seniors and health care workers." The newness of the virus and the situation left him feeling nervous, yet excited to help.
Yihao describes a time-consuming process that had volunteers going to homes and long-term care facilities to test people one by one. "In the very beginning, everyone was just doing everything," Yihao says. "We didn't have backups." As time passed, MRC added more volunteers to its roster and put a strategy into place. "We got more systematic for testing, more organized," he says, adding that several teams were established to manage the various aspects of responding to the COVID-19 pandemic such as handling registration, quality control, logistics, traffic control, safety, data entry, and more.
After months of volunteering, Yihao was officially hired as a mobile COVID test administrator for the quarantine and isolation management team. He works alongside Westminster alums and local nursing students. In fact, he is one of the youngest members on the team, something Yihao says he was nervous about at first. But he found his place on this team, and his fear never came to fruition. "There's no boss, just a leader and a group of teammates," Yihao says. "It's just humans versus the virus, nothing else."
The pandemic isn't the only disaster Yihao has helped Utahns endure: he was also deployed when a windstorm destroyed homes and cut power. "We set up four warming centers in the county for people whose houses didn't have heat," Yihao says. "That's public health, too."
After months of devoting himself to his community, Yihao says it is difficult to see cases in Utah continue to rise. "It's sad," he says. "We work really hard. We see the numbers going up, and it feels like we can't stop it." However, hope may be on the horizon as the COVID-19 vaccine continues to be distributed across the US. In fact, Yihao and his team have all received COVID-19 vaccinations. With a sense of hope, Yihao continues to look towards his future. He will be applying to the Master of Public Health program at Johns Hopkins University.
Through it all Yihao strives for optimism: from a tinge of excitement in May, being able to lend help, to finding friendship with the other members of his team, to holding out hope despite rising numbers. "We believe we are going to beat the virus; it will just take time," Yihao says, again proving his perseverance in the midst of crisis and setting an example for all of us—remaining courageous and hopeful for a return to normalcy.
---
About the Westminster Review
The Westminster Review is Westminster University's bi-annual alumni magazine that is distributed to alumni and community members. Each issue aims to keep alumni updated on campus current events and highlights the accomplishments of current students, professors, and Westminster alum.
GET THE REVIEW IN PRINT STAY IN TOUCH SUBMIT YOUR STORY IDEA READ MORE WESTMINSTER STORIES