---
Path to Publishing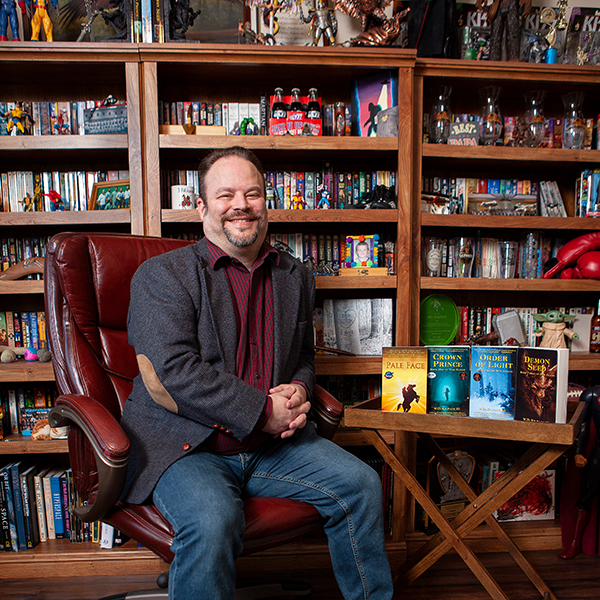 Bill Kilpack reflects on his literary journey
by Maria Comp ('23)
Bill Kilpack ('93, MPC '95) has been writing his entire life. He earned his first writing credit at age nine after a teacher submitted his poem to a contest, resulting in a first-place prize and being published in the local newspaper. Three years later, he wrote his first novel under the direction of another teacher who saw his promise; and, by 15, he was hired to write for a sports publication. Nearly three decades and two Westminster degrees later, Bill is still writing—a lot.
"I can't not write," Bill says, noting that he's been this way since elementary school. Pre-computer era, he had a binder full of lined paper to write in whenever an idea came to him. "I write every day, without fail."
Although he had a lot of writing experience before college, Bill credits his professors at Westminster for helping him improve to the point of making a professional career out of it. He has crossed over many genres as a freelancer from technical writing and journalism to self-publishing three fantasy novels and a sci-fi novella—all while teaching communication at Salt Lake
Community College.
As an undergraduate, he double-majored in communication and philosophy, along with completing the Honors program. Bill was a student on the committee that helped create the Master of Professional Communication (MPC) program, which he would later participate in—earning an MPC. He recalls taking many graduate classes with Faculty Emerita Helen Hodgson, the creator of the MPC program. "She really pushed me to learn more about writing tools themselves, such as high-level editing," he says. "I can still hear her voice in my head: 'These are the tools of a writer. Why in the world wouldn't you want to learn how to use them?'"
After years of working in the professional sphere, Bill has more recently found the time to focus on writing and publishing his books. He says the inspiration for his novels came from a recurring dream he used to have. He also draws on history to create a rich story about the main character—the Guardian of Maarihk—trying to protect a newborn crown prince. "I love mythology, and the New Blood Saga is based largely in Celtic culture," he says.
Bill set out to write a trilogy, but it quickly became more: he has written eight books in the series and an additional award-winning novella. Bill self-publishes his books under the name W.D. Kilpack III. "Self-publishing democratizes publishing to an amazing degree," he says.
Despite the many advantages of self-publishing, there are some caveats. "You want it to look like it's traditionally published," Bill says, explaining that editing your own work is the most difficult part of the self-publishing process. He also notes how valuable feedback can be, especially when it is honest—something that he learned during his undergrad years at Westminster through Faculty Emeritus Fred Fogo.
"Fogo helped me raise my level of writing through weekly critiques, which could be brutal," Bill says. But it ultimately allowed him to write well enough to publish. "Westminster really opened my mind to so many different things," he says. "There wasn't a professor who was not interested in helping me learn all that I could."
Visit kilpack.net to learn more about Bill's work.
---
About the Westminster Review
The Westminster Review is Westminster University's bi-annual alumni magazine that is distributed to alumni and community members. Each issue aims to keep alumni updated on campus current events and highlights the accomplishments of current students, professors, and Westminster alum.
GET THE REVIEW IN PRINT STAY IN TOUCH SUBMIT YOUR STORY IDEA READ MORE WESTMINSTER STORIES