---
Team Spirit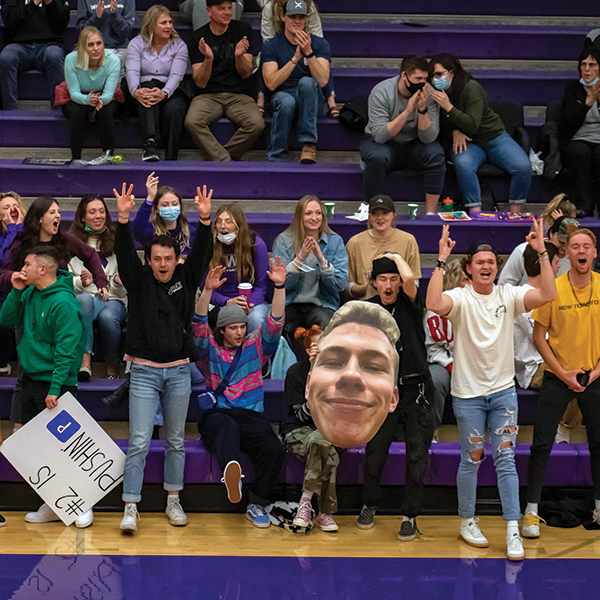 Tailgate events encourage wins
by Connor Bentley (MEd. '08)
Fans are back! Westminster Athletics welcomed supporters back to campus for home games in the fall of 2021, after the COVID-19 restrictions limited attendance during the 2020–21 season. With the return of fans in the stands came all-new pre-game tailgating events that brought together alumni, parents, students, faculty, staff, and friends to mingle and gear up for the action on the field and court.
The Westminster tailgates created a great spirit of comaraderie ahead of the games and got fans energized to cheer our athletes on from the stands. That energy does not go unnoticed. "Having fans back at sporting events after a year of empty stands has been beyond valuable to us," says Abby Mangum ('22), a senior on the women's basketball team. "Fans help generate energy that you just can't find anywhere else, and they have a huge influence on the game—whether they realize it or not."
On Dumke Field, the energy is electric, enhanced by the newly installed lights that make it possible for Westminster to host competitors for night games.
In addition to providing a great space for Griffin fans and boosters to gather before games for refreshments, the tailgate events hosted at the Kim T. Adamson Alumni House also help energize the fans and create excitement that the student-athletes feed off of during the games. As enthusiasm grows, so will the hosted tailgate schedule. Don your purple and gold apparel, and join us as we come together to help create a winning environment for our NCAA Division II teams.
"A winning environment is a feedback loop that constantly gives back," Abby says. "The more fans at a game, the more likely a team is to win. The more wins a team has, the more fans want to support."
---
About the Westminster Review
The Westminster Review is Westminster University's bi-annual alumni magazine that is distributed to alumni and community members. Each issue aims to keep alumni updated on campus current events and highlights the accomplishments of current students, professors, and Westminster alum.
GET THE REVIEW IN PRINT STAY IN TOUCH SUBMIT YOUR STORY IDEA READ MORE WESTMINSTER STORIES