---
Human Behavior: Response to COVID-19 Part Four
Human Behavior: Response to COVID-19 Part Four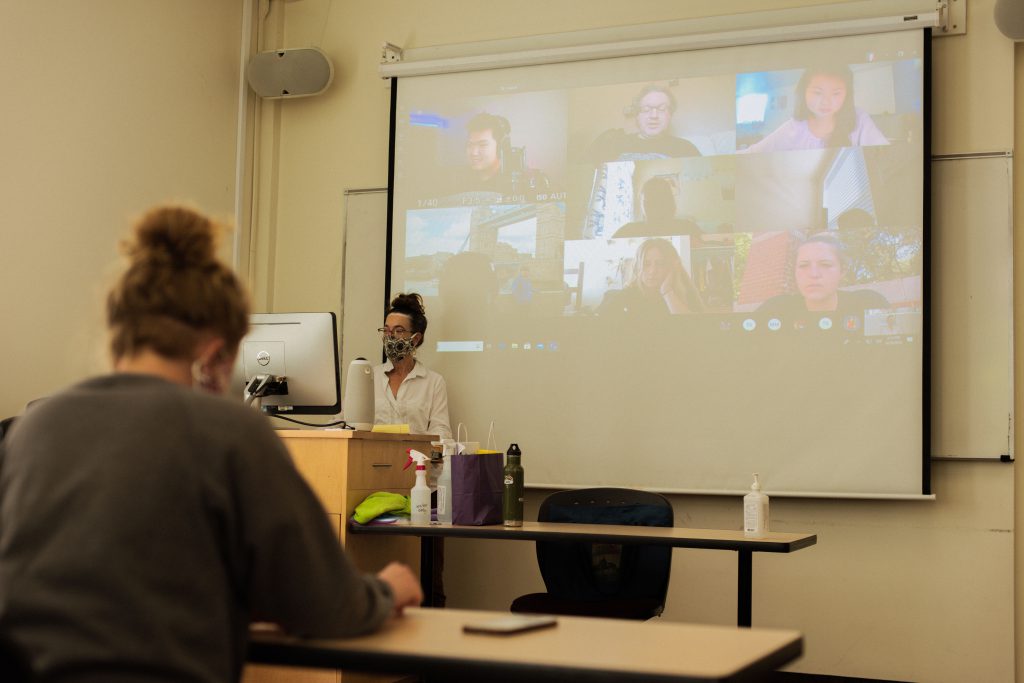 Part Four: Sociology
by Meg Quigley
We are midway through the fall semester at Westminster College and, of course, a lot has changed. Returning students have had to adapt to new guidelines, but what has it been like for new students? To head off to college during a pandemic, to explore a new campus and possibly a new city, to navigate in-person and virtual classes, and to make new friends?
It is no surprise that CDC guidelines around wearing masks and social distancing greatly affect both the social integration and the learning experience for first-year students. On the one hand, there are many strengths to Westminster's learning environment that are particularly helpful at a time like this, with small class sizes and supportive, hands-on faculty. On the other, it is unquestionably difficult to build relationships under the COVID-19 restrictions, and that has a significant effect on social integration for Westminster's newest students.
We checked in with Professor Kristjane Nordmeyer's first-year sociology class to hear what their experiences are and what they, as sociology students, are observing on campus. The students are largely positive about their learning experience and the hybrid approach this semester with both virtual and in-person classes. As one student says, "Westminster has been really good at making students feel safe while still learning as much as we would have in a COVID-free world."
Months into the pandemic, students are accustomed to virtual classes by now, and the experience is getting better with improved technology. The awkwardness of online classes persists, however. As Marshall Blomquist ('24) says, "A lot of my classes are online via Zoom or Teams and they aren't bad classes, but I feel as though I'd probably learn more if it were in person." While many students express a preference for having at least some in-person classes, they also point out that there are difficulties with interaction, both socially and intellectually, due to masks and social distancing even while sharing the same space.
The challenges of the learning experience are balanced by the Westminster faculty, and one student acknowledged how faculty are also adapting to a very different way of teaching. Lucy MacKay ('24) says, "I am surprised how kind and personable my teachers are. The small class sizes make it easy for us to meet in person, and all my teachers have been very understanding of our situations. This isn't just difficult for the students, but also the teachers because they must learn a whole new way of teaching." Another student is pleasantly surprised that their professors aren't cutthroat like people in high school said they would be; instead they are understanding and very friendly.
With faculty showing them the supportive community that is a hallmark of Westminster, students are also building their own communities, despite the difficulties of social integration right now. Almost every student mentioned that it is hard to make friends. With masks, it is difficult to read people's facial expressions and show your own personality, not to mention how challenging it can be to recognize people. Roommates are even more important in this environment, and several students said they have forged strong friendships with their roommates. This is partly because roommates are the only people they can be around without masks. With dorm restrictions in place, it is hard to create larger social circles. Marcus Spellman ('24) explains, "People aren't allowed in your dorm and in resident halls unless you live in the same hall with someone, then you can go to the common area. But even there you still have to social distance and wear your mask."
Despite the difficulties resulting from the pandemic guidelines, the students are seeing what is so special about Westminster. Abby Poole ('24) says, "I expected it to be a very strict environment, especially with COVID happening. But it is actually very laid back and friendly and supportive. I love our little college community. I think what we have done to minimize the risk of COVID has been very productive and smart. We still are being given opportunities to socialize and be a part of the community, but we're safe." She concludes, "I am loving college so far!" These first-year students shared openly and thoughtfully what they are experiencing and seeing—that is perhaps the strongest indication that they are, in fact, integrating into the Westminster community.
---

About the Westminster Review
The Westminster Review is Westminster University's bi-annual alumni magazine that is distributed to alumni and community members. Each issue aims to keep alumni updated on campus current events and highlights the accomplishments of current students, professors, and Westminster alum.
GET THE REVIEW IN PRINT STAY IN TOUCH SUBMIT YOUR STORY IDEA READ MORE WESTMINSTER STORIES