---
Human Behavior: Response to COVID-19 Part Three
Human Behavior: Response to COVID-19 Part Three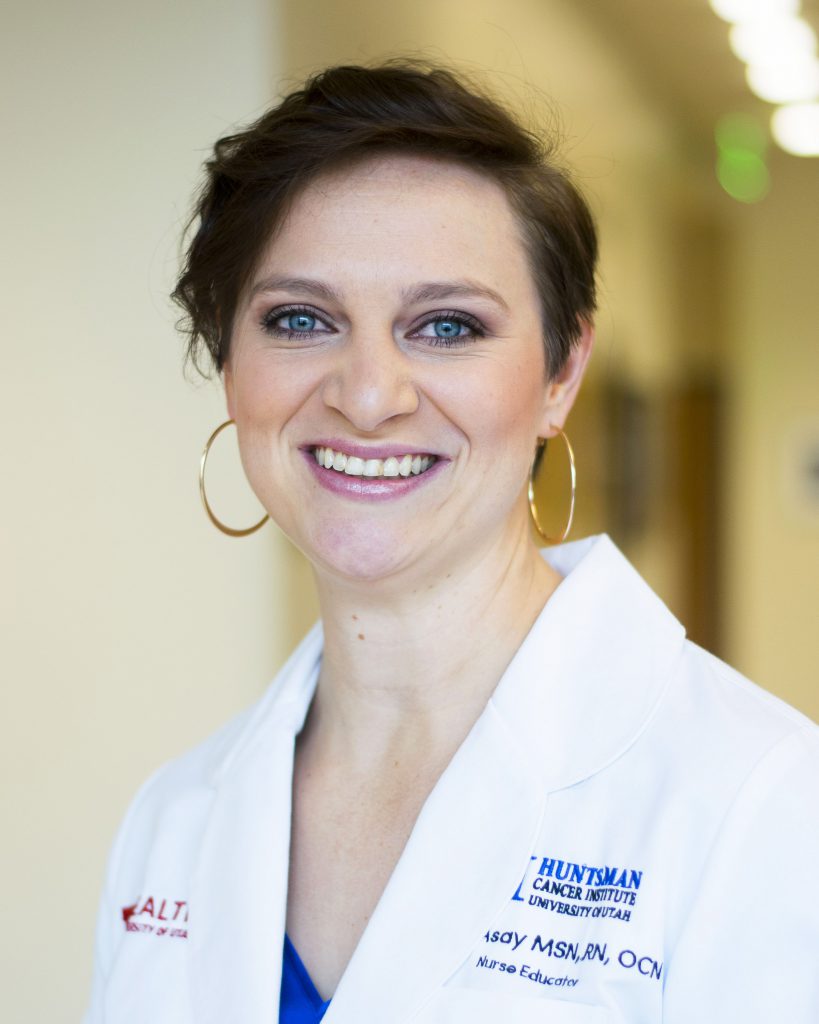 Part Three: Nursing
by Maggie Regier ('20)
It seems like ages ago when COVID-19 first took hold in the United States. Everything changed so quickly and so immensely. While many of us hunkered down at home, taking up hobbies to keep us busy with our newfound time, nurses right here in Utah were working the frontlines. With so much news coverage highlighting COVID in New York, it was easy to forget how hard it hit right in our own backyard.
"I remember that first week," says Marie Asay ('07). "The hospital was like a weekend but all of the time. You could cut the tension with a knife. Every single day I had to go in and know 'today is going to be a crazy day.'"
Marie described these first six weeks as incredibly taxing. She would show up to work every day waiting for the next piece of bad news—she had to wake up each morning expecting the worst.
A nursing professional development practitioner at Huntsman Cancer Institute, Marie works to train and educate nurses at Huntsman Cancer Institute and other affiliate hospitals all over the country. When COVID hit, she stopped travelling and focused entirely on trainings and adaptations in Utah.
Some of these adaptations made from necessity will likely last over COVID is over: the coding process (or "Code Blue" as it is sometimes called) has changed to better protect staff, and nurses were so responsive they have decided to keep it.
The pandemic has proven once again that nurses are incredibly resilient in adapting to change. They've come together as a team and taken on every new challenge that has been thrown their way. Yet what can often get forgotten amongst those in a care profession is how to care for oneself.
Throughout all this, Marie cites weekly therapy as her saving grace. The significant change in situation left her without any of her usual coping mechanisms for a high-stress job, so in addition to her regular therapy she has taken up guitar and fly fishing.
"Nurses struggle to admit they are struggling," she says. "They are supposed to be strong." Marie is constantly reminding her nurses about the importance of mental health and urges them to take advantage of the counseling services offered through the hospital.
Since the start of the pandemic, things have calmed down significantly in the hospitals. The "bad news" emails come once a week rather than once a day, and policies have been put in place to better protect the staff. They've learned to think outside the box, be more flexible, and come together as a team.
At the end of the day, nurses in Utah and everywhere are working relentlessly to care for their patients, navigating a completely new set of challenges and taking them in stride. They also exemplify incredible teamwork, resilience, and care.
---

About the Westminster Review
The Westminster Review is Westminster University's bi-annual alumni magazine that is distributed to alumni and community members. Each issue aims to keep alumni updated on campus current events and highlights the accomplishments of current students, professors, and Westminster alum.
GET THE REVIEW IN PRINT STAY IN TOUCH SUBMIT YOUR STORY IDEA READ MORE WESTMINSTER STORIES