---
Wings of Westminster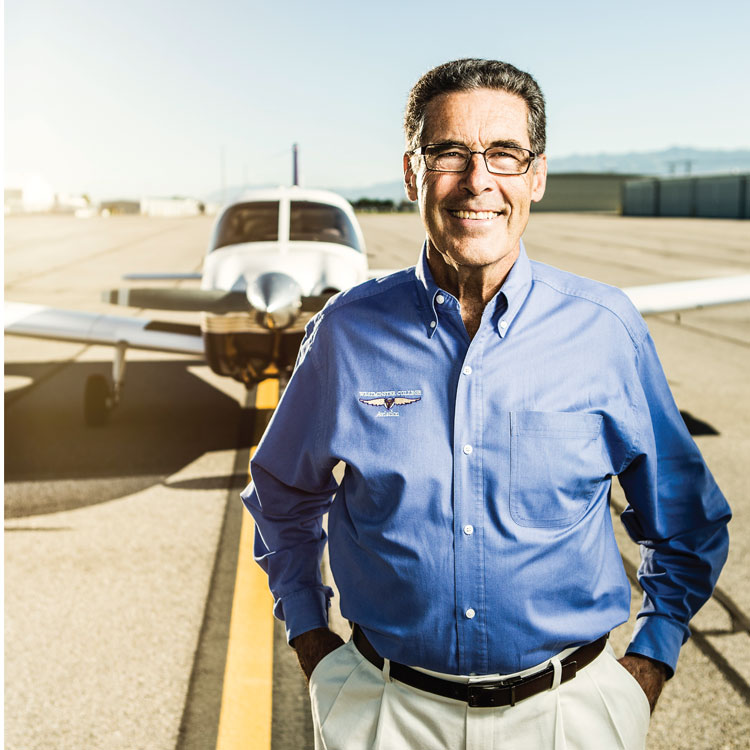 The Little Aviation Program That Could…and Did
With a national aviator shortage on the horizon, Westminster's aviation program is poised to take a leadership role in training new pilots. Here's the story of how it all happened.
by Krista DeAngelis
portraits by Chris Jameson
Being recently predicted that within the next 20 years, almost 500,000 pilots will be needed globally. With thousands of senior aviators nearing mandatory retirement age (65) within the next two decades, and with the new mandated Federal Aviation Administration (FAA) regulations that require all commercial airline pilots to hold an airline transport pilot (ATP) certificate. A pilot shortage is on the horizon.
While major airlines have room to stall as they look for answers to the predicted pilot shortage, smaller regional airlines are already feeling the effects of an uncertain future. Regional carrier Great Lakes Aviation reportedly suspended flights to cities in North Dakota and Iowa. Earlier this year, United Continental announced plans to cut 60 percent of its Cleveland flights by summertime. Smaller airports in Wyoming had to temporarily suspend 30 working pilots because they had not yet met the 1,500-hour flight requirement. Additionally, service to six airports in Wyoming has been suspended, requiring passengers to commute two hours to Denver International Airport. As pilots work to acquire their required flight time, airlines are growing concerned with what the future will bring as older pilots age into retirement.
Westminster's aviation program is one of only few in the country to work directly with major airlines to facilitate job opportunities for aviation students as they complete their degrees and flight hours. Westminster's aviation program was developed by faculty and staff dedicated to creating an educational environment conducive to preparing future pilots for their careers. In the face of a crisis within the industry, Westminster stands out not only as a premiere place for future pilots to become experts in their fields, but also as a solution to the pilot shortage problem.
Gerry Fairbairn: Aviator & Educator
Gerry Fairbairn's love of aviation was cultivated at an early age. Spending countless hours reading through flying magazines in junior high when the school bus dropped him off early, he garnered an interest in all things aviation. Young Fairbairn's interest blossomed into mania after he began riding his bike to the local airport. Day after day he'd look at the planes, watch them take off, and, once he got the courage up, ask pilots if he could help wash their aircraft, hoping they would offer him a ride—and they often did.
"From then until I became a flight instructor, I spent all of my money on flying," Fairbairn recalled. At age 16, Fairbairn made his first "solo" flight (where he had to take off and land unassisted). At age 18, he earned his private pilot's license. By age 20, he had become a flight instructor teaching other would-be pilots how to fly, and his heart eventually turned to the education side of the field.
"I think I have always been drawn to aviation education," said Fairbairn, who started teaching aviation classes at San Jose State University in 1973. "When I was in college and my friends were focused on preparing for the airlines, I was focused on becoming a flight instructor. When the opportunity came up to start teaching at the collegiate level, I took advantage of that and have stayed at it my entire career."
With more than 50 years of experience in the multi-faceted world of aviation (42 of those in education) and 7,000 hours in the cockpit, Fairbairn is looking to hang up his proverbial teaching "wings" at Westminster-—after more than seven years of providing crucial leadership to the aviation program. Working as a consultant for the college during the early years of the flight program's development, Fairbairn made his mark on the college even before he was a permanent Westminster employee. Over the past decade, Fairbairn's strategic vision has guided the aviation program to new heights and beyond.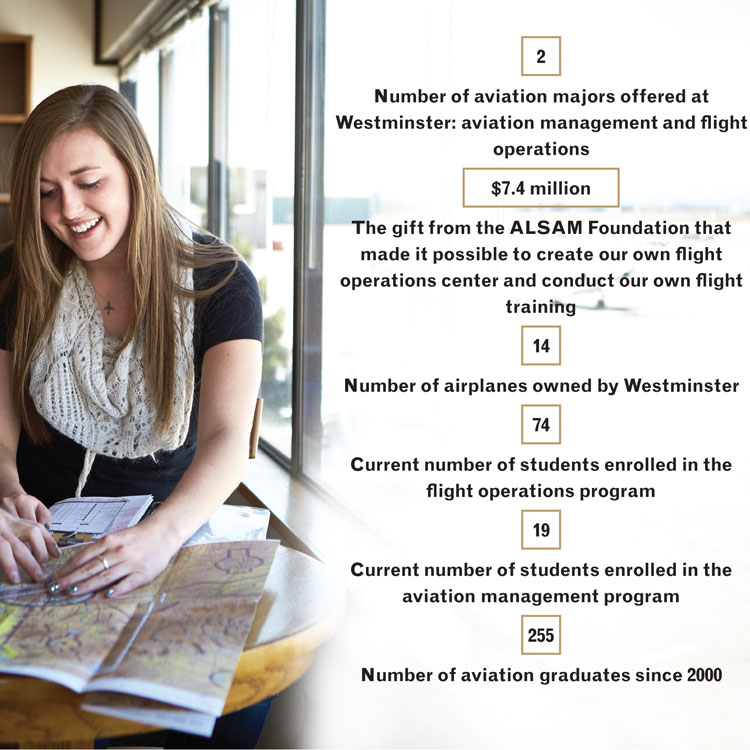 History of the Aviation Program
While many people may remember the creation of the college's flight operations program in 2000, not many realize the college has been offering aviation classes since 1969. "We've had an aviation program at the college going back to the late '60s, but it didn't involve any actual flight training," said Dr. Cid Seidelman, who served as the dean of the Bill & Vieve Gore School of Business when the program was established. "Students would contract with local fixed-based operators (FBOs), so in terms of completing a flight operations major, they would go through the academic and classroom activities here; then they'd do the flight training and a lot of the ground school at these FBOs—and the quality was highly variable."
The history of Westminster's aviation program has been somewhat turbulent, with a period of time in the 1980s when outside instructors were contracted to manage the program and teach the classes. But in the 1990s, Seidelman was asked to chair a committee to review the aviation program and evaluate its viability and future. The recommendation was that it should be part of the mainstream curriculum—and that a market for an aviation program indeed existed.
As luck would have it, a student named Don Skaggs, who was taking aviation classes at that time from former faculty member Dan Taylor, became very excited about the program. He raised the idea of approaching his family's foundation to start a flight operations center at the college.
"It was in the late '90s that we started working with Sam and Aline Skaggs and the ASLAM Foundation in terms of developing a proposal [for a flight operations center]," said Seidelman. "Part of that proposal development was going out and looking at some other collegiate aviation programs, so we went out to places like the University of Dubuque, Embry Riddle, and we ended up at Daniel Webster College."
Former Westminster president Peggy Stock, a close friend of the president of Daniel Webster at the time, recommended visiting the college to research its highly rated aviation program. It was there that Seidelman first met Fairbairn. "Right from the start, I was impressed with both his academic capacities, as well as the way he thought very deeply about the nuance of running a collegiate aviation program," said Seidelman. "Gerry also spent a big part of his career at Daniel Webster being a major national leader in the University Aviation Association and with the Council on Aviation Accreditation and was very influential."
"I hired Gerry to be a consultant for us, but I actually would have liked to have hired him right then," he added. "We had Gerry out here a couple of times to help consult since we were taking on a venture in which we did a lot of work in terms of studying this stuff, but frankly, we didn't know what the heck we were doing."
In August 2000, all the college's research and proposal development paid off. A gift of $7.4 million was donated by the ALSAM Foundation to establish a flight operations program in combination with Westminster's academic program—it was the single largest gift the college had ever received.
"This gift allowed the program to purchase new aircraft, hire flight instructors, build a simulation and testing center in the Gore School of Business, and conduct flight training operations at the Salt Lake City International Airport," said Gail Avendaño, director of aviation student support. Avendaño has been working with the flight operations program since its inception. She said, "During the first eight years of operations, Westminster shared hangar space with TransWest Air Services. Today, flight training is conducted from the Kibbie Executive Terminal at the Salt Lake International Airport."
Westminster eventually wooed Fairbairn from Daniel Webster, but his advice has had lasting effects for the flight operations program since early in its inception.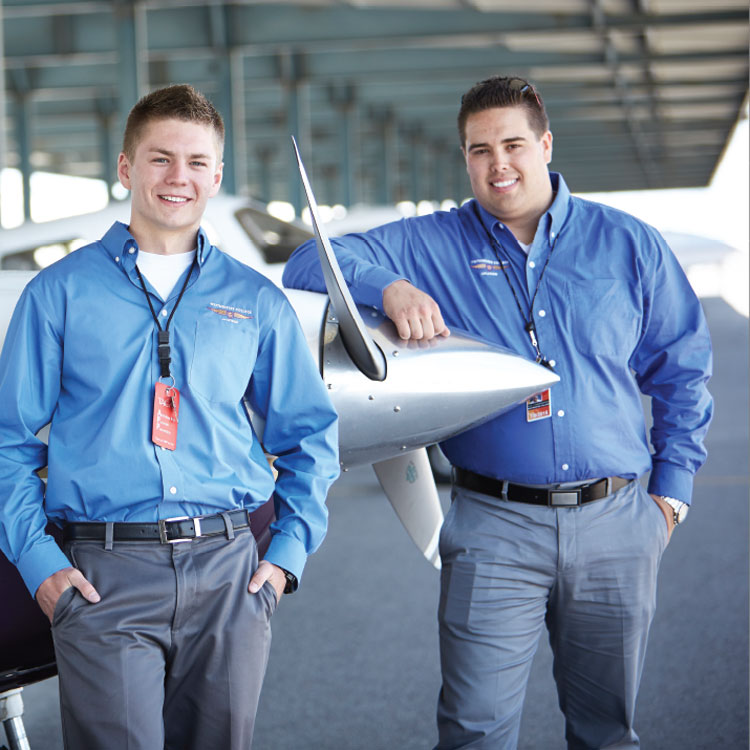 Developing a Unique Program
As the college's new flight operations center was taking off, Fairbairn's leadership, along with that of the aviation department's former director, Michael Kraus, was key to creating a unique program for students.
"We went through a stage of trying to get the right people in the right positions," said Seidelman. "Leadership was extraordinarily important…one of the ongoing challenges of the program has been scale and managing the cost structure."
According to Seidelman, a very important contribution to the program can be attributed to Kraus, who realigned the flight instructor model to lower costs. Three other significant contributions to the program came later and were led by Fairbairn, who was officially hired by Westminster in 2007. These contributions included the creation of a unique aviation curriculum, the establishment of a partnership with SkyWest Airlines, and the acquisition of the AABI (international) accreditation.
"Gerry has played a very instrumental role in terms of moving us to having our own unique and differentiated Westminster aviation syllabus approved by the FAA," said Seidelman. "So when we rolled out the program, we went with an 'off-the-shelf' syllabus that was a standardized syllabus that didn't necessarily incorporate the uniqueness of flying out of Class B airspace and a major regulated international airport (like Salt Lake City International Airport), mountains, and the fact that we had a fair amount of investment in simulation equipment—which helps lower the cost for students because simulation time is cheaper than actual flight time."
"In terms of training, our operational base at the Salt Lake International Airport makes us the only four-year collegiate flight program that primarily operates out of 'Class B airspace' (a busy airport environment)," Avendaño explained. "That means that from day one of their training, our students are learning to fly in the same environment they will fly in as airline, corporate, or cargo pilots—which is very significant for student pilots."
In the fall of 2011, Westminster's aviation program implemented curriculum changes in advance of an expected overhaul of federal regulations that was prompted by a deadly crash in Buffalo. The National Transportation Safety Board (NTSB) ruled inadequate training contributed to the crash of Continental Connection Flight 3407 that killed 50 people in 2009. Federal investigators found the pilots weren't properly trained to handle a flight warning, nor were they able to recover the plane once they lost control. The NTSB recommended sweeping changes to FAA regulations that now impact pilot professionalism, fatigue, and training.
In 2013, the FAA announced the new mandates prompted by the Buffalo crash. Directed by Congress, the Airline Safety and FAA Extension Act of 2010 called for increased minimum requirements for airline first officers and mandated that they hold an air transport pilot (ATP) certificate or new restricted-ATP. The ATP certificate requires pilots to be at least 23 years old and log at least 1,500 hours of flight time—a significant increase from previous regulations.
Although the FAA increased flight time for most pilots, the administration made a special allowance for students attending four-year collegiate aviation programs that were accredited and approved by the FAA: they only need 1,000 flying hours to be a commercial airline pilots per the requirements of the new restricted (R-ATP) certificate.
Having anticipated these changes, Fairbairn and his staff worked hard to build innovative, scenario-based training aspects into the curriculum, which were critical to the FAA's approval for fewer required flight hours, R–ATP, and accreditation of the program. These training scenarios ensure that students develop and practice critical thinking and decision-making skills.
"Rather than building a student's flight training around specific, isolated maneuvers and procedures, our scenario-based training and innovative curriculum demands that students apply their skills and flight knowledge to address scenarios that more closely replicate situations they will encounter as future commercial or corporate pilots," said Avendaño. "Westminster's curriculum enhances decision-making, a critical skill in aviation because a relatively high percentage of aviation accidents is related to pilot judgment."
"The FAA has recognized that Westminster's aviation curriculum is one of the most comprehensive in the nation and, therefore, has awarded us the ability to certify our pilots for an R-ATP certificate with fewer hours than other programs," added Fairbairn. "Westminster was the fourth college in the United States to have received this authority, which speaks volumes for our program."
In February 2012, the Aviation Accreditation Board International (AABI) granted accreditation to Westminster's Aviation Department after a lengthy application process. The college is now one of just 35 elite colleges accredited by AABI worldwide.
"AABI accreditation assures students that they are receiving a high-quality, comprehensive flight education," said Fairbairn. "Students who attend accredited institutions can feel secure knowing that their flight program receives thorough and systematic evaluations from outside educational and industry experts."
In addition to the creation of a unique curriculum and the AABI accreditation, Fairbairn and Avedaño also helped connect the college to a major regional airline: SkyWest Airlines. In 2013, the college announced a bridge partnership with SkyWest that allows students who have flight operations degrees and who served as flight instructors at Westminster to participate in the program that paves a path for pilots to eventually be hired by the airline.
"The SkyWest partnership—as far as a relationship with a commercial airline—that's been big," added Seidelman. Most recently, additional airlines have contacted the college in hopes of also creating similar bridge-type programs.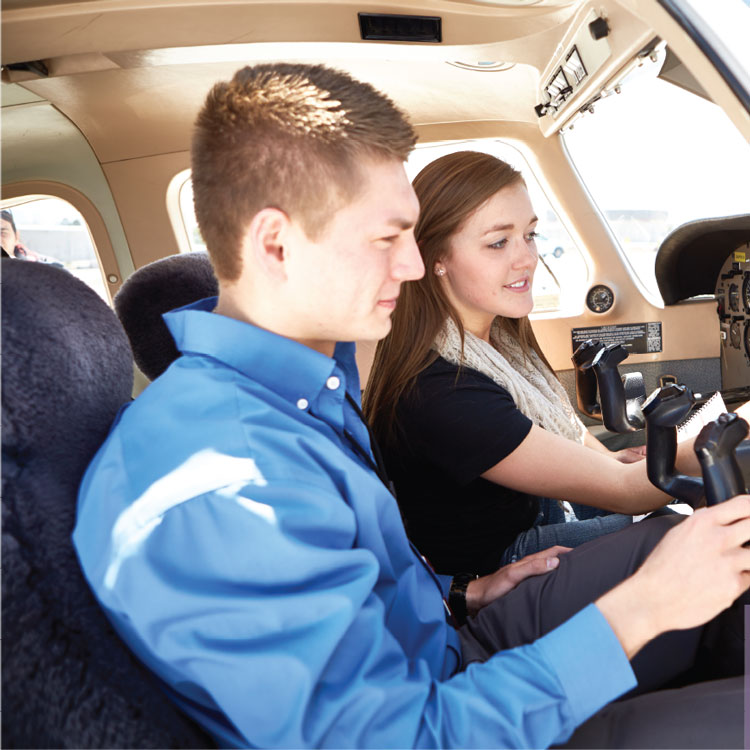 Flying and Non-Flying Degrees Offered
Most pilots who graduate from Westminster's flight operations program have earned about 250–300 flying hours prior to graduation. To be competitive for the airlines, Westminster pilots typically need to accrue 1,000 hours, or 700 additional flying hours, before they can be hired by a regional airline.
"The widest career path for the pilots who want to fly for the airlines is learning to fly and getting their commercial and flight instructor certificates," said Fairbairn. "They have to build additional time after their 300 flight hours to be qualified for the airlines. So after they build time flight instructing for a few years, they can go on to work for a regional airline like SkyWest. Then as they accrue more flight time and as major carriers have needs, many of them go on to work for the majors like Delta, United, or American."
One lesser known aspect of Westminster's aviation program is the offering of an aviation management degree. For students who may love the aviation industry, but may not want to—or be able to—fly, the degree offers a variety of options.
"You don't hear as many people going into this career path, but one of the most common places our grads go is into airport operations," said Fairbairn. "These are the people involved with maintenance of the airport and managing safety, security, wildlife control, expansion, and things like that. Other grads may go to corporate operators like TAC–Air or into the field of aircraft sales or airline management positions. The aviation management program allows students to focus on the business aspects of aviation."
Predicted Pilot Shortage
"We have a certain number of pilots leaving due to retirements, but there are additional pilots that are leaving the US carriers because of international opportunities," explained Fairbairn. "Prior to 2000, in terms of supply, the airlines used to get 80 percent of their pilots from the military. The military is training many fewer pilots now, and the commitment that the pilots make is longer. Now only 20 percent are coming from the military…it's totally flipped. The industry has had to start relying on schools, certificates, and building flight time in other ways."
The combination of retirements, new FAA regulations, lack of military pilots, and international carrier appeal has left a growing demand for new airline pilots, which makes aviation degrees like Westminster's more attractive than ever.
"Right now, the long-term career possibilities for someone interested in going into the aviation industry are probably better than they have been at any time in the past," said Fairbairn. "The airline hiring due to retirements is going to create a strong demand for pilots for the next 15 years, and as airlines keep hiring, it will open up pilot positions for those interested in other aspects of the aviation industry such as corporate flying."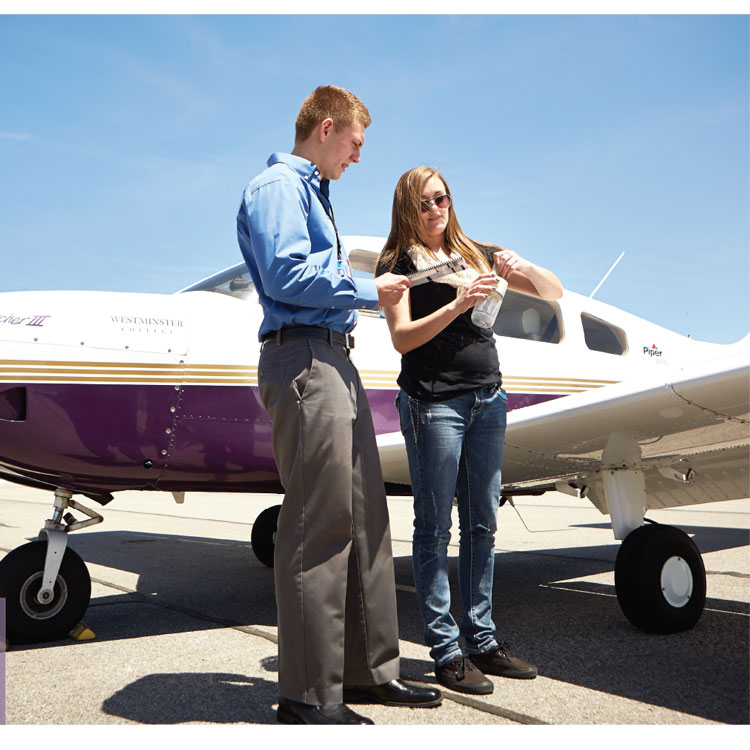 Saying Farewell to a Beloved Aviator
There is no question that Fairbairn, who has an MBA from San Diego State University and a PhD in economics from Santa Clara University, as well as 53 years of aviation experience, will be tough to replace. "As far as creating stability for our aviation program and just wise, sage leadership, Gerry's been an absolutely phenomenal asset for the college," said Seidelman. "It will be difficult to find someone who brings the academic credentials and the knowledge and experience of running a collegiate aviation program, as well as someone who's as well connected nationally with other various academic aviation leaders."
Avendaño echoed Seidelman's thoughts. "People outside of collegiate aviation don't realize what a rockstar Gerry is in terms of industry knowledge and connections in the aviation community," she added. "Before he came to Westminster, we used to say things like, 'we need someone like Gerry to really take us to the next level.' One day, we decided to ask him if a move to Westminster was a possibility and, lucky for us, it was. Gerry's leadership and insights over the past few years have been exactly what we needed to write our own flight curriculum, develop new programming, attain AABI accreditation, and offer the R–ATP."
As Fairbairn finishes out his final year in aviation, he fondly recalls the early years that inspired his love of flying. While perusing aviation magazines, wandering around airports, and flying in airplanes helped nurture his passion, he knows many students out there share the same love. "We get those same kind of kids now who just got the interest [in flying] when they were young," said Fairbairn. "It often provides some motivation to get them into school, and the motivation to get them through school. The program takes a lot of dedication, well beyond what the academic credits suggest, and if they're not passionate about it, and if it's not something they really want to do, then they get tired of it after a while. But for the ones who are passionate about it, for the ones who really want to do it, those are the ones who end up doing well."
After his long career in academia, Fairbairn is looking forward to retirement and plans to stay in Utah. "We love living here," he said. "We're very active, and we have a lot of active friends. We really like to travel; we're doing a trip around the world this year and a barge trip to Scotland next year."
---
Click below to meet our Westminster Alumni Flyers:
---
About the Westminster Review
The Westminster Review is Westminster University's bi-annual alumni magazine that is distributed to alumni and community members. Each issue aims to keep alumni updated on campus current events and highlights the accomplishments of current students, professors, and Westminster alum.
GET THE REVIEW IN PRINT STAY IN TOUCH SUBMIT YOUR STORY IDEA READ MORE WESTMINSTER STORIES