---
Above it All
Westminster is the only school in the USA to offer high-flying yoga to students and the alumni community
by Amanda Brawn ('17)
Imagine a workout that left your body feeling physically enhanced and your soul refreshed. Picture an experience that allows you to burn calories and strengthen your core in an amazing hour that seems to end as soon as it begins. This experience, which exists in the form of antigravity yoga, has attracted an enthusiastic following among Westminster students, faculty, and alumni.
"It's fun," says Tamer Begum ('12), who as a student introduced the campus community to the form and helped establish the classes taught at the Dolores Doré Eccles Health, Wellness, and Athletic Center. The classes employ specially designed hammocks that allow instructors to guide students in complicated inversions that, in traditional, mat-based yoga, are among the most difficult and challenging poses.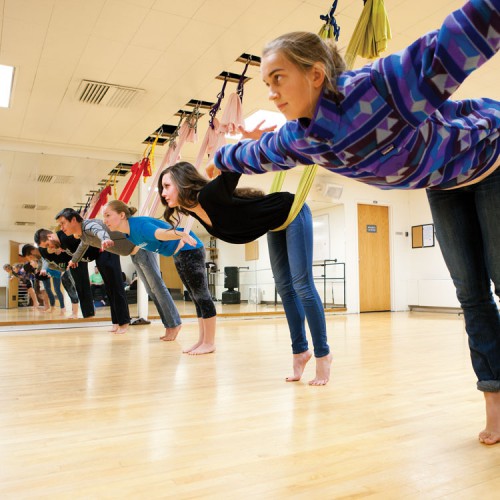 Tamer instantly connected with the high-flying physical meditation, and he spent seven years completing his antigravity fitness master instructor certification in New York City. In 2011, Tamer introduced the first classes at Westminster, and now the college is the only one in the United States that offers Antigravity yoga as a community health class. As an alumnus, Tamer currently practices and shares his passion with people in Asia, spreading the word about the form.
Christopher Harrison, Tamer's uncle and the creator and founder of AntiGravity Inc, an aerial acrobatic entertainment and fitness company, introduced Tamer to the technique.
"He has been inspiring me with movement from gymnastics to extreme sports my entire life," Tamer says. "He is one of my mentors."
Westminster uses Harrison's antigravity hammocks for classes. Antigravity boasts incredible health benefits and allows participants to perform zero-compression inversions, which can reduce acute and chronic back pain. Class members are particularly fond of the famous "cocoon" pose, which allows the final relaxing meditation of a yoga session, shavasana, to take place in the comfort of a swinging hammock wrapped around the body, similar to the way an infant is swaddled.
Tamer encourages the community to get active and share their experience with others. "I believe every successful person knows that his or her achievements require a community of people working together for the same cause."
Westminster offers a variety of fitness and community education classes open to the alumni community. For more information visit: westminsteru.edu/fwrd/index.cfm?parent=4827&detail=5395&content=11802
To learn more about AntiGravity Yoga Fitness visit: facebook.com/antigravityfitness
Follow Tamer Begum's journey on Instagram at @Tamer_Begum
---
---
About the Westminster Review
The Westminster Review is Westminster University's bi-annual alumni magazine that is distributed to alumni and community members. Each issue aims to keep alumni updated on campus current events and highlights the accomplishments of current students, professors, and Westminster alum.
GET THE REVIEW IN PRINT STAY IN TOUCH SUBMIT YOUR STORY IDEA READ MORE WESTMINSTER STORIES