---
Gifts in Action: Student Leaders
Gifts in Action: Student Leaders
Harnessing the Power of Student Stories
Student leaders tapped to share their Westminster experience
by Dana Tumpowsky
"The woman I sat with at the Scholarship Gala was incredibly kind and genuinely interested in me and my experience at Westminster," said Sarah Hirning ('16). "Experiences like that really display how much love is in the Westminster community; it was great to see so many people supporting the college and donating, so students like me can afford the education offered here."
Sarah, a marketing and economics major from Pocatello, Idaho, is in her first year as a Presidential Ambassador for Westminster College. The Presidential Ambassadors Program, which re-launched three years ago, provides opportunities for a select group of 12 students to share their enthusiasm for the Westminster experience with alumni and friends of the college. These students host important college guests and participate in a wide array of college and alumni events.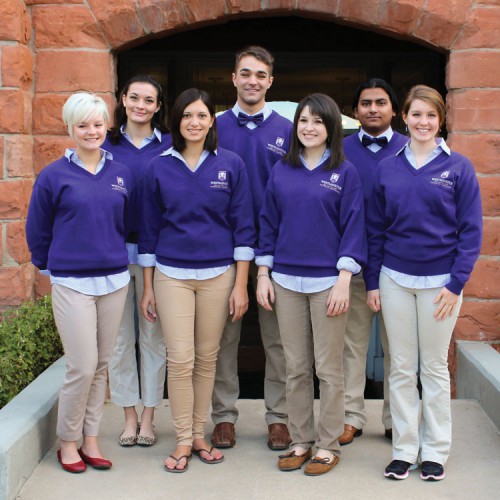 "To be selected as a Presidential Ambassador is a great honor that recognizes these students' outstanding personal and leadership skills and provides them with extraordinary networking and social opportunities and experiences," said Dana Tumpowsky, director of The Parent Fund and Family Programs, who coordinates the program.
Presidential Ambassadors are nominated by faculty and staff each February and go through a rigorous application and interview process with current Ambassadors, First Lady Debi Levin-Stankevich, representatives from Advancement, and Student Services staff. Once a student is selected as an Ambassador, he or she serves in the position through graduation. Presidential Ambassadors learn etiquette and the basics of philanthropy while expanding their network and résumés.
"My favorite experience so far as a Presidential Ambassador was inauguration weekend because I got to be present at the beginning of President Brian's time at Westminster," said Megan Peters ('15). "I was a newbie PA, so it was a big deal for me to be meeting all of the important people at the college, hearing their stories, and realizing that many of them had similar mentors at college as I do now."
Former Presidential Ambassadors have gone on to success in postgraduate programs in law, medicine, finance, research, public relations, and aviation. These PA alumni include Nik Mijic ('12), Akosua Amankwatia ('13), Zeke Elias ('13), Tyson Olcott ('13), Laura Leon Martinson ('13), Melanie Long ('14), Sara McCaskey ('14), Brian Fredrich ('14), Clara Jane Hallar ('14), Alysa Fratto ('14), and Brandon Lloyd ('14).
See photos and read stories about Westminster's current Presidential Ambassadors by searching for "Presidential Ambassadors" at www.westminsteru.edu.
---
About the Westminster Review
The Westminster Review is Westminster University's bi-annual alumni magazine that is distributed to alumni and community members. Each issue aims to keep alumni updated on campus current events and highlights the accomplishments of current students, professors, and Westminster alum.
GET THE REVIEW IN PRINT STAY IN TOUCH SUBMIT YOUR STORY IDEA READ MORE WESTMINSTER STORIES