---
Education Alumni: Agents of Change
Education Alumni: Agents of Change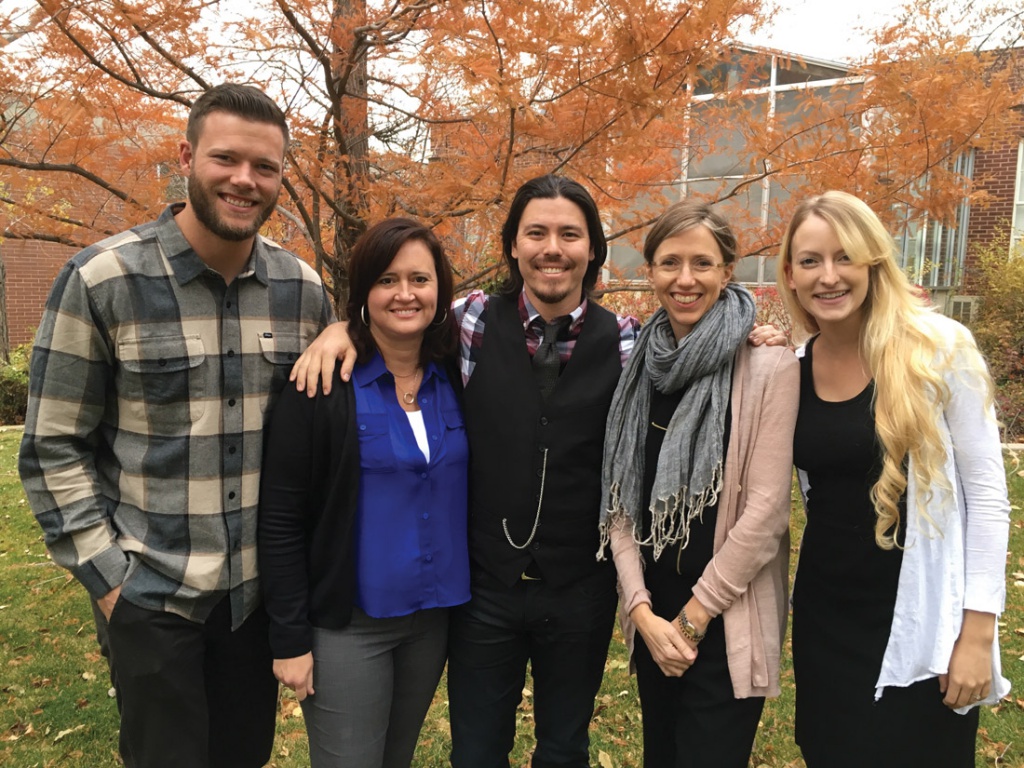 Jacob Jobe, Susan Abney, John Arthur, Lisa Defrance, and Anna Heinz participated in the 2015 conversations & Connections event.
Teaching in today's society requires educators who can creatively navigate complex challenges such as high-stakes testing, standardized curriculum, and limited professional autonomy. The Westminster School of Education provides the foundation for students to be leaders within their schools and districts.
Recognizing the creative work of Westminster's education alumni, education faculty Kristi Jones, Marilee Coles-Ritchie, and Janet Dynak, along with alumna Ann McCoy (MAT '11, MEd. '13), created Conversations & Connections: a venue for showcasing the innovative work of the alumni, while providing resources to other alumni and facilitating alumni, faculty, and student connections.
The first Conversations & Connections event in Spring 2014 was so successful that the committee decided to make it an annual event focusing on changes Westminster grads are making in education. During the second event in April 2015, the following alumni shared how they act as agents of change:
Jacob Jobe (MeD '14), Park City High School, presented his research on classroom culture, specifically the dynamics of race and learning, through the lens of postcolonial theory and third-space theory. The study used observation, video recording, and case-study interviews to look at how Latino students navigated situations of race within the dominant school culture.
Susan Abney (MAT '12), Vista Heights Middle School, shared the research she presented in Trondheim, Norway, at the Multilingualism and Multiculturalism in the English Language Classroom workshop. Susan offered educators hands-on activities and daily routines they could use to raise a student's language-learning confidence while creating a classroom community.
John Arthur (MAT, MEd '13), Meadowlark Elementary School, demonstrated how he made math fun and memorable. He coached his class to choose a song they loved, write lyrics that affirmed their worth as mathematicians and scholars, and overcome their insecurities by doing one of the scariest things imaginable: singing a One Direction cover in public. Two years later, the students still remembered the song and how much fun they had.
Lisa Defrance (mat '11), Edison Elementary School, discussed her experience as a participant and coach with the Teacher Leadership Initiative, a collaboration among the National Education Association, Center for Quality Teaching, and National Board for Professional Teaching Standards. Three hundred teachers across the nation were selected to participate in this two-year pilot project to develop out a leadership curriculum for teachers.
Anna (Halffield) Heinz ('11), Woodrow Wilson Elementary School, shared the experience of her second-grade class participating in Westminster's Arts Bridge program. By connecting art and science, the students studied animal traits, habitats, and food chains, while learning artistic technique and presentation skills. Anna says this hands-on, creative, and interconnected experience helped transform her students into autonomous learners.
Mark your calendars! The next Conversations & Connections event is Thursday March 31, 2016, in the Kim T. Adamson Alumni House.
Visit westminsteru.edu/alumni for details.
---
About the Westminster Review
The Westminster Review is Westminster University's bi-annual alumni magazine that is distributed to alumni and community members. Each issue aims to keep alumni updated on campus current events and highlights the accomplishments of current students, professors, and Westminster alum.
GET THE REVIEW IN PRINT STAY IN TOUCH SUBMIT YOUR STORY IDEA READ MORE WESTMINSTER STORIES