---
All in the Family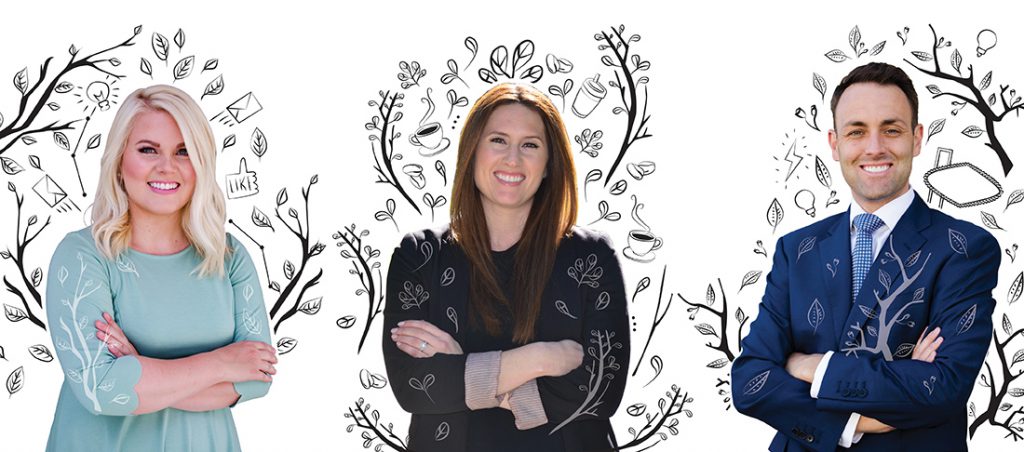 Westminster prepares alums to take over their family businesses
by Ashley Atwood ('07)
For those who love coffee, the morning cup can be a sacred ritual—but one susceptible to dramatic variations in quality. Knowing this, the Brewsters, founders of Millcreek Coffee Roasters (MCR), have spent 25 years perfecting high-quality roasts. CEO Stacey Brewster Maxwell (MBA '12) says MCR's core business is delivering coffee at the peak of freshness. "You can taste a difference in coffee roasted 30 days ago versus seven-to-ten."
Committed to quality and sustainability, Stacey's parents founded MCR in 1992. One way Stacey has focused on quality since succeeding her father in June 2016 is by learning about roasting. She helps select, roast, and taste beans daily.
Stacey does feel the weight of being a second-generation CEO. "It's a lot of responsibility and a lot of excitement," she says.
Her former work as director of corporate marketing at C.R. England, a fourth-generation company, provided insight. "It was good to watch a successful family business," she remembers. "It shows you things you want to improve, and you see what makes a business run well."
Stacey also believes her Westminster MBA prepared her for the role of CEO, specifically highlighting core program classes. "I care about using skills from fundamental classes," she says, as they help her understand what to look for in all aspects of the business.
Joshua Young ('08) also feels Westminster prepared him for leadership. "Lecture halls are not my learning style," Josh says. "I enjoy forming relationships and value those relationships." At Westminster, Josh benefited from the relationships that come from small class sizes and dynamic engagement.
If relationships make the difference in business, you sense it at Young Electric Sign Company (YESCO), where Josh is president of YESCO Franchising. Founded by Josh's great-grandfather in 1920, YESCO is now run by his father, the third-generation president. YESCO makes everything from small plaques to enormous signs, and many of them are iconic (think "Welcome to Fabulous Las Vegas"), but the family is humble. Josh explains that all family members apply for their jobs and experience various disciplines. He previously worked in clerical, safety, and sales roles. "You work for the family, not vice versa," he says.
Josh has been involved with YESCO Franchising since 2009, when he helped create the business-development plan, and has been its president since 2010. His days are filled building relationships with everyone from franchisees to suppliers, and he enjoys empowering others. "Franchises attract lots of families who want to build their own family businesses to pass on to their kids," he says. His goal is to leave a long-lasting legacy for all YESCO families.
Ashley Haines Williams ('09), fourth-generation CEO at direct-marketing company Haines & Co., also thinks about the legacy of her family's nearly 90-year-old business. "My goal is to focus on the brand and what we do, and to do that core business very well," she says.
Ashley didn't picture herself as CEO, a role previously held by her father, Bill Haines, who passed away in October 2016. Though Bill battled illness for 10 years, it felt like he would always head the business. "My dad was the best example of a leader," Ashley remembers, noting that Bill was focused on approachability and relationships. "He always said, 'It is a family business, a small business—I should know everyone.'"
This influence helped Ashley choose Westminster. "Everyone was so accessible," she says, recalling personalized attention she received from professors. "It goes back to relationships. I knew them; they knew my name. They pushed me further." Additionally, these relationships reminded her to never put herself above anyone else. Like her father, she wants to remain approachable in her leadership role.
Ashley hopes to have the bond she and her father shared through business with her now-infant son, Weston. "I had that connection with my dad, my dad with his dad," she says. When asked about passing the family company to a fifth generation, she says, "I would love that with Weston."
---
About the Westminster Review
The Westminster Review is Westminster University's bi-annual alumni magazine that is distributed to alumni and community members. Each issue aims to keep alumni updated on campus current events and highlights the accomplishments of current students, professors, and Westminster alum.
GET THE REVIEW IN PRINT STAY IN TOUCH SUBMIT YOUR STORY IDEA READ MORE WESTMINSTER STORIES