---
Active Griffins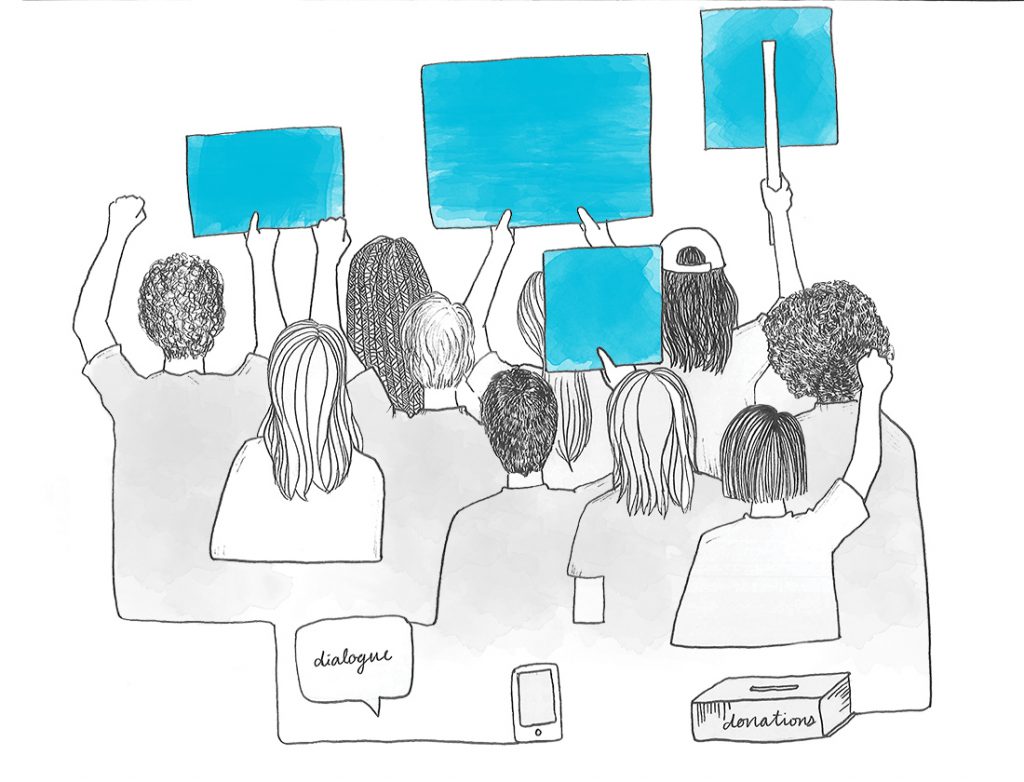 Bring change to your community
by Nicole Tyler ('18)
The saying goes, "You must be the change you want to see in the world," which is much easier said than done. Getting involved with any new project is no small feat, but it is an exciting opportunity to give back to your community. Whether it is through serving as a volunteer, providing information to the public, or making monetary donations, there is no "right way" to be an advocate.
Advocates are people who are dedicated to a cause, political or otherwise. They are people who identify something worthwhile to them and work toward what they believe to be positive change. Lobbyist Kate Bradshaw ('03) notes, "Change takes hard, consistent involvement. It takes going to meetings, making calls, and following up on issues, even when you'd rather be doing something else." Kate says that by identifying underutilized trails and parks for dogs to be off leash, she has been able to be consistently involved in the process to get a dog-friendly park in her Bountiful neighborhood.
Acts of advocacy can happen on local or national levels alike. Take, for example, Sarah Scott ('11). As founder of Utah for Bernie Sanders, Sarah became a leader in one of the largest grassroots movements in the country. Sarah has engaged over 20,000 voters in the state of Utah alone, all due to creating a common purpose and goal. Identifying things that you are passionate about is the first step to becoming an advocate. Through passion and drive you are able to find opportunities to work with diverse groups of people who share a common goal.
"Being a community leader takes empathy, to make sure you're doing what's best for the community. It means being an advocate wherever you go, even if that's behind the scenes," Sarah says, adding that this mindset should drive anyone looking to make a difference in his or her community.
But what if you can't provide labor or serve as an organizer within your community? Former major gifts officer for Equality Utah, Conor Bentley ('08), says financially supporting the nonprofit organizations of causes and work you care about is just as important as showing up to rallies or events.
"People often think you have to give large sums to be a philanthropist, but you don't. People who make a $10 donation show they care by putting their money behind an organization they believe in," Conor says. "Every little bit helps, even if it's small. It's what you can give, and that's a big deal."
Advice from Our Advocates
Kate: "Utilize public resources. Do your research, go to the meetings, and participate in dialogues. Ask your representatives for some time; they want to talk to you."
Sarah: "To quote Nike, 'Just do it.' Seek out mentors, ask questions, read books. Don't be afraid to fail. Be honest and don't over extend yourself."
Conor: "Get involved. Try volunteering with some places, even if they may not be the right fit. Keep looking until you find something that works."
---
About the Westminster Review
The Westminster Review is Westminster University's bi-annual alumni magazine that is distributed to alumni and community members. Each issue aims to keep alumni updated on campus current events and highlights the accomplishments of current students, professors, and Westminster alum.
GET THE REVIEW IN PRINT STAY IN TOUCH SUBMIT YOUR STORY IDEA READ MORE WESTMINSTER STORIES