---
Born In War, Not a Product of War
Born In War, Not a Product of War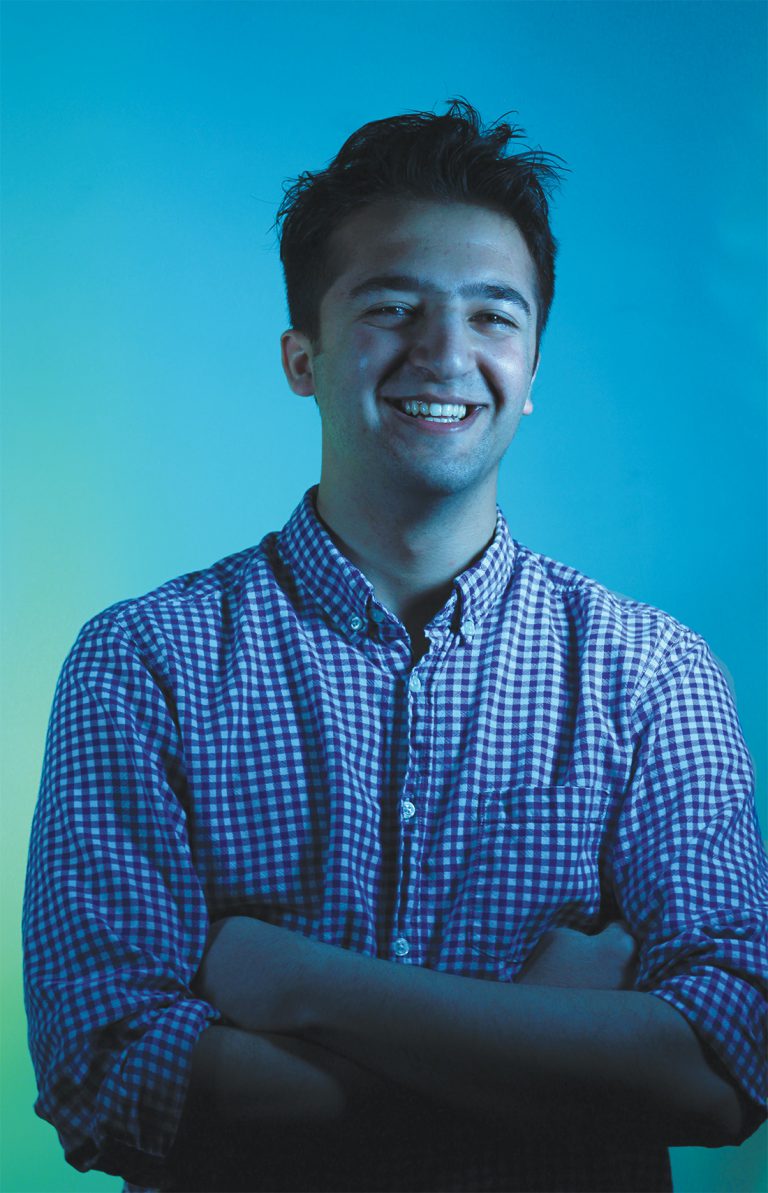 Westminster student works towards global peace through educating and connecting cultures
by Liz Dobbins ('21)
photograph by Amber Mott
When Obaidullah "Obaid" Barakzai (Honors '22) was growing up, his toys were bullets and cartridge cases—and he had never seen a cartoon. He spent his time running around the city of Kabul, Afghanistan, with friends; reading books; and studying language. "Having been born in war—and having grown up in war—I always thought of myself simply as a product of war," Obaid says. "When an explosion happened, I would watch it from my windows."
This was not unusual for Obaid. His home was situated in a military zone, his father was in the military, and his school was in a crucial government area. "There were so many times when one of the buildings near my school was attacked," he says. "It wasn't anything new. I was really used to it. An explosion would happen, and I would say a prayer for the victims."
Much like his childhood, Obaid's high school wasn't typical. His school was one of the most prestigious in Afghanistan, and it sat surrounded by the presidential palace, the US embassy, and other government buildings. "It's the most secure place, but also the most dangerous place," Obaid explains.
War surrounded Obaid, but he did not let that stop him from having hope. Ever since he was young, Obaid has loved learning. "When I was little, I was fluent in five languages," he says. Now fluent in seven—Farsi, Pashto, German, English, Urdu, Hindi, and Arabic—Obaid has always been an achiever. He skipped multiple grades and graduated from high school early. After traveling the world, Obaid continued his education in the United States. His first stop was Boston, where he studied conflict resolution with Seeds of Peace International for a summer. But there was a catch: "They gave me five days to learn English," Obaid says. In that time, he read a few hundred pages a day, totaling 17 books.
"There was definitely an adjustment period," Obaid recalls. "The way everyone was wearing their clothes, the way everyone was talking, a lot of happy smiles that I witnessed with my eyes—I had never actually seen those smiles and that happiness back home. It was something I had to get used to."
Despite the adjustment, the newness enticed him. When the Seeds of Peace summer program ended, Obaid applied to a study abroad program and was accepted by the American International School of Utah. Obaid spent two years in high school before he graduated again, this time as valedictorian. During his senior year, he applied to Westminster and found his third home. The small, tightknit community and student-professor relationships offered Obaid a new place to explore his passions. It was a perfect fit.
"My passion has always been to get involved, get to know people, and learn. In high school, I was in seven clubs—and was the president of a few of them," Obaid explains. At Westminster, Obaid is the president of two clubs, has four jobs, and is working on a research project in addition to his full course load. Obaid's interests are vast, but they all have a common thread: peace and community outreach. "My goal is to bring peace by bringing people together," he says. "I want to help create an open space for people to voice their opinions, concerns, and beliefs. I feel that is the time when we can see global peace."
This is another reason Obaid loves Westminster: it provides a place for this to happen. "Westminster, in a lot of terms, has been a good example of bringing people together. I have seen it and experienced it in the little time I have been here," Obaid says.
Because of his dedication and work for the community, Obaid was invited to speak at both Harvard and the United Nations in 2017 and 2018 with the Global Citizens Initiative. "I talked about global citizenship among world citizens: what brings us together, what unites us, and what we should do in this moment. It is never too late to take action in our communities," Obaid says.
At Westminster, Obaid has created a custom international political economy major that combines six different areas of study: economics, business, history, political science, global studies, and international affairs. He hopes to use his education to continue his goal of uniting nations, cultures, and people from all walks of life.
After graduating, Obaid's goals are to get his master's and PhD degrees, become a professor, and, ultimately, become the first Afghanistani secretary general of the United Nations. "I want to bring the world together—with the little impact that I have—because it's divided now," he says.
---
About the Westminster Review
The Westminster Review is Westminster University's bi-annual alumni magazine that is distributed to alumni and community members. Each issue aims to keep alumni updated on campus current events and highlights the accomplishments of current students, professors, and Westminster alum.
GET THE REVIEW IN PRINT STAY IN TOUCH SUBMIT YOUR STORY IDEA READ MORE WESTMINSTER STORIES