---
The Approachable Egyptologist
The Approachable Egyptologist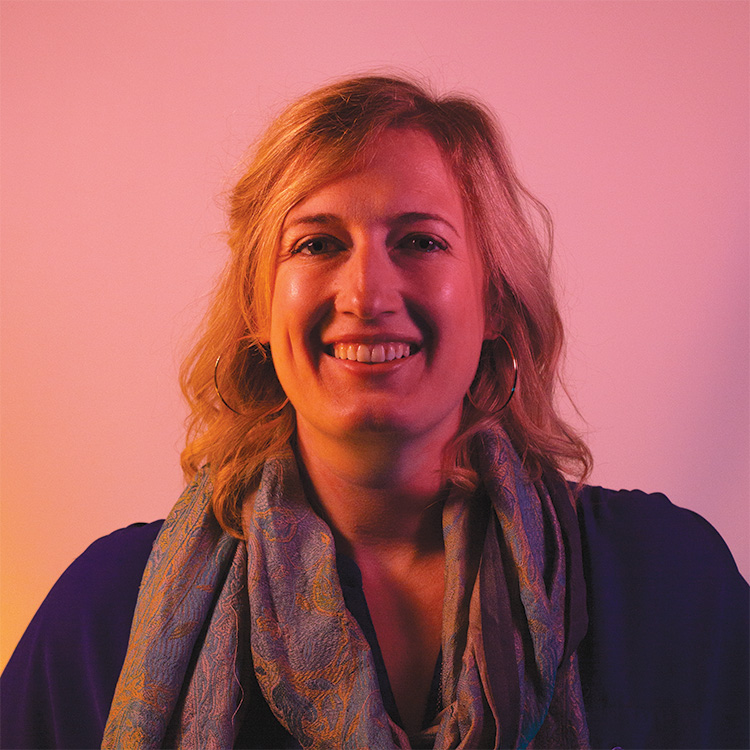 Alicia Cunningham-Bryant brings her cool to the Westminster community
by Krista DeAngelis
photograph by Amber Mott
Surrounded by kitschy Egyptian statues and exotic wall hangings, and containing an excitable Labrador named Joey, Alicia Cunningham-Bryant's office is full of conversation starters. With a hand-tied Baluch carpet from Herat draped over her floor and a Moroccan tea set on her shelf, it's quite apparent the Honors College assistant professor is a world traveler and lover of historic artifacts.
Described as "smart" and "cool" by both faculty and staff, Alicia's intriguing background and welcoming demeanor have made her one of the most popular professors on campus, as well as the most successful fellowship advisor the college has ever had.
"While Alicia is super smart—someone who reads a dozen different ancient and modern languages—she is also incredibly approachable," says Richard Badenhausen, dean of the Honors College. "In two short years, Alicia's impact on the Westminster community has been immense. She has created a culture of fellowship advising across the campus, which is something that typically takes many years to do."
In the multiple hats Alicia has simultaneously worn at Westminster—director of fellowship advising, Kim T. Adamson Endowed Professor, and assistant professor of the Honors College—she has become a mentor to many students. Under her fellowship-advising hat, she recently helped Westminster produce a national Harry S. Truman Scholar—a first for the institution. Nationally, only 62 out of 840 applicants were selected for the $30,000 graduate-school scholarship, which is focused on supporting the next generation of public-service leaders.
"There are not enough words to quantify how helpful and supportive Alicia was in the Truman application process," says McKenzie Campbell (Honors '20), Westminster's first Truman awardee. "She spent as many hours as I did reading, editing, and suggesting rewrites to my application. Alicia believed in me, and that was made apparent throughout the entire process. She's also just really cool and smart, and I honestly look up to her so much."
While Alicia takes her fellowship advising role very seriously, she is also passionate about another academic area: Egyptology. As an undergraduate originally pursuing a career in law at the University of California, San Diego, she discovered her true calling for archeology during an elective class taught by a professor she refers to as the "real-life Indiana Jones."
"I completely fell in love with the concepts of archeology and anthropology and with trying to understand who people are and why they do things," she says. "As you can see, I like stuff, and archeology is looking at stuff in order to understand people."
She subsequently ditched her legal aspirations to pursue exactly that: a program specializing in the stuff of dead people, especially dead people from Egypt. As an aspiring Egyptologist, Alicia attended graduate school at Yale University and spent time abroad working at the Egyptian Museum in Cairo; coincidentally her time in Cairo was the same time that the Egyptian revolution of 2011 kicked off.
"It was super awesome and a really interesting time to be in Egypt," she says. "Due to the political unrest, I was unable to work at the museum, so Yale helped evacuate me. I eventually went back to Cairo, when President Mubarak was out, and studied Meroitic offering tables (stone objects used to provide offerings to the dead) in the museum's basement. I used that particular type of material culture to study cultural interaction between Hellenistic, Egyptian, and East African traditions and peoples."
When she's not fleeing revolutions or helping students win national scholarships, Alicia is busy coordinating speakers for the annual Kim T. Adamson lecture series and co-teaching May Term classes like Mummies and Zombies. She is also a staunch advocate and cheerleader for Westminster's Honors College.
"I think the Honors College is, at its heart, completely unique from anything I've experienced in my academic career," she says. "I think the interdisciplinary nature of our classes offers something students almost never get in academic experiences."
Under Alicia's tutelage, her fellowship advising office has had more applicants for prestigious national scholarships than ever before. This year, it has produced more winners than in previous years, including one Truman Scholarship awardee, one Fulbright English Teaching Assistantship awardee, and five Gilman International Scholarship winners. She believes it's important that alums know that many of these opportunities are open not just to current students, but to them as well.
"Alums tend to not necessarily be aware that these opportunities exist," she says. "But fellowships like Fulbright and Marshall, and many kinds of awards for PhD and master's programs, are open to alums as well."
Alums and current students alike are welcome to stop by Alicia's eclectic office in Gore to chat about Egyptology as well as whatever fellowship program might be of interest to them.
Alumni Fellowship Opportunities
Churchill Scholarship
Ford Foundation Predoctoral, Dissertation, and Postdoctoral Awards
Fulbright U.S. Student Program (ETA and Study/Research)
Gates Cambridge Scholarship
Humanity in Action
Knight-Hennessy Scholars
Luce Scholarship
Marshall Scholarship
Mitchell Scholarship
Donald M. Payne International Development Fellowship Program
Pickering Fellowship
Charles B. Rangel International Affairs Graduate Fellowship
Rotary Global Grants
Rotary Peace Fellowships
Schwarzman Scholars
The Paul and Daisy Soros Fellowships for New Americans
Yenching Academy Fellowship
Office Locations
Personal: Gore 115
Fellowship Office: Gore 114
---
About the Westminster Review
The Westminster Review is Westminster University's bi-annual alumni magazine that is distributed to alumni and community members. Each issue aims to keep alumni updated on campus current events and highlights the accomplishments of current students, professors, and Westminster alum.
GET THE REVIEW IN PRINT STAY IN TOUCH SUBMIT YOUR STORY IDEA READ MORE WESTMINSTER STORIES