---
No Limits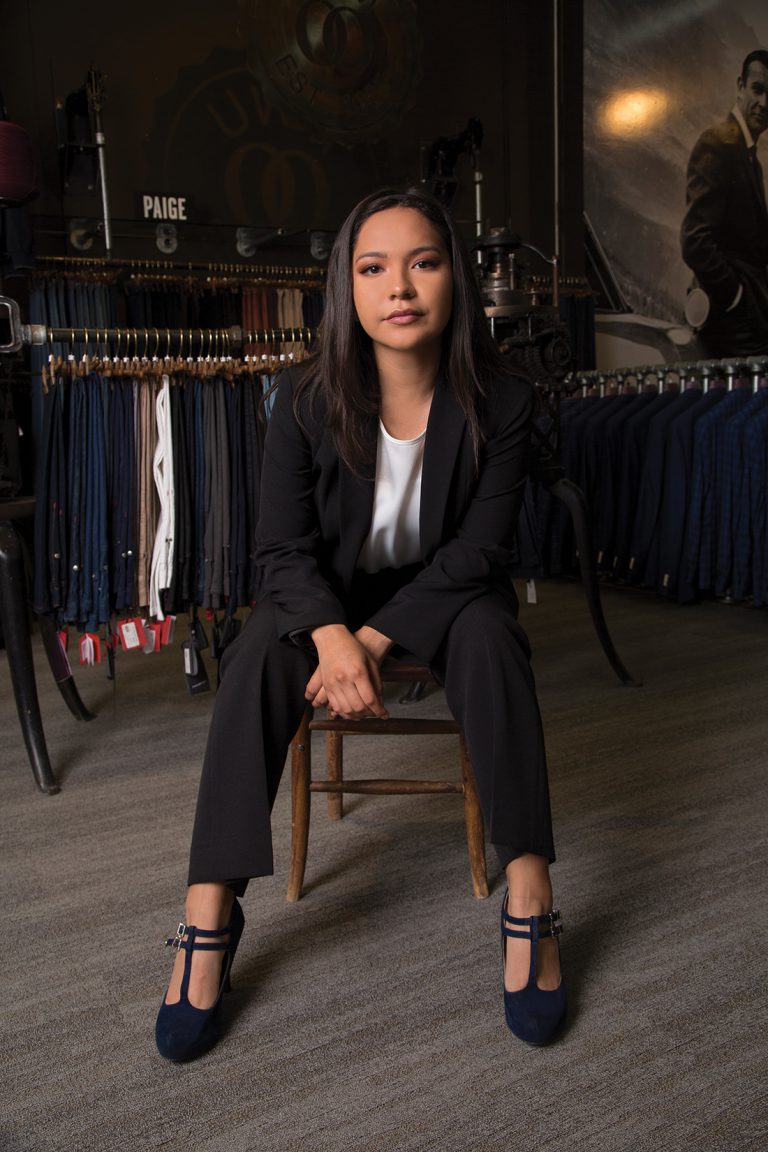 A men's shop empowers a Westminster woman
by Johanna Droubay
photograph by Cat Palmer
One day during Mary Sanchez's ('20) senior year of high school, she watched a video expounding upon the dangers of a college education. She was used to these church-produced videos—and she was used to the idea that worldly education distracts from the teachings of God. But that day, something changed for Mary. "There's something about being told not to learn that makes you want to learn absolutely everything," she says.
Mary suddenly resolved not only to go to college, but to study both business and biology. Today she is fulfilling all of her pre–physical-therapy requirements while also majoring in finance. "After being limited in every single choice I made in my life for 18 years in my ex-religion," she says, "I didn't want to be limited in my job choices in any way by my major."
An opportunity at Westminster's Center for Entrepreneurship gave Mary the perfect outlet for combining her business and science savvy. As the center's coordinator, she was able to launch an event series she called "Passion to Opportunity," in which entrepreneurial medical professionals talk about the crossroads of medical innovation and enterprise. These talks, which are also networking opportunities, inspired Mary to think outside the box and to consider medical entrepreneurship as a possible career path.
"I decided if I wanted to get serious about this, I should keep learning and networking and hosting my own events," she says. "And I should have more professional attire."
Enter Suited for Good, a nonprofit that provides high-quality suits to all kinds of people ready to take the next important step in their lives. Suited for Good is only a few years old, but its parent company, UWM Men's Shop (formerly Utah Woolen Mills), has been a family-owned business and a Utah mainstay for five generations.
Sue Stringham, the CEO of Suited for Good and the matriarch of the Stringham family, says her family was inspired by social enterprises such as TOMS, a for-profit company that has gained international popularity by giving away a pair of shoes for every pair it sells. Sue's son and the president of UWM, BJ Stringham, told his dad, Bart, "You've been selling suits for 40 years. Why don't you give them away for the next 40?"
Initially, the Stringhams thought they could help the local homeless community by providing suits to out-of-work men applying for jobs. Over time, the family came to realize that they could not predict the type of person for whom a new suit could make a difference. They have since suited cancer patients, single parents, veterans, refugees, and many others. The family casts a wide net in search of nominations, looking to others to creatively identify when someone might be a good fit for one of their suits.
"We're giving a helping hand—a hand up, not a handout," Sue says.
Although UWM closed its women's department in December 2017, it still offers women's suits through Suited for Good. Mary Sanchez was one of five Westminster students to receive a UWM suit this year.
"The most I've ever spent on a piece of clothing was 30 dollars," Mary says. "I never thought I'd get a suit—at least not now. I thought I'd have to save up for it."
President Beth Dobkin and her husband, Randy Chiotti, connected UWM with Westminster after visiting their City Creek store in search of a suit for Randy. "What you wear is not insignificant," she says. "It can help you achieve things just by feeling as though you belong. UWM is helping people feel as though they belong in a new environment. That's powerful."
Sue says she hopes people who receive their suits will pay it forward. "When you have the means, do something nice for someone," she says.
Mary plans to. "I want to get my doctorate in physical therapy and then open up an organization or business with other healthcare professionals that helps those who have limited access to healthcare services," she says.
Mary sees now that there is no limit to the good she can do. As a physical therapist, she hopes to help others gain that unlimited feeling, too.
---
About the Westminster Review
The Westminster Review is Westminster University's bi-annual alumni magazine that is distributed to alumni and community members. Each issue aims to keep alumni updated on campus current events and highlights the accomplishments of current students, professors, and Westminster alum.
GET THE REVIEW IN PRINT STAY IN TOUCH SUBMIT YOUR STORY IDEA READ MORE WESTMINSTER STORIES