---
Educating in the Age of Ice
Educating in the Age of Ice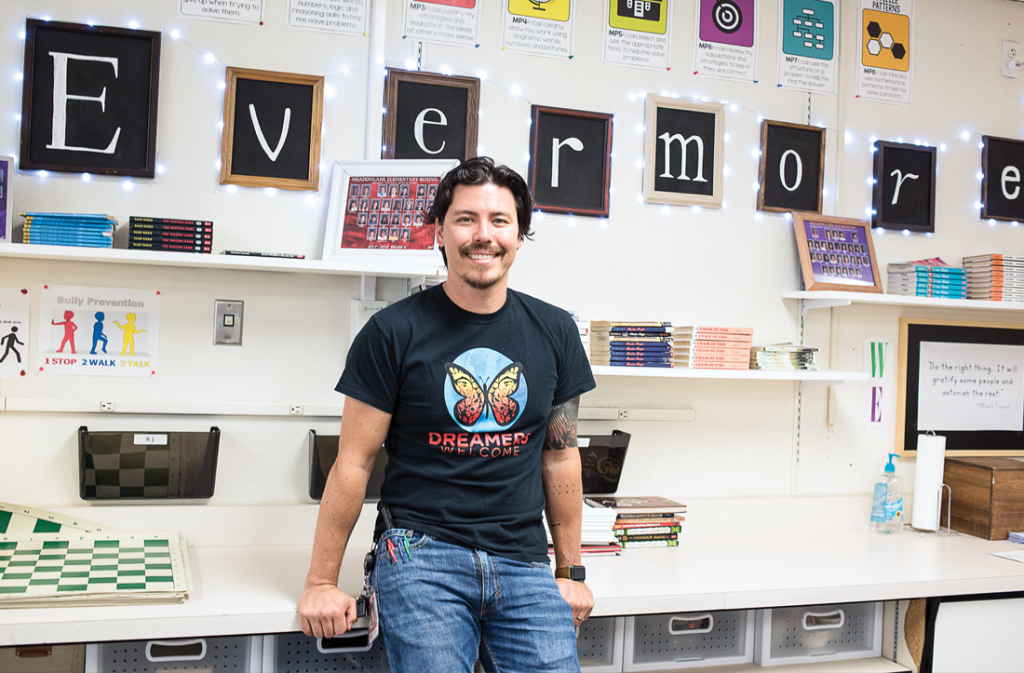 School of Education alumnus creates a safe and supportive classroom for students
by Carla Pruitt (MPC '14)
Consider this question for just a moment: What are you most afraid of? Failure? Death? Public speaking? Now consider the question through the eyes of a child caught in the middle of a fierce political battle over immigration reform in the United States.
Westminster College alumnus and teacher John Arthur (MAT '13) challenged his 11- and 12-year-old students in the sixth grade at Meadowlark Elementary School in Salt Lake City to face their fears through a classroom project that addressed the rhetorical undertones of the immigration debate. Meadowlark Elementary is a Title I school, and many of John's students are refugees or immigrants to the United States.
John acknowledges that teaching in a Title I school presents unique challenges to him not just as a teacher, but as a father himself. However, those challenges are ones that he embraces with every lesson plan. "Children are the best people," he says. "I love working with kids and helping each of them grow."
As words such as "deportation" and "ICE" were silently spoken in the hallways of the elementary school, John knew he had to connect with his young students to help them understand that, even during uncertain times, it is okay to be afraid. "I want them to see they are literally in the middle of this conversation, and it's time for them to join in," he says.
The project started with John writing the following statement on the chalkboard: "I am afraid of _____." His students then collaborated on a powerful video that addressed the themes of fear and hope. "We worked together to group lines that communicated similar ideas into stanzas that were all built around a common theme," John says. "And then piece by piece, we crafted these into one poem."
The video that was born from John's classroom project was shared on social media and even picked up by a local television station. "It was proof that people are hungry to listen to kids share their perspectives," he says.
John remains committed to giving his students a voice as they navigate life's unchartered waters. He also advocates to better improve education for students here in Utah, especially students at Title I schools. "I think teaching in Title I schools is a gift. If there were greater incentives for teachers to teach in these schools, we could attract a larger pool of teachers," he says.
And he is in good company. Including John, there are eight Westminster alumni currently teaching at Meadowlark. John says he often consults with his former cohort and professors to seek advice or to brainstorm ideas. "My cohort at Westminster was really tight," he says. "We still keep in touch and help each other out."
---
About the Westminster Review
The Westminster Review is Westminster University's bi-annual alumni magazine that is distributed to alumni and community members. Each issue aims to keep alumni updated on campus current events and highlights the accomplishments of current students, professors, and Westminster alum.
GET THE REVIEW IN PRINT STAY IN TOUCH SUBMIT YOUR STORY IDEA READ MORE WESTMINSTER STORIES