---
Saving Sight Around the World
Saving Sight Around the World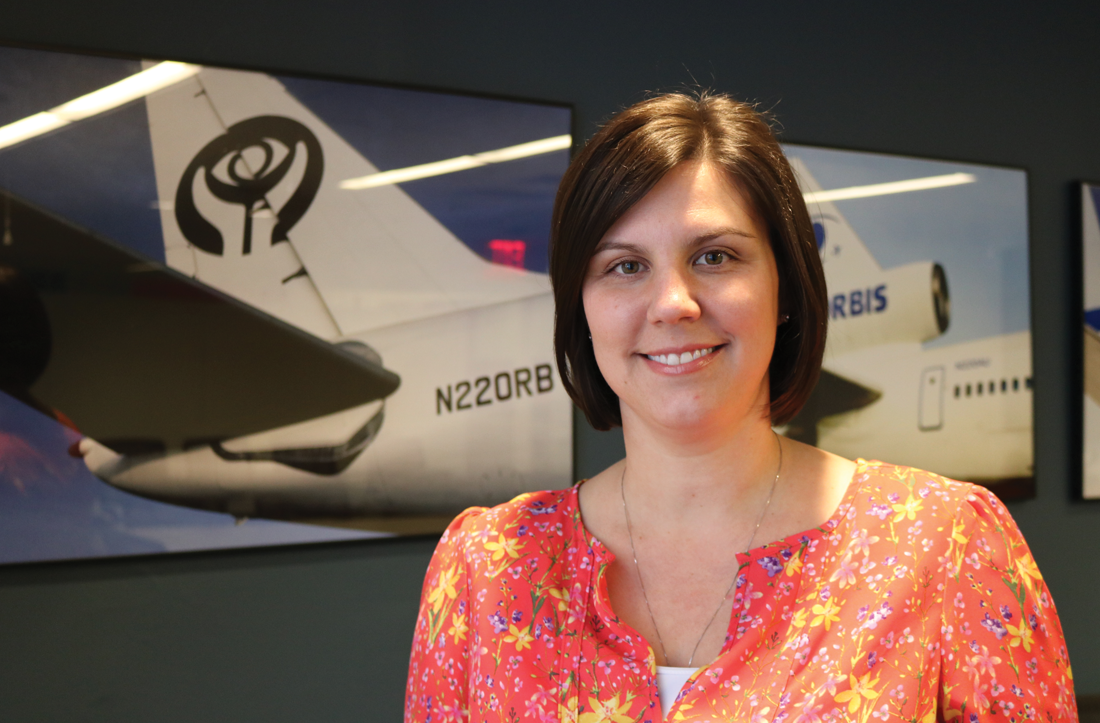 Alumna manages the world's only Flying Eye Hospital to fight avoidable blindness
by Bailey Gumm ('19)
Aleesa (Kurtz) Radoncic ('06, MBA '08) never envisioned herself going into aviation. In need of an on-campus job her first year, Aleesa was hired as a student dispatch assistant in Westminster's Flight Operations Center. As Gail Avendaño, director of aviation student support flight operations, predicted, Aleesa was bitten by the aviation bug.
After completing her bachelor's degree in aviation management and an MBA at Westminster, Aleesa accepted a position as the aircraft operations coordinator for the world's only Flying Eye Hospital; she is currently the senior manager, Aircraft Operations, for Orbis International. Using a cargo plane that has been transformed into a state-of-the-art flying ophthalmic teaching hospital, Orbis volunteer faculty teach and train medical teams around the world to prevent avoidable blindness in their communities.
"Everything I learned at Westminster helped to prepare me for the next stage in my career," Aleesa says. "Managing the flight and maintenance activities, including scheduling crews, organizing international projects, and ensuring aircraft parts make it to the aircraft in other countries so the planes can fly, is my small part in creating a better world through my work at Orbis."
Working across many time zones, communicating with people who speak another language, and being mindful of cultural differences are challenges she faces daily. "When you are dealing with the entire world, calendars and sticky notes become your best friends," she says. Knowing there isn't a "typical" day, the only thing Aleesa can expect is the unexpected. She has mastered being adaptable, flexible, and learning to go with the day's flow. "The name of the game is change," she says.
While most of her work is done at the Orbis headquarters office in New York, Aleesa is still able to participate in its Flying Eye Hospital programs. These programs, providing a comprehensive educational approach to eye care, are administered in country in partnership with local hospitals around the world. For her first Flying Eye Hospital program, Aleesa traveled to China, where the focus was primarily on elderly and pediatric eye care. On this trip, a crosseyed, 12-year-old girl came to the local hospital to be screened. "She immediately caught my attention," Aleesa recalls. "Based on numerous screenings, our doctors choose 25 cases to operate on, and they selected this little girl. I stood in the operating room watching the whole procedure and continued to observe her through post-op as her eyes began to realign. Once she could see again, the only English words she said were, 'Now I can go back to school.' That is what Orbis is all about," Aleesa says. "Globally, 253 million people are visually impaired, and 75 percent of all visual impairment is avoidable. I knew I could use my aviation training and Westminster education in the end to help people."
Aleesa is not with the Flying Eye Hospital programs day to day but knows what she does in the office helps the team of eye-care workers save the sight of people all over the world—just as they did with that little girl in China.
Visit orbis.org/en to learn more about Orbis International.
---
About the Westminster Review
The Westminster Review is Westminster University's bi-annual alumni magazine that is distributed to alumni and community members. Each issue aims to keep alumni updated on campus current events and highlights the accomplishments of current students, professors, and Westminster alum.
GET THE REVIEW IN PRINT STAY IN TOUCH SUBMIT YOUR STORY IDEA READ MORE WESTMINSTER STORIES