---
The Westminster Holt Home
The Westminster Holt Home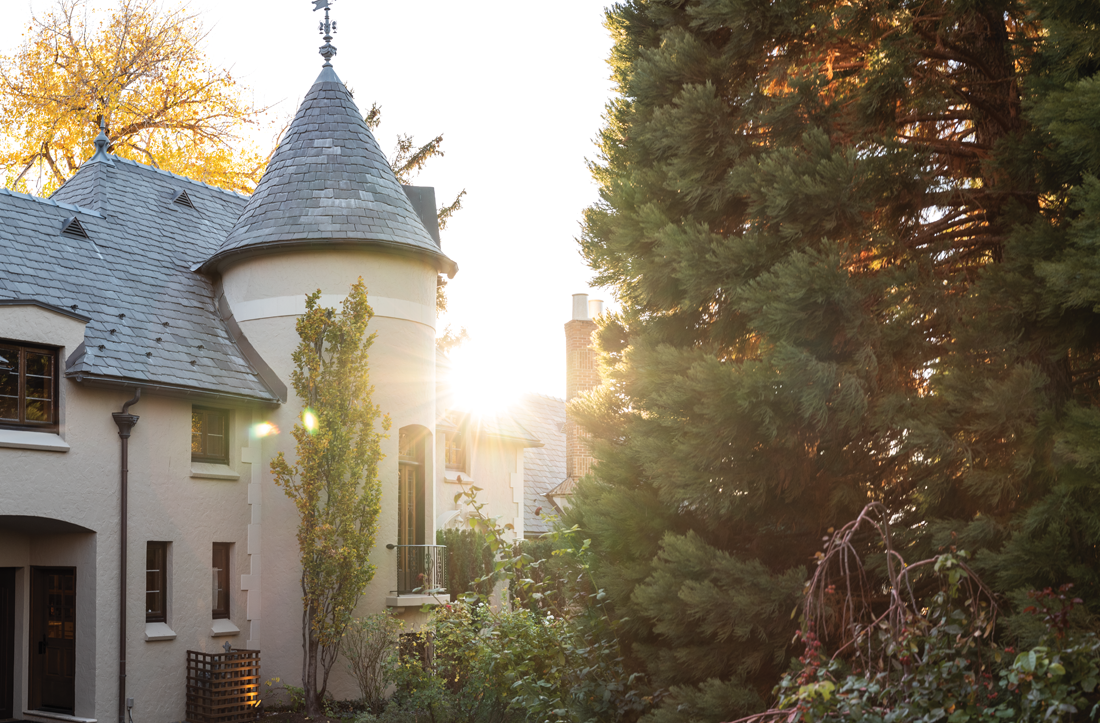 A historic house becomes part of Westminster's future
by Johanna Droubay
photograph by Michael Kunde
"Iam building this house to suit my fancy," Joseph G. Vincent told The Salt Lake Tribune in a 1927 report on the construction of his home in the Gilmer Park neighborhood of Salt Lake City. "We are developing in the house every idea that occurs to us as being desirable."
The resulting French Norman-style home was fanciful indeed, with a castle-like turret, cathedral-like ceilings, and a swimming pool fed by a mountain stream. In 2018—more than 90 years later—the home's most recent owners, Sheri and Dale Holt, donated this historically significant residence to Westminster College. The Westminster Holt Home, as it is now known, serves as the president's house and a venue for entertaining and special occasions.
To the Holts, the house was more than a home: it was a labor of love. Upon purchasing the home in 2003, they set out to uncover and restore its colorful history. They started by stripping away coats of black and white paint inside the house, unsure of what they might discover. What they found was an architectural masterpiece—and a window into Salt Lake City's history.
Joe Vincent, a Murray native born in 1884 to a handcart pioneer woman, built his chateau against a backdrop of explosive local growth. Between 1910 and 1930, Salt Lake City's population grew by more than half. Its 47,000 new inhabitants took up residence in more than 400 new subdivisions. Three-and-a-half miles southeast of the city center, Gilmer Park was one of these new neighborhoods, but it was unique in its grandeur.
Although built by several developers over more than three decades, the Gilmer Park Historic District derives cohesion from its large Period Revival homes and curvilinear streets. In the 1920s, the neighborhood saw an uptick in Period Revival architecture—English Tudor, Spanish Revival, and French Norman—perhaps because returned soldiers had been inspired by these popular European designs during the war.
Joe Vincent was not a veteran of war, but he was enthusiastic about European craftsmanship, as evidenced by the intricate oak and mahogany woodwork he commissioned for his lavish abode. He was also an aspiring politician (he once hosted President Franklin Roosevelt at the home) and a successful developer and restaurant entrepreneur. His construction company built six of the homes in Gilmer Park—including his own—and he operated two restaurants, which he named for himself and for one of his daughters, LaVonne.
LaVonne Vincent Best, who would become a well-regarded American Western artist, journeyed to Paris to study art while her parents cared for her young daughter. In 1936, her father sustained fatal injuries in a car accident on a fishing trip in Wyoming. Two years later, Joe's estate was sold.
In the intervening decades, the house changed hands several times. A beautiful library with towering windows was added. But over time, much of the ornate woodwork and many artistic details were painted over, and other aspects of the home's character were altered in ways that were not faithful to the original style—that is, until Sheri and Dale Holt purchased the home.
"I love beautiful old architecture and making sure that things stay intact once they're built," Sheri Holt says. She and her husband resolved to return the home to its former glory.
The Holts had already begun renovating when they were contacted by someone intimately familiar with the original home: Joe Vincent's granddaughter, the child the Vincents had helped raise while LaVonne studied in Paris.
"She had never contacted any of the other owners," Sheri says. "She said she had all of the original rugs and furniture for the house and would like to speak with us." She also had black-and-white photographs of the home's interior, which the Holts used to guide their restoration.
After several years of work—and with the help of artisans and craftsmen—the restoration was complete. At the time of its donation to Westminster in June 2018, the house was worth $4.1 million, and its antique and original furnishings were valued at an additional $600,000.
"It just made sense to give this gift to the college since we've had four children and one grandchild attend the institution," Dale says. Their daughter Kami Taylor briefly attended Westminster in 2004, their grandson Davis Kahler ('21) is a current student, and their children—Tiffani Taylor ('91), Nick Holt ('02), and Lindsay Holt (BS '04, MSN '09)—are proud Westminster alumni. "We felt Westminster would truly value and appreciate our gift."
---
About the Westminster Review
The Westminster Review is Westminster University's bi-annual alumni magazine that is distributed to alumni and community members. Each issue aims to keep alumni updated on campus current events and highlights the accomplishments of current students, professors, and Westminster alum.
GET THE REVIEW IN PRINT STAY IN TOUCH SUBMIT YOUR STORY IDEA READ MORE WESTMINSTER STORIES