---
Bike Boss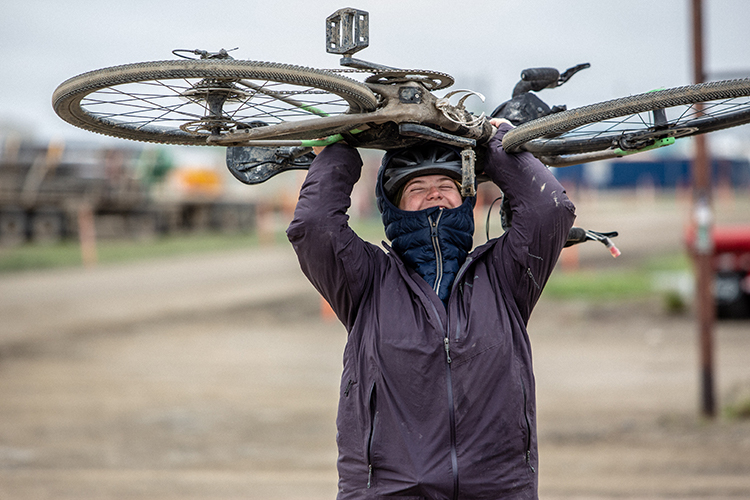 Alum works towards a size-inclusive biking community
by Shianne Gray ('15)
The first time Illinois native Kailey Kornhauser ('15) rented a bicycle from Westminster's Bike Collective, she figured it was an inexpensive and easy way to explore Sugar House and go out to eat with friends. She never would have guessed that just a few years after graduating she'd be on the cover of Bicycling magazine.
During her time as an undergraduate in the history program, Kailey was a casual biker, taking fun weekend rides around the city. The first shift in her biking perspective came during a summer internship after she borrowed a bike from a friend and joined the ranks of bike commuters. After graduating from Westminster in 2015, she began riding longer distances with fellow alums as a way to stay connected. "Some of my closest friends and my fiancé are people I knew from Westminster: my core bike friends, some of the first people I ever got back on a bike with, and people who just see the world in a similar way," she says.
Kailey was inspired to take her first multi-day bike trip by Westminster professor Brent Olson, who introduced her to the weeklong, noncompetitive Register's Annual Great Bicycle Ride Across Iowa. She completed the ride with three other Westminster graduates and continued biking more seriously—that's when she experienced another paradigm shift.
As a Westminster student, Kailey was highly involved in outdoor recreation. "I was really into hiking and outdoor rec at Westminster and, often, I was the only person in a larger body on these trips," she says. Kailey began posting about her experiences and found an online community of people speaking out about being a fat person in outdoor recreation.
From there, opportunities to speak publicly began to fall into place. "Some editors from Bicycling magazine had found my Instagram (@kornhausersauce) and reached out, asking me to write about plus-sized clothing," she says. "I wasn't sure if I was ready to speak on that platform, but the opportunity was presented, and the timing fell perfectly into place. It's been somewhat constant since then: doing an interview, writing a piece, or hosting a workshop."
While she never intended for her hobby to become such a public-facing part of her life, she recognizes the responsibilities and opportunities that come with having a platform. Through interviews, podcasts, op-eds, and workshops, Kailey's had a chance to refine her personal philosophy of biking. "When I decided that biking was something I liked to do and didn't try to use it as a way to change my body and make it smaller, that's when I really found joy in riding my bike," she says. "I try to tell people, 'If you're a person on a bicycle, you're a cyclist.' You don't have to look a certain way to be a cyclist: you can move your body just because it's fun."
---
About the Westminster Review
The Westminster Review is Westminster University's bi-annual alumni magazine that is distributed to alumni and community members. Each issue aims to keep alumni updated on campus current events and highlights the accomplishments of current students, professors, and Westminster alum.
GET THE REVIEW IN PRINT STAY IN TOUCH SUBMIT YOUR STORY IDEA READ MORE WESTMINSTER STORIES