---
Art and the Entrepreneur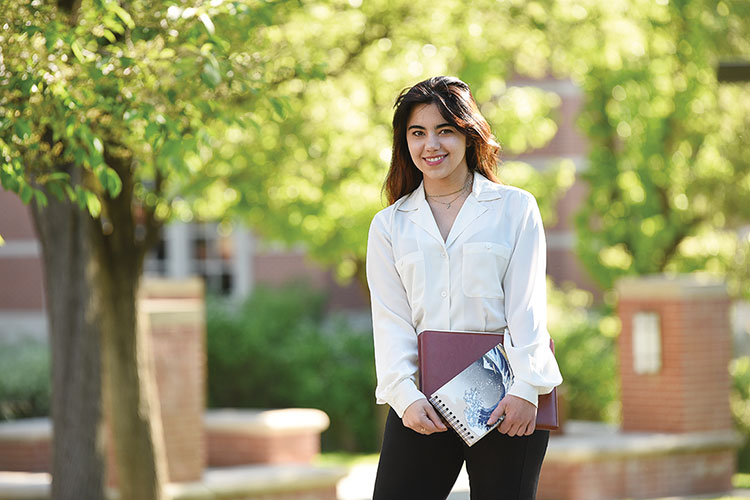 Passions for diversity, art, and community merge into one ambitious path
by Autumn Thatcher (MSC '15)
When Teresa Bagdasarova ('18) began her academic career at Westminster, she was determined to finish a degree in psychology. But her networking mindset—and love for the arts—led her down a different path, one that included being hyperactively involved in the Center for Entrepreneurship (CFE), Opportunity Quest, Promise South Salt Lake, and more. In addition to organizing lecture series, Teresa spent three years working for Promise South Salt Lake and found the time to do six internships. Keeping up with her endeavors is a bit of a whirlwind, but for Teresa, it all comes back to the concept of community.
"Both of my parents are from Azerbaijan, and my dad is a refugee," Teresa explains. "A big part of who I am is because my parents value education. They instilled a lot of hardworking values in me. A lot of that comes with the necessity to have art and culture in my life—and in their lives."
Teresa grew up in Salt Lake City, where she was taught to celebrate diversity of thought through her own Armenian culture. Throughout her adolescence, she strived to encourage others to embrace their differences in a city that didn't seem to have much to offer. Teresa dreamed of going to college outside of Utah, but she found that Westminster was the perfect fit for her because it allowed her to stay close to her family.
"My mom didn't want me to leave Utah. She was very protective of me. In the Armenian culture, you keep your children really close to you," Teresa says. "Westminster was what was right for me because of the caring community and small class sizes. It was something that I really felt like I could be a part of."
Teresa discovered that her need to engage wouldn't allow her to sit still through science textbooks. She wanted to go into the community, so she switched her major to business management with a minor in communication. Her many internships revealed that Salt Lake had more to offer than she initially thought. "Over the past four years of my college experience, there has been so much growth, excitement, and a push for art and diversity that I have never seen before in Salt Lake," Teresa says. "I want to be a part of that growth."
Her work with refugee youth through Promise South Salt Lake helped her realize that she could bring her passion in fine arts to the forefront of her volunteer work. Through working with Julie Tille in Westminster's Dumke Center for Civic Engagement, Teresa applied for and received grant money to create afterschool art clubs for Promise South Salt Lake participants. She taught the children with whom she worked that art goes beyond paper and paint by asking them to create art through what was available.
"It was really exciting to watch the kids grow outside of their comfort zones and find new ways to create the art that they were drawn to," Teresa says.
Her engagement on and off campus prompted retired Westminster president Steve Morgan to nominate Teresa for the 2018 Newman Civic Fellow Award, a national fellowship that recognizes inspiring college students who have demonstrated an investment in finding solutions for challenges facing communities throughout the country. Teresa received the award.
"Newman Civic Fellow is an amazing network of phenomenal people around the nation who want to create something big with what they are doing," Teresa explains. "This award gives me the opportunity to be able to take what I am doing and turn my passions into something more."
Now that she has graduated from Westminster, Teresa will continue her work within the local community through serving on the board of the South Salt Lake arts committee. She also plans to continue volunteering for Promise South Salt Lake and will work as the events coordinator for Utah's Women's Business Center. Between all of that, Teresa plans to pursue a master's in city and metropolitan planning with a dual degree in law and, of course, represent her community.
"When I got the Newman's Fellow, a family member said that I was representing the Armenian community really well," Teresa says. "I want to be that role model for the Armenian community and represent its values and support."
---
About the Westminster Review
The Westminster Review is Westminster University's bi-annual alumni magazine that is distributed to alumni and community members. Each issue aims to keep alumni updated on campus current events and highlights the accomplishments of current students, professors, and Westminster alum.
GET THE REVIEW IN PRINT STAY IN TOUCH SUBMIT YOUR STORY IDEA READ MORE WESTMINSTER STORIES