---
Westminster Prasad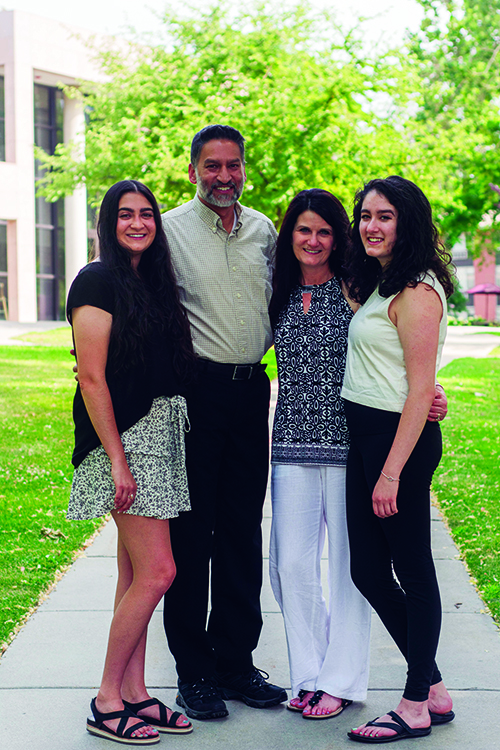 Two sisters share their family's journey to Westminster
by Claire ('18) and Michaela Prasad ('21)
It's the fall of 1985 at Westminster College. A time traveler from the present would recognize a few of the buildings—Converse Hall, Foster Hall, Payne Gymnasium, Hogle Hall, and Carleson Hall—and see in them echoes of what was to come in the future. Walking past Hogle or Carleson (used as residence halls), they might hear Wham! or Madonna coming from a student's window. The students themselves might look different with big hair and bold fashion, but not everything was different. For example, if you could not find the students at ungodly hours of the night, all you had to do was go to Dee's, the late-night hangout of Westminster students from all generations. Two of these students laughing with their friends over baskets of fries and Oreo milkshakes were our parents, Colline Baxter ('87) and Steve Prasad ('88).
Arriving from Roy, Utah, our mom knew she wanted to major in nursing when she started at Westminster in 1983. Our dad took a more circuitous route: coming to Westminster in 1984 from Redwood City, California, and trying a stint on a pre-med track before choosing psychology. Like many college sweethearts at small schools, they were friends before they started dating. After graduation, they both furthered their education with professional degrees from the University of Utah and worked their way up to successful careers. Our mom is now a nurse manager, and our dad is a school psychologist. But before they got to where they are today in their careers, they welcomed us, their two daughters, into the world: Claire ('18) and Michaela Prasad ('21).
Growing up, we got to know Westminster through the stories our parents would tell us. These stories often involved quirky professors, exploring Salt Lake City, and the friends that our parents made at Westminster, who they are still friends with today. For Claire, going to Westminster was an easy decision. It allowed her to explore her interests in a small, liberal arts college setting. The best part was that campus was only a 15-minute walk from our childhood home. The interdisciplinary nature of Westminster classes allowed Claire to get a bachelor's degree in biology at Westminster, while at the same time preparing her to pursue a master's degree in English literature, which she is currently working on. For Michaela, she just finished her bachelor's degree in nursing at Westminster. The small class size allowed her to gain a rigorous education and lots of hands-on experience, including a capstone at Primary Children's Hospital. She is taking the NCLEX soon (the national test for a nursing license) and is excited for what her future as a nurse holds.
Reflecting back now, it's difficult to articulate what the college means to our family. Every corner of campus brings back some funny story or a cherished memory from our time on campus—like the long walks we would take through campus as a family when we were young. Our family story is one that is forever entwined with Westminster. As the campus grows and changes, so does our family. But there is one thing that will always remain the same: the positive impact Westminster College has had on our lives.
---
About the Westminster Review
The Westminster Review is Westminster University's bi-annual alumni magazine that is distributed to alumni and community members. Each issue aims to keep alumni updated on campus current events and highlights the accomplishments of current students, professors, and Westminster alum.
GET THE REVIEW IN PRINT STAY IN TOUCH SUBMIT YOUR STORY IDEA READ MORE WESTMINSTER STORIES