---
High Market Potential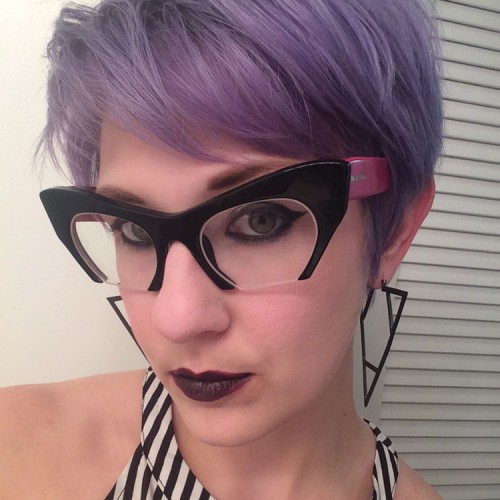 Westminster alumna takes the marketing scene by storm
by Michelle Barber Lyhnakis (MPC '06)
Just looking at Cassi Norman ('09), you can see she is fierce, driven, creative, and on the cutting edge. Cassi was born in Phoenix, Arizona, and moved to Draper, Utah, at age 10. When looking for colleges, she knew she wanted a liberal arts education in a small-college environment. She applied to schools in California and Washington, but she says, "Westminster just felt right."
Cassi started out as a chemistry major, but when looking at the women she admired most in her life, she realized they were all in advertising. She decided to explore the field through a May Term marketing class taught by Nancy Panos Schmitt. After that class, she was hooked.
Cassi says the experiences she had at Westminster helped her find her voice and gave her the courage to speak up. As a student, she served as student government director of communication during both her junior and senior years. Through that role, she was able to sit at the table with the college's Board of Trustees as a voice for students—an experience she doesn't think she would have had at a larger school.
After graduation, she was accepted into the Associates Program at Manhattan-based advertising firm Ogilvy and Mather. The program selects 20–25 college students worldwide to participate in a yearlong rotation through the agency. The program gave her exposure to various aspects of the agency's work, and she decided that client account services was the best fit for her.
Cassi loved her colleagues and helping her clients create their campaigns. "One of my first assignments was a taxi-top campaign for Stoli Vodka," she says. "I first saw the ad from the window in a New York City bar and told my friends, 'I did that!' I was so excited."
Cassi spent three years at Ogilvy, followed by two years at Mather New York. Last year, she moved to San Francisco to join Goodby Silverstein & Partners. In February 2015, Adweek featured the ad for the 25th anniversary of Adobe Photoshop, created by Cassi and her team, as its Ad of the Day. The 60-second spot aired during the 2015 Oscars. She says a project like this typically takes several months to a year, but she and her team completed it in six weeks. In April 2015, The San Francisco Egotist named Cassi one of the "32 under 32" in advertising in San Francisco.

---
About the Westminster Review
The Westminster Review is Westminster University's bi-annual alumni magazine that is distributed to alumni and community members. Each issue aims to keep alumni updated on campus current events and highlights the accomplishments of current students, professors, and Westminster alum.
GET THE REVIEW IN PRINT STAY IN TOUCH SUBMIT YOUR STORY IDEA READ MORE WESTMINSTER STORIES