---
Taking Westminster to the Wasatch
Taking Westminster to the Wasatch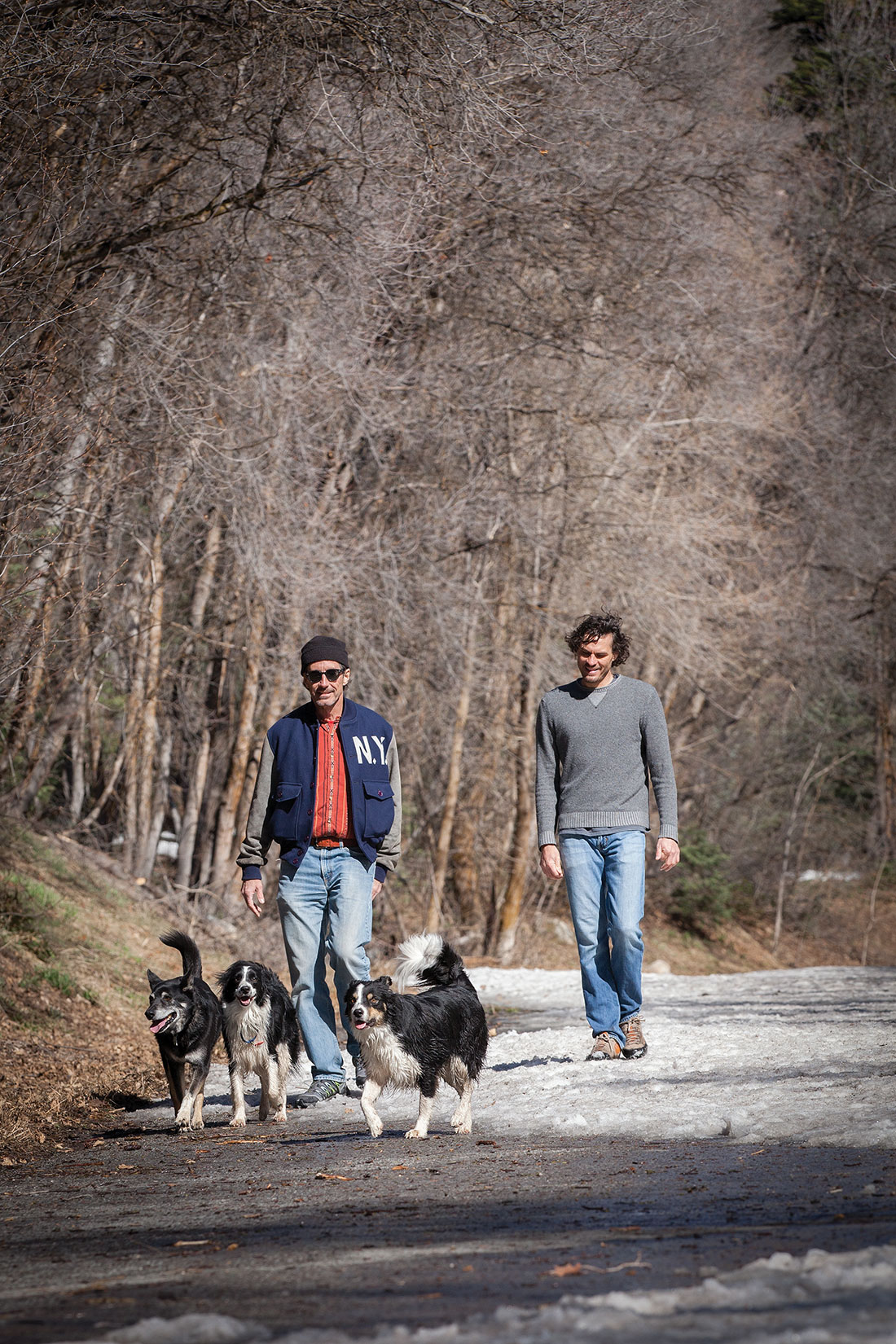 Dr. Brent Olson and Dr. Jeff Nichols bring academics and mountains together

by Angie Merkley ('16)
What if your math class was about how mountain communities work," Jeff says. "They will learn avalanches and your English class was about mountain poetry? What if your teachers loved skiing as much as you do? What if professors Dr. Brent Olson and Dr. Jeff Nichols were making these "what ifs" a reality?
Last August, Brent and Jeff were awarded a $34,000 Griffin Grant for their joint brainchild, the Institute for Mountain Research (IMR). "We want to provide a hub where all the folks who have academic or personal interests in the mountains
can share their work, findings, and curiosity about mountain landscapes," says Brent, assistant professor of environmental studies. "The real goal is to be a spot where people can pursue academic passions and link those with life passions."

Like all good ideas, IMR was created over beers at lunch. "On a Saturday!" exclaims Jeff.

"Of course, on a Saturday," Brent laughs. "We were out skiing together and thinking about all of our friends, colleagues, and students who love mountains. We were thinking of our reputation as a college where people come to ski. So we asked, 'How do we not run away from this reputation of being a bunch of skiers, snowboarders, and climbers, and celebrate that we are nerds about it?'"

The kinds of research and classes the two professors are supporting range from ecological diversity studies to geology to mountain cultures. Most recently, IMR has funded the development of an aviation class where students learn how to land airplanes in the mountains. "I was quite surprised and happy that aviation put in a proposal," says Jeff, professor
of history. "This isn't just an environmental studies thing—it transcends that."

Whether in the classroom or out in the field, the two hope that the institute will be a cultural, economic, scientific, and political learning experience for the students. "They will learn how important mountains and mountain communities are, how to strengthen connections among them, and how to work for their protection."

By examining mountain issues from an interdisciplinary perspective, Jeff and Brent hope to start thinking through more effective solutions for complex issues. "The result is a bunch of mountain nerds: effective, passionate advocates for the places they love and careful scholars of the systems and processes that impact them," Brent says.

With the campus located minutes away from the Wasatch Range, the culture of skiing and snowboarding is prevalent in Westminster's community. Some faculty and staff even chose to work at Westminster because of the mountains—including Jeff, who was offered a position in Arizona, but chose Utah because of his love for skiing. "I think there are probably other people where that is part of the package," Jeff says. "If they take a job here or go to school here, they might have chosen Westminster because of the mountains."

The two professors decided IMR should be a place where students and faculty can combine their academic identities with their mountainous ones. They were pleasantly surprised with how excited students were about the institute, and they encourage alums to get involved as well. Alums are invited to mentor and work with students, and their commitments and donations are highly valued. "If people come to Westminster as mountain people, they leave Westminster as mountain people," Brent says. "So let's keep that connection going."

In the future, the two hope that IMR continues to be a place that fosters a community of curiosity around the mountains. "It's a powerful statement of identity of who we are as an institution and community," Brent says. "It allows us to think globally
about our local place and tie our local issues into broader global issues."
Institute for Mountain Research Goals
The institute works to develop a community that includes campus, regional, national, and international learners. In order to further our understanding of mountain issues, the institute pursues five primary goals*:
Developing innovative curricula to focus on mountain issues for student learning with opportunities for fieldwork, internships, coursework, individual research, experiential learning, and community engagement.

Supporting undergraduate and faculty study of the diverse systems related to mountains and the people who live in them both locally and around the world.

Practicing interdisciplinary and collaborative teaching and learning.
4. Promoting and distributing interdisciplinary research related to mountains to contribute to more informed and collaborative policy and outreach efforts.

Fostering partnerships with communities, businesses, educational programs, and organizations so that together, in the words of Aldo Leopold, we might "learn to think like a mountain."

*Find more details on the IMR goals and initiatives—as well as what else has been accomplished thus far—online at westminsteru.edu.
---
About the Westminster Review
The Westminster Review is Westminster University's bi-annual alumni magazine that is distributed to alumni and community members. Each issue aims to keep alumni updated on campus current events and highlights the accomplishments of current students, professors, and Westminster alum.
GET THE REVIEW IN PRINT STAY IN TOUCH SUBMIT YOUR STORY IDEA READ MORE WESTMINSTER STORIES