---
Class Notes: James (Jim) E. Cox ('65)
Class Notes: James (Jim) E. Cox ('65)
Aerospace + Physics + Poetry = A Perfect Blend
James (Jim) E. Cox ('65) is a retired aerospace physicist and Arizona Poet Laureate nominee living in Saddlebrooke, Arizona. Jim studied physics at Westminster after transferring from the University of Utah and East Tennessee State University. Post-graduation, Jim was hired at IBM to work on its System/360, which was the first computer to use microcircuits. He went on to work for Honeywell on its automatic computer and at Ball Brothers Research Corporation on its solar observatory. Jim stayed the longest (25 years) at Lockheed Missiles and Space Company, where he worked as a failure analysis expert.
Jim's interest in poetry began in high school, after he read The Rubáiyát of Omar Khayyám. "I really liked the fact that three out of four lines had to rhyme. You have to come up with a complete thought in 40 words or less.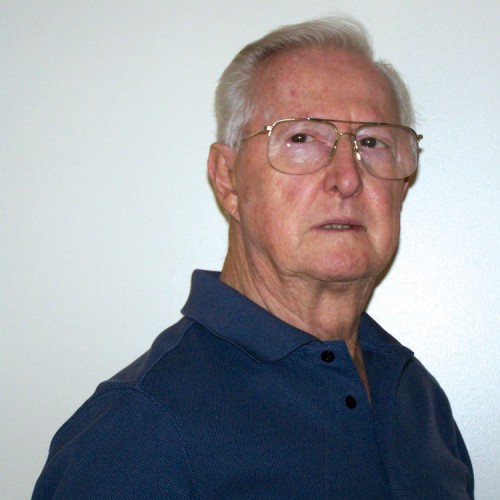 It's a real challenge." Poetry has been a constant in Jim's life, which he says has helped him thrive in his work life: "I found that when I would get overwhelmed with engineering problems, I would sit down and write a quatrain and that would help diffuse the problem I was working on: when I would go back to it, after writing, it was like starting from a clean slate. Throughout my career, I was always writing poems."
While at Westminster, Jim's poems were published in Ellipsis, Westminster's national literature and art journal. As of today, Jim has written in over 40 different poetic forms. He is a Distinguished Member of the International Society of Poets and recognized as a Poet Laureate in that society. Jim's most recent book of poetry, Rubai, was published in 2009. When he's not writing monthly poems for the Catalina Mountain Elks Lodge Bugle or sharing his poems on his websites, jim-cox.blogspot.com or allthatrhymes.squarespace.com, Jim is teaching poetry workshops at adult education centers and K–12 schools in his community—and golfing.
Just Due
A poem by James Cox
Forty years, and more, can't pale
what treasured thoughts remain.
Though diverse winds have filled my sail,
Westminster's still coxswain.
I'd come to you from U of U
and small ETSC.
Eight years I'd climbed Kismet's step stool
in quest of apogee.
Six years of work and part-time school
left path to goal gridlocked.
I turned to you to seek rescue
with door to chi unlocked.
Professor Woodford heard my plight
and said, "If you'll but trust,
I'll guide you 'till your goal's in sight…
if you'll provide the thrust."
He tutored me in lab or class
I needed to complete
the science skills Westminster tasked
each physicist must meet.
But the school sought not alone
to loose me on my way,
it would ensure my soul had grown
to weigh each day's entrée.
Logic, Lit. and "Word of God"
filled my curricula,
and I felt a gentle prod
if my mores bared a flaw.
In '65, with my degree,
I left to face a world
confounded by technology
that had too fast unfurled.
I found the lessons Woodford taught,
and those the School required,
helped me face the melting pot
the work-day life had sired.
Life's thread had led to aerospace…
Lachesis was not kind.
Most contracts seemed a relay race
with course not well defined.
I was employed by many
from East to Western coast,
and never fired by any
is something I can boast.
Most contracts lasted but three years…
the tech world moved so fast,
and apogees and deep nadirs
fill my vocation's past.
But through it all when times were tough,
Westminster's counsel led.
My heartfelt thanks…though not enough…
for guidance you'd embed.
---
About the Westminster Review
The Westminster Review is Westminster University's bi-annual alumni magazine that is distributed to alumni and community members. Each issue aims to keep alumni updated on campus current events and highlights the accomplishments of current students, professors, and Westminster alum.
GET THE REVIEW IN PRINT STAY IN TOUCH SUBMIT YOUR STORY IDEA READ MORE WESTMINSTER STORIES