---
Behnken 303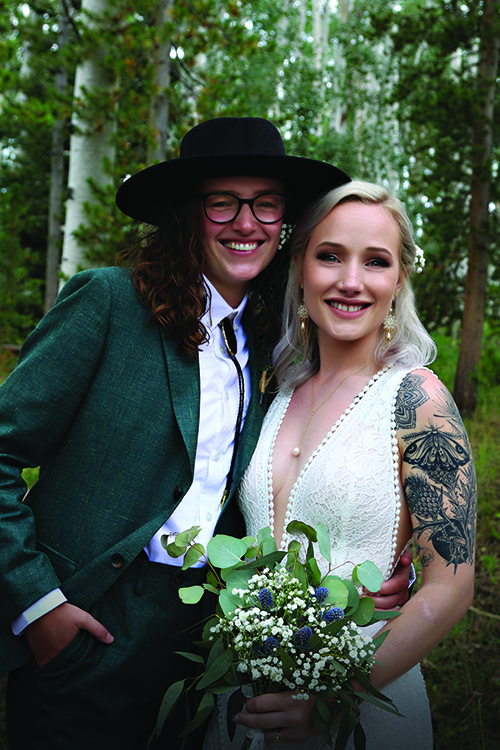 An Unlikely Love Story
by Maggie Regier ('20)
Somewhere in southern Wyoming, deep in the Uinta mountains, grow two aspen trees. Rooted side by side, the trees wrap around each other weaving into what looks like a single tree. The trees are about five years old—and rarely do aspens grow like this. You see, they are no ordinary trees. And, for Westminster alums Ocean Candler Lunsford ('19) and Kal Candler Lunsford ('19), these intertwining trees symbolize their
love story.
Six years ago, Ocean and Kal received an email from the Office of Residence Life letting them know they would be roommates in Behnken 303 for their first year of college. The two quickly hit it off and spent all their time together. They studied, partied, traveled with their families, and explored their newfound independence side by side. Ocean and Kal insisted they were "just friends" and tried to date other people. After many nights under the stars in the Uinta mountains, the two finally realized what they had been avoiding: Ocean and Kal were head over heels in love with one another.
"Falling for Kal was terrifying," Ocean says. "It was feelings of excitement and ecstasy and, at the same time, a deep fear of losing Kal if they did not feel the same way as well as a fear of what others would think. But the minute we decided to unapologetically love each other, it just felt right."
"Beginning our relationship was the scariest thing I've ever done in my life," Kal says. "But I know it was exactly what was supposed to happen. I've never felt so at peace—or at home—with one person."
Roommate romances don't often work out, but Ocean and Kal defied the odds, finding commonalities despite their seemingly very different interests. The two lovers were—and still are—inseparable. Ocean and Kal have been a package deal since they began dating—at first in secret—before their sophomore year at Westminster. After moving into an apartment under the guise of "friends" and "roommates," they spent the next several years growing together: graduating college, coming out to their families, starting their careers, and weathering
a pandemic.
In some ways, these two have already been through a lifetime of marriage. But on July 31, 2021, Ocean and Kal stood a few feet away from the intertwined aspen trees to say "I do" and embark on their next journey.
---
About the Westminster Review
The Westminster Review is Westminster University's bi-annual alumni magazine that is distributed to alumni and community members. Each issue aims to keep alumni updated on campus current events and highlights the accomplishments of current students, professors, and Westminster alum.
GET THE REVIEW IN PRINT STAY IN TOUCH SUBMIT YOUR STORY IDEA READ MORE WESTMINSTER STORIES